By the time Friday rolls around the whole family is ready to leave the week's work and stress behind and enjoy a relaxing night together watching our favorite movie while munching on delicious pizza!  With the help of Totino's Pizza Rolls and Party Pizzas, I can escape the mundane kitchen meal preparation and serve a convenient meal that the entire family will love and still have plenty of time to sink into the couch to watch the latest movie rental from Redbox.
Totino's offers a wide variety of kid pleasing flavors, so it's the one night out of the week I  don't have to worry about my son,  who is an EXTREME picky eater, chowing down  while having to try to convince him it doesn't taste like broccoli!  Not to mention, the price is right and for just about $1.50 I can purchase several different Totino's Party Pizza Flavors,  including Canadian Style Bacon, Cheese Classic Pepperoni, Combination Hamburger, Pepperoni Pepperoni Trio, Sausage, Supreme Three Cheese, and Three Meat,  costing  much less than the usual home delivery pizza!  Everyone can have their own personal favorite pizza,  without it leaving my purse penniless!
Fun Friday Night Pictures!
Totino's is making it easy to stock up on everything you need for a Fun Friday Night! Look for specially-marked packages of Totino's Pizza Rolls and Party Pizzas that contain special codes!  Upon purchasing 4 Totino's Party Pizzas or 2 Totino's 40 count Pizza Rolls you will receive a free one-day redbox DVD promo code that can be redeemed at the following:
* Rolls: totinosfridaynight.com/redbox_pizzarolls
* Pizza: totinosfridaynight.com/redbox
With more than 27,800 locations, and available nationally at Walmart, there's always a redbox kiosk nearby! Find the closest redbox kiosk by checking redbox.com/locations.
Stay Connected!
Totino's Fun Friday Nights Prize Pack Giveaway!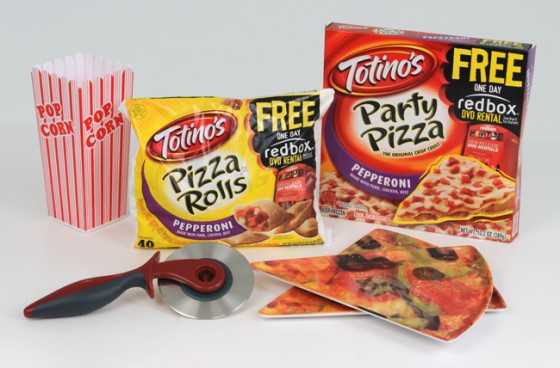 Totino's, through MyBlogSpark, would like to give a reader a Fun Friday Nights Prize Pack containing:
 2 VIP coupons
Free one-day redbox DVD promo code
2 pizza slice plates
 1 popcorn bucket # 1 pizza cutter
TO ENTER THE GIVEAWAY PLEASE USE THE RAFFLECOPTER FORM INSTEAD OF LEAVING BLOG COMMENTS HERE. Any comments are welcomed below, but won't count towards the giveaway. Only entries using the Rafflecopter form will be eligible for prize. Thank you!
[field name= iframe]
"FTC Disclosure: The VIP coupons, prize pack, information, and giveaway have been provided by Totino's through MyBlogSpark."