It's only one week until Halloween which means planning the perfect spooktacular party is closing in!   For a Halloween party that's hauntingly delicious,  why not  satisfying your hungry ghosts and goblins with TOMBSTONE pizza, the "Official Pizza of Halloween?"    TOMBSTONE offers over 12 different flavor varieties and multiple crust types to choose from,  including Original, Brick Oven Style,  Garlic Bread, and  more!  In fact, TOMBSTONE just recently added the Double Top pizza to their flavor lineup for the  monsters who can't get enough gooey goodness.  The new pizza is made with 80 percent more cheese than the Tombstone Original Pizza and ready to delight the cheese loving fiend in your home.  Regardless of whether you're hosting a party or simply just wanting to please your hungry little gremlins before they head out for a night of fun, Tombstone pizza can help you have a great Halloween season!
Free TOMBSTONE  Halloween Party Kit
TOMBSTONE is wanting to ensure your house is the scariest on the block by giving you a FREE Halloween Part Kit!  The free kit includes frightfully delicious recipes to accompany your TOMBSTONE pizza, as well as Halloween decorations, eerie music, ghoulish games and more!   To get your kit all you have to do is "like" the TOMBSTONE Facebook page and  visit the TOMBSTONE pizza Halloween Party Kit app.  Simply download your party tools to get you on the way to scaring  up lots of Halloween fun for your family and friends.
Check out this Spiderweb Munch recipe included in the kit!  Doesn't is look frighteningly yummy? PLUS, it approximately only takes 20 minutes to prepare.
About Tombstone Pizza
It seems fitting to mention TOMBSTONE Pizza during the Halloween season.  The pizza was brought to life in 1962, at a bar called the Tombstone Tap that was located across from a cemetery in Medford, WI.  It began one night when Joseph "Pep" Simek decided to let loose and got carried away doing the ""Peppermint Twist."  "Pep" fell, broke his leg, and spent the next six weeks hobbling around the tavern's kitchen.  With nothing better to do, Joe started experimenting with various pizza recipes as a snack for Tombstone Tap's patrons. The tasty pizzas he made were an instant success, creating the TOMBSTONE pizza brand.
Now,  50 years later, TOMBSTONE is a nationally distributed frozen pizza brand that provides  "consistently good, unmistakable flavor with just the right combination of sauce, cheese, crust, and every day toppings."
Halloween Traditions
Every Halloween we decorate our home with spooky inflatables, pumpkins, and fall decorations.  Then I usually bake some tasty treats with the kids a week prior to the holiday fun to get everyone excited about the event.  This year we made scary, yet super delicious cupcakes,  including Witch's Hats, Sparkly Pumpkins, Roaming Ghosts, Pumpkin Patch Graveyards, and Creepy Spiders.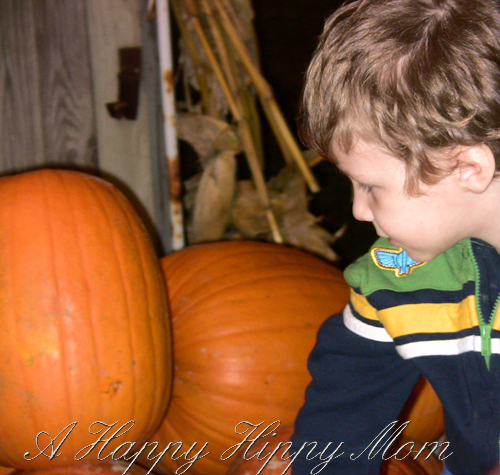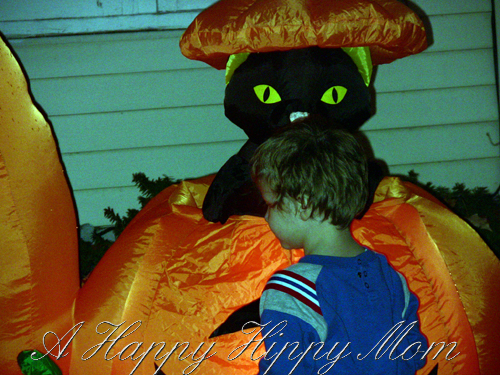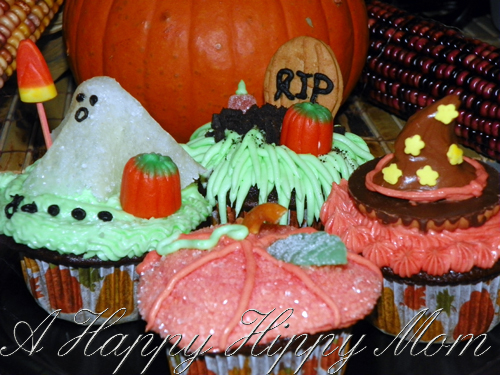 Halloween evening we take my son trick-or-treating at a few well known neighborhood houses.  We come home and hand out candy for an hour.  After that we go inside to eat some tasty pizza while we watch a scary FAMILY Halloween movie.
I enjoy Halloween, because I believe it is one of the holidays that is relatively inexpensive and allows the creative side of my family to shine.  Having fun carving pumpkins, creating costumes, and baking tasty treats are great memory makers.  However, I do loathe the gory side of Halloween and try and keep my kids away from all the unnecessary horror that October 31st can bring.
What are some of your family's Halloween traditions?
TOMBSTONE Pizza Giveaway!
Courtesy of TOMBSTONE Pizza, through Mom Central, I have been given the opportunity to treat a reader with 2 coupons good for TOMBSTONE Pizzas! TO ENTER THE GIVEAWAY PLEASE USE THE RAFFLECOPTER FORM INSTEAD OF LEAVING BLOG COMMENTS HERE. Any comments are welcomed below, but won't count towards the giveaway. Only entries using the Rafflecopter form will be eligible for prize. Thank you!
[field name= iframe]
Disclosure "I wrote this review while participating in a campaign by Mom Central Consulting on behalf of Tombstone Pizza and received coupons and a promotional item to thank me for taking the time to participate."