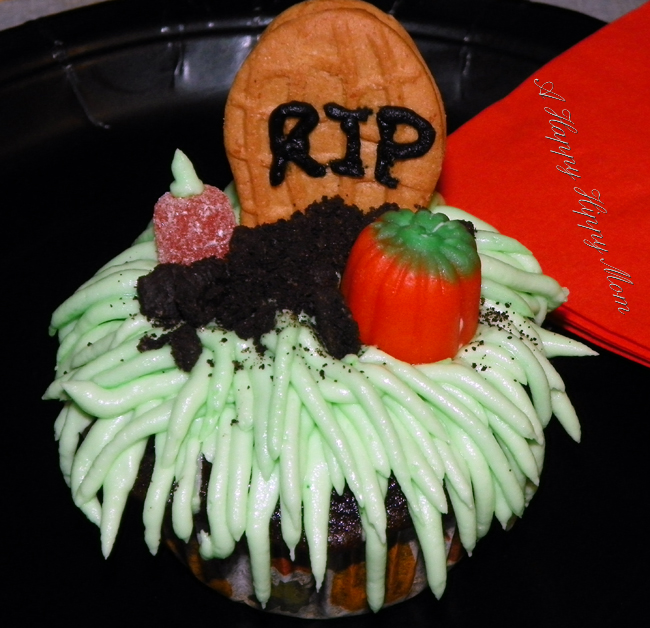 Every Halloween I bake treats to make my little goblins scream with delight.  This year I made a series of spookilicious cupcakes I thought I would share with you.  The first recipe is for Pumpkin Patch Graveyards.  You can use any cake mix you would like, but I made mine with chocolate.  Additionally, I replaced the oil with  unsweetened applesauce to reduce the calories a bit. You are going to want to use a frosting that is rather stiff to get the desired effect of the spiked grass.  I found decorator icing to work the best for me.  I've included the recipe below.
Pumpkin Patch Graveyards
Directions: Prepare cupcakes according to package instructions.  Let them cool completely before frosting.  Tint frosting with green paste food coloring until desired color is reached.  Working your way around the cupcake,  from the outside going inward towards the center,  pipe green grass using Wilton's decorating tip #5.
Sprinkle centers of cupcakes with crushed chocolate wafer cookies to look like dirt.  Insert a peanut butter sandwich cookie in the cupcake halfway.  Next pipe "RIP" using black frosting onto the peanut butter cookie to resemble gravestones.
Decorate with a candy pumpkin and orange gumdrop.  Pipe a dab of green frosting on top of the gumdrop for the stem.
ENJOY!
Decorator Icing
1/2 cup butter or margarine, softened
1/4 cup shortening
1 teaspoon vanilla
1/8 teaspoon salt
4 cups powdered sugar
2 to 4 tablespoons milk or water
In large mixing bowl, beat butter and shortening with electric mixer on medium speed until light and fluffy.  Beat in vanilla and salt.
On low speed, beat in powdered sugar, 1 cup at a time.  Make sure to occasionally scrape down sides of bowl.  Add 2 tablespoons of milk.  Beat on high until light and fluffy.
Recipe frosts 24 cupcakes (makes 3 cups).
(Idea and recipe borrowed from Betty Crocker's The Big Book Of Cupcakes)