October is National Breast Cancer awareness month and the makers of Freschetta pizza are dedicated to helping find a cure for breast cancer by promoting research . Freschetta is doing their part by giving fans a way to support this important cause through the Freschetta "Proud to Support Pink" program.  From September 25th through October 31st every time you purchase specially marked packages of Freschetta pizza and Artisan Pizza Crusts you will be helping the makers reach their goal of a $50,000 donation to the Memorial Sloan-Kettering Cancer center.  The specially marked packages are printed with codes that you can enter at www.ProudToSupportPink.com.  Each code will trigger a $1 donation to the center (up to the amount of $50,000) in efforts to finding a cure.  There is also a place for people to share their breast cancer inspiring stories or the journey of a friend or loved one affected by the disease. These stories will be displayed at Freschetta's Facebook page to help bring strength, hope, and encouragement to all those who read them.
Additionally, by entering the code found on the back of packages you will be automatically entered into an online sweepstakes for the chance to win one iPod Shuffle from the 50 awarded each week. If that is not enough, the makers of Freschetta pizza will match the iPod prizes by donating an additional 200 to four selected cancer centers across the U.S. for patients to use during treatment!  The cancer centers to receive the iPod Shuffle devices include:
 * Memorial Sloan-Kettering Cancer Center in New York
* Jane Brattain Breast Center (Park Nicollet Health Services) in Minneapolis
* Avon Foundation Breast Center (John Hopkins Medicine) in Baltimore
* Seattle Breast Center (Northwest Hospital and Medical Center) in Seattle
FRESCHETTA Pizza!
How many of you like Freschetta pizza?  I know my family loves it!  We enjoy the fresh taste of the pizzas and delicious dough that rises naturally, with no chemical leaveners.  The makers of Freschetta sent me a complimentary coupon to try any one of their frozen pizza varieties and I decided upon the Classic Supreme!  The pizza was so yummy and covered in top quality ingredients including real cheese, sauce, green & red peppers, sausage, pepperoni, and onions!  When it was baking the aroma filled my kitchen with the smell of fresh baked bread and garlic!  YUMMY!  What is your favorite Freschetta pizza?
Connect with Freschetta!
Freschetta on Twitter
FRESCHETTA Proud To Support Pink Prize Pack Giveaway!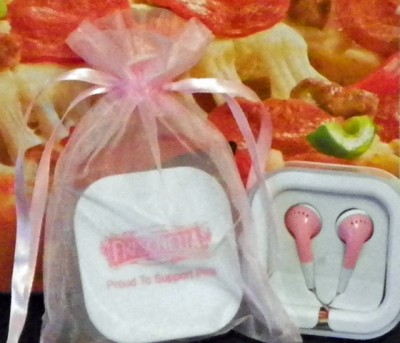 The generous makers of Freschetta pizza would like to give one of my readers a wonderful prize pack including:
A coupon to try any Freschetta pizza, 12oz or larger.
Two pairs of Freschetta "Proud to Support Pink" earphones
One pair for you to keep and enjoy
One pair is for you to share with a friend or family member as a positive reminder of proactive health.
TO ENTER THE GIVEAWAY PLEASE USE THE RAFFLECOPTER FORM INSTEAD OF LEAVING BLOG COMMENTS HERE.  Any comments are welcomed below, but won't count towards the giveaway.  Only entries using the Rafflecopter form will be eligible for prize. Thank you!
[field name= iframe]
FTC Disclosure: The makers of Freschetta pizza  provided the products and  for review, but all thoughts, opinions, and ideas are of my own.