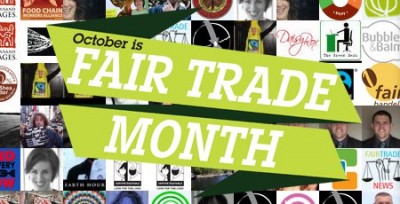 I know most of you know that October is National Breast Cancer Awareness Month.  BUT are you aware it is also Fair Trade Month?  This October, mindful shoppers and ethically conscious companies will join to celebrate the eighth annual Fair Trade Month in the United States.  You probably have heard about Fair Trade before, however maybe you are not sure of what actual good it does.  Buying Fair Trade Certified products helps in many ways.  When you purchase a product bearing the  Fair Trade Certified label you are aiding in farmers and workers getting a fair deal.  Additionally, you're guaranteed the product is being sold at a fair price, good for the planet, and is made without the use of GMO's, hazardous chemicals, and child labor.  Fair Trade USA then uses the money to help farmers in developing countries build sustainable businesses that positively influence their communities.   For instance, the funds can be used to help  build schools in historically isolated communities in developing countries along with  providing farming families with the income and stability they need to keep their children in school and food on the table.   One thing I really like about Fair Trade USA is that the nonprofit organization actually teaches disadvantaged communities how to use the free market to their advantage.  In return, the people can use the newly learned skills to improve their lives.
[field name= iframe]
FREE "Fair Trade Finder"
Would you purchase Fair Trade Certified products more often if you could find them?  I know I would!  There is now more than 10,000 Fair Trade Certified products available in the United States, and finding those products in stores near you just got a whole lot easier! Fair Trade USA recently launched a new,  first-of-its-kind social media tool.  The user friendly application is the first fully crowd-sourced database of Fair Trade Certified products and their purchase locations. Brands and retailers can upload information on the availability and location of their Fair Trade products, and consumers can contribute to the app by tagging coffee, wine, chocolate or any of the other Fair Trade products around them for others to search and find.  The app also features the ability for users to add photos and comments related to the products they find.  The new "Fair Trade Finder" Facebook and mobile (iPhone and Android) application is FREE and can be downloaded at Android and iTunes.
Remember,  you can make every purchase matter  by simply buying items with the Fair Trade Certified logo!
About Fair Trade USA
"Fair Trade USA (previously TransFair USA), a nonprofit organization, is the leading third-party certifier of Fair Trade products in the United States. Fair Trade USA audits and certifies transactions between U.S. companies and their international suppliers to guarantee that the farmers and workers producing Fair Trade Certified goods were paid fair prices and wages, work in safe conditions, protect the environment, and receive community development funds to empower and uplift their communities. Fair Trade USA educates consumers, brings new manufacturers and retailers into the Fair Trade system, and provides farmers with tools, training and resources to thrive as international businesspeople. Visit http://www.fairtradeusa.org for more information."
Fair Trade USA Goodie Bag Giveaway!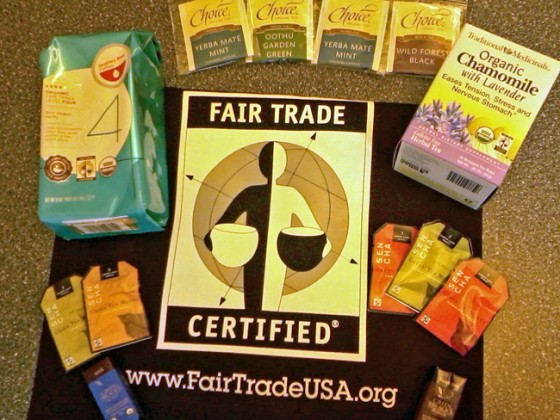 In celebration of Fair Trade Month and the new "Fair Trade Finder" application, Fair Trade USA would like to give one reader a bag filled with Fair Trade Certified products (approximate $50 value)! TO ENTER THE GIVEAWAY PLEASE USE THE RAFFLECOPTER FORM INSTEAD OF LEAVING BLOG COMMENTS HERE. Any comments are welcomed below, but won't count towards the giveaway. Only entries using the Rafflecopter form will be eligible for prize. Thank you!
 [field name= iframe1]
FTC Disclosure:  All information and photos supplied by Fair Trade USA.  I will be receiving a gift bag for sharing this information, yet all opinions are of my own.