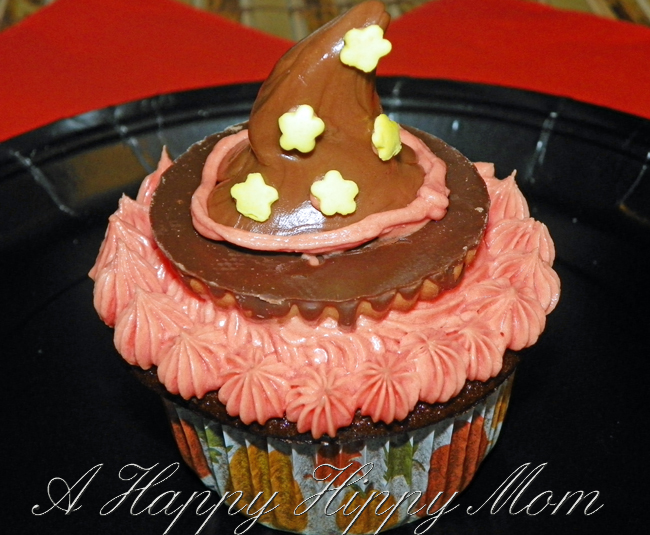 If you are looking for a last minute Halloween cupcake decorating idea to serve at your party,  try the Witch's Hat!  They are easy to make and your little goblins will love them!
What you need:
24 Cupcakes
any flavor will work
Frosting
Double recipe of Vanilla Buttercream Frosting
Orange paste food coloring
Decorations
24 fudge-striped shortbread cookies
24 chewy chocolate candies (Tootsie Rolls) unwrapped
Star candy decors
Directions:
1. Make, bake, and cool cupcakes as directed on package.
2. Make Vanilla Buttercream Frosting.  Tint frosting to desired shade of orange with food color.  Place 1/2 cup of frosting in small resealable food storage or pastry bag and set aside. Frost cupckaes with remaining orange frosting.
3. Place 1 cookie, striped side down, on each cupcake.  Shape Tootsie Rolls into cone shapes to resemble tops of hats. Dab a bit of frosting on candy to get it to stay on hat.
4. Cut tiny tip off one bottom corner of bag of frosting.  Pipe frosting around around the base of the chocolate candy to resemble a ribbon band.  Decorate hat with star candy decors using a touch of frosting to get them to stick.
 Vanilla ButterCream Frosting Recipe
6 cups powdered sugar
2/3 cup butter or margarine, softened
1 tablespoon vanilla
3 to 4 tablespoons milk.
1. In large mixing bowl, combine powdered sugar and butter with electric mixer on low speed.  Stir in vanilla and 3 tablespoons of the milk.
2. Gradually beat in just enough of remaining milk to make frosting smooth and spreadable.
Makes about 3 1/2 cups pf frosting (frosts 24 cupcakes)
Frosting recipe and decorating idea borrowed from Betty Crocker "the big book of cupcakes."