When my son doesn't get a full night's sleep he will become incredibly hypersensitive, and the most unpleasant little person that ever walked the earth.  The fact is,  my complete day is consumed with his fussing and looking for ways to get him to pay attention long enough so that he can have fun with his toys and possibly learn something.  His insufficient sleep not only impacts him horribly, but all of us as well!  Furthermore, it's essential for him to obtain adequate amounts of rest so he can grow into a healthy, strong, and productive adult. With that in mind, you can understand that I do every little thing I can to ensure he's comfy and able to snooze through the night.  The best way I'm able to help him rest enough to slip into a blissful slumber  is to make his room a pleasant place with vibrant cheerful images and snugly cozy bedding.
Not that long ago I was approached by Beyond Bedding to find out if I might want to consider reviewing one of their kids bedding sets.  My boy is going to be turning four years old  this November and he has outgrown his  baby boy bedding.  This was a wonderful chance for me to replace  his bedding set with something far more sophisticated for his age.  I was incredibly ecstatic to receive this opportunity, due to the fact Beyond-Bedding.com is a trusted company that has been providing children's luxury bedding sets at reasonable prices for more than 7 years.  Additionally, the online website carries a wide selection of beautiful styles and designs any child would love, so I knew I would be able to find something he would like!  They even have a wide array of accessories to complete the room's decor such as lampshades, rugs, laundry hampers, and more!
My son is a dinosaur fanatic!  When I saw the the Dinosaur Twin Bedding 4 PC Childrens Set made by JoJo Designs at  Beyond Bedding,  I just had to get it for him. The bedding featured an awesome collection of embroidered appliques of dinosaurs like the Pterodactyl, T-rex (his favorite) and Brontosaurus.  Not to mention the colors were a beautiful combination of Rust, Ivory, Avocado, Butternut Yellow, Chocolate, and Camel.  He was going to love it!  The set included…
Twin Comforter (62″ X 86″)
"The comforter is designed using micro suede and cotton fabrics in a patchwork construction. It is adorned with embroidered Dinosaur appliques."
1 Twin Standard Sham (20″ X 26″)
"The matching sham is designed with super soft microsuede fabrics and a large dinosaur appliqué in the center."
Twin Bed Skirt (Dust Ruffle)
The skirt uses Camel microsuede with an embroidered jagged edge border.
Window Valance (54″ X 15″)
"The window valance is made with chocolate micro suede, featuring Dinosaur  appliques and an embroidered jagged edge border."
I couldn't wait for the bedding set to arrive.  When it did and my son discovered the package….he FLIPPED!  The very first thing he noticed was the Triceratops applique after which he reached directly into the bag  to feel the softness of the comforter.  To be honest,  I never saw him delighted about bedding before and was really somewhat astonished! He unquestionably liked it!  Lets hope it will help him drift off into Jurassic nighty night kingdom!

I immediately tossed the bedding in the washer and washed it in cold water on the gentle cycle to get rid of any possible loose fibers or dyes.  Plus, I wanted to see how well it held up after the first initial washing.  I then tumble dried it on low heat!  It turned out beautiful!  The microsuede retained its softness and the colors remained crisp and vibrant!  I believe it will hold up well after several washings!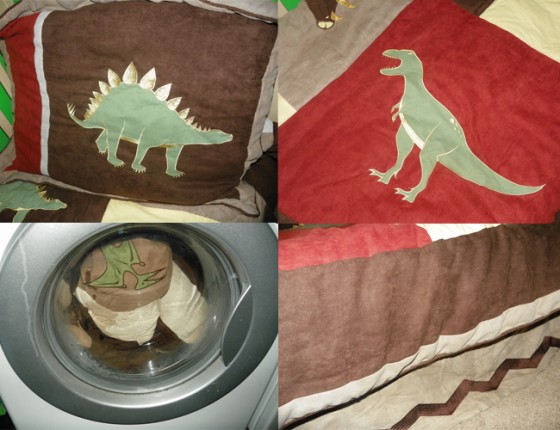 If you are looking to update your children's bedding check out Beyond Bedding. They  offer quality bedding sets that range   from crib bedding, children's bedding, custom toddler bedding, to even teen bedding – all in styles and designs you and your child will adore!
Stay Connected!
Follow Beyond Bedding on Facebook
Keep updated with Beyond Bedding On Twitter.
Check out the Beyond Bedding Blog
 Beyond Bedding Giveaway!
Beyond Bedding has generously offered to give one of you a bedding set of your choice up to $99! TO ENTER THE GIVEAWAY PLEASE USE THE RAFFLECOPTER FORM INSTEAD OF LEAVING BLOG COMMENTS HERE. Any comments are welcomed below, but won't count towards the giveaway. Only entries using the Rafflecopter form will be eligible for prize. Thank you!
[field name= iframe]