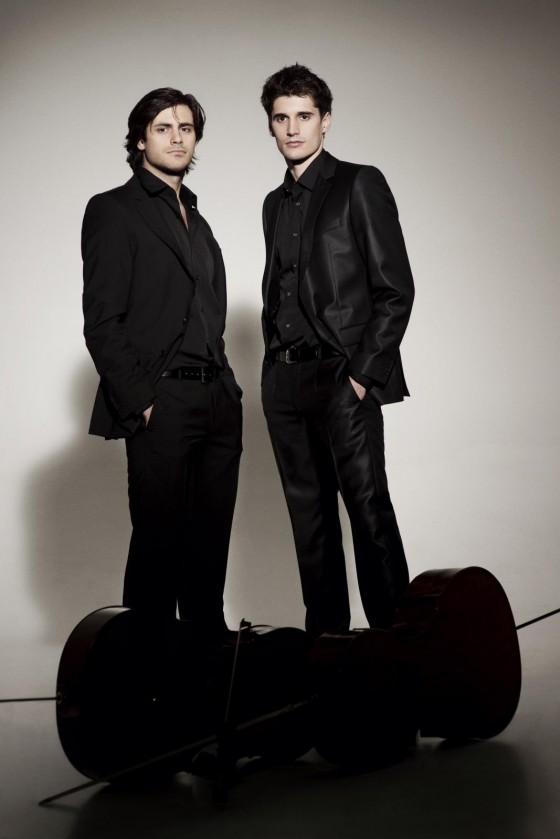 I'm sure  2CELLOS certainly doesn't need any introduction from me.  Most of you already know who they are.  However, for the readers out there who have know idea what I'm talking about…be prepared to be BLOWN away!
2CELLOS are Luka Sulic and Stjepan Hauser, a 24 year-old duo from Croatia who became an overnight internet sensation with their self-made music video of themselves performing Michael Jackson's "Smooth Criminal" on their cellos.  The video went viral and received over 5 million hits on YouTube in less than 3 months.  Just one month later,  2CELLOS signed a record deal with SONY MASTERWORKS.  The two accomplished musicians even caught the eye's and ear's of Sir Elton John and were invited to join him on his worldwide tour playing with and opening for him.  Yes, they are that fantastic!
In the summer of 2011, their self-titled very first album premiered globally achieving top 200 Billboard status the United States, #1 iTunes Germany, and #1 on the Japan imported albums (ahead of such recognized artists as Beyonce, Red Hot Chili Peppers and Lady Gaga). The 2CELLOS album features Sulic & Hauser's unique classical spin on modern hits by Guns N' Roses, U2, Nirvana, Coldplay and Kings of Leon among others. You can check out their latest video for "Welcome to the Jungle" below.
[field name= iframe1]
2CELLOS made their US television debut with a performance of "Smooth Criminal" on The Ellen DeGeneres Show earlier this spring and have also created an exclusive live video for PerezHilton.com.   Luka and Stjepan have additionally been seen on Lopez Tonight and Fox & Friends in the U.S., as well as Stefan Raab's TV total in Germany. Most recently, they were invited by Apple to perform their own show at the Roundhouse in London as part of their prestigious iTunes festival that was streamed globally.
[field name= iframe2]
When I first saw 2CELLOS I was amazed!  The music they produce is INCREDIBLE and I became an instant fan.  Not to mention, Luka and Stjepan are as fun to watch as they are to hear.  They have a unique style and you can tell they really put everything into the music being played.  Oh and ladies…be prepared to drool!
I have been given the opportunity to give away 5 SIGNED CD's of 2CELLOS latest album along with 5 SIGNED posters to five lucky readers.  The 12 track album includes…
1. Where The Streets Have No Name (U2)
2. Miserlou / Pulp Fiction Theme (Dick Dale)
3. Use Somebody (Kings of Leon)
4. Smooth Criminal (Michael Jackson)
5. Fragile (Sting)
6. The Resistance (Muse)
7. Hurt (Trent Reznor/Johnny Cash)
8. Welcome To The Jungle (Guns N' Roses)
9. Human Nature (Michael Jackson)
10. Viva La Vida (Coldplay)
11. Smells Like Teen Spirit (Nirvana)
12. With or Without You (U2)
 TO ENTER THE GIVEAWAY PLEASE USE THE RAFFLECOPTER FORM INSTEAD OF LEAVING BLOG COMMENTS HERE. Any comments are welcomed below, but won't count towards the giveaway. Only entries using the Rafflecopter form will be eligible for prize. Thank you!
[field name= iframe3]
Buy It
Can't wait to see if you win a signed copy and want it now?  2CELLOS album can be purchased at Amazon.com for $9.00.
[field name= iframe]
Stay Connected
Like 2CELLOS Facebook page
Follow 2CELLOS on Twitter
Keep up to date with tour information and news at the official 2CELLOS site.