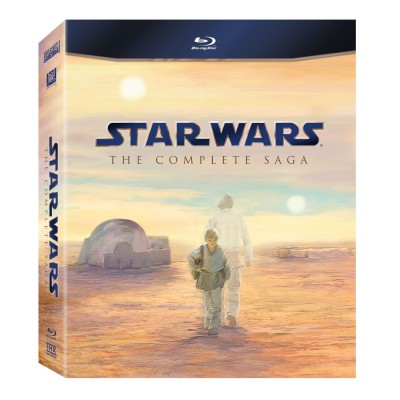 Star Wars geeks are now in warsie heaven and can get their Jedi fix by bringing home STAR WARS THE COMPLETE SAGA on Blu-ray Disc!   Hard core fans can relive the famous battle scenes in breathtaking detail and listen to the clashing of the lightsabers in spectacular audio quality the way only Blu-ray can deliver.
This amazing collection unites all six Episodes together the very first time in stunning high definition together with the purest digital sound in the galaxy. With more than 40 hours of exciting special features, including all-new content produced exclusively for this release,  fans are able to journey deeper into the Star Wars universe!  Feel the Force of STAR WARS The Complete Saga on Blu-ray this September!
Full Panoramic Poster!
In honor of the release, select General Mills Big G cereals have a limited edition Star Wars good versus evil image on their packaging, which when combined creates a full panoramic poster.

 * Exclusively at Walmart, look for specially marked boxes of Big G cereals, including Honey Nut Cheerios®, Cinnamon Toast Crunch®, and Lucky Charms®. Collect all three to create a Star Wars panoramic poster showcasing your favorite characters, like Darth Vadar™, Luke Skywalker™, Han Solo™, Princess Leia™ and more.

 * Marking the first time ever that the full Saga is available in one complete collection, the 9-disc STAR WARS: THE COMPLETE SAGA will be available on Blu-ray September 16th, courtesy of Lucasfilm Ltd. and Twentieth Century Fox Home Entertainment.

 May the force be with you as you check out these Star Wars boxes at your local Walmart for a limited time only!

 Find more information about Big G cereals at www.WholeGrainNation.com

 Find out more information about [amazon_link id="B003ZSJ212″ target="_blank" ]Star Wars The Complete Saga [/amazon_link]
Favorite Star Wars Movie Moment
I have to admit, I didn't appreciate the Star Wars movies until I met my husband.  He is an enormous  fan and the kinda guy who has all the original Star Wars toys plus original boxes from his childhood.  The collection is HUGE and he still purchases items to add to it.  So, when he learned about the saga coming out on blu-ray—he was more than ecstatic!
The moment I actually sat down to watch the movies with him I began to grow a fondness for the characters.  I'm not sure if it was his enthusiasm that convinced me this was one of the greatest movie series  to ever be created or the cool heroes, villains, and futuristic weapons .  All I know is I love watching the films and can watch them over and over again with him.
If I had to pick a favorite moment out of the saga it would have to be in Star Wars Episode V: The Empire Strikes Back when Luke  Skywalker (Mark Hamil) battles Vader who cuts off his right hand.   Then Darth Vader reveals to him he is his father.  This is when the movies take a more exciting turn for me!  What is your favorite scene?
Walmart Star Wars Prize Pack Giveaway!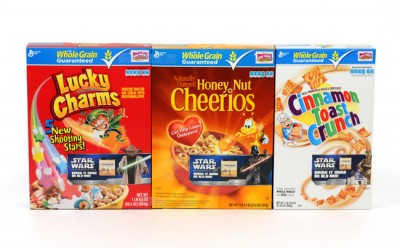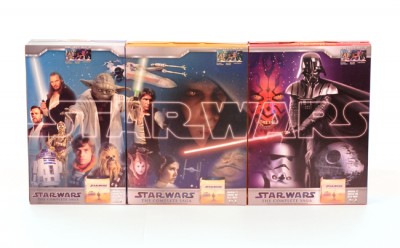 One lucky reader will win a Walmart Star Wars Prize Pack including…
One box of each of the following cereals to form their own Star Wars panoramic poster:
* Honey Nut Cheerios
* Cinnamon Toast Crunch
* Lucky Charms
$25 Walmart gift card
[field name= iframe]
"Disclosure: The cereal, gift card, information, and giveaway have been provided by General Mills through MyBlogSpark."