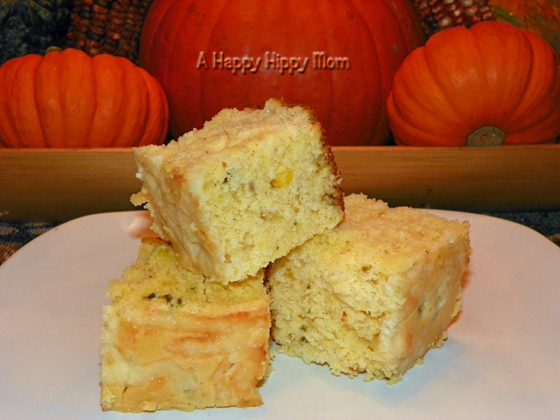 I love the comfort foods the season of Autumn brings. Cornbread happens to be one of my favorite fall delights and it goes great with soup, chili, chicken, or as a quick warming snack.  I found a recipe in Martha Stewart's Everyday Food Magazine for Sharp Cheddar Cheese Jalapeno Cornbread and just had to try it!  Cornbread can sometimes be too dry, but the buttermilk plus cheddar cheese gave the bread a nice flavor and bit of moisture.  The only thing I would change about the recipe is to omit the frozen corn kernels.  My hubby said the whole corn added a rather odd texture and I have to agree.  Other than that,  this recipe is superb and I would make it again.
What is your favorite fall comfort food?
Cheddar Cheese Jalapeno Cornbread Recipe
1/2 cup (1 stick) unsalted butter, melted, plus more, room temperature, for baking pan
1 1/2 cups yellow or white cornmeal
1 cup all-purpose flour
6 tablespoons sugar
1 1/2 teaspoons baking powder
1 teaspoon fine salt
1/2 teaspoon baking soda
1 cup buttermilk
3 large eggs
1 1/2 cups grated sharp cheddar, divided
3/4 cup frozen or fresh corn kernels ( I would omit this)
1/3 cup chopped drained pickled jalapenos
1. Preheat oven to 400 degrees. Butter an 8 inch square baking pan.  In a large bowl, stir together cornmeal, flour, sugar, baking powder, salt, and baking soda. In medium bowl whisk together melted butter, buttermilk, and eggs.  Add buttermilk mixture to flour mixture and stir just until combined.  Next stir in 1 1/4 cup of cheddar cheese, corn kernels, and jalapenos. Transfer batter to pan and smooth top.  Top with remaining cheese.
2.  Bake until a toothpick inserted in center comes out clean, 20 to 25 minutes. Let cool in pan on a wire rack, 15 minutes, before serving.