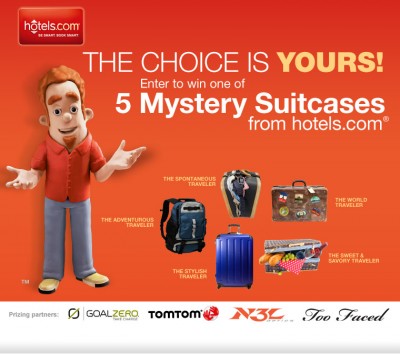 What type of travel personality are you?  Are you adventurous? Stylish? Spontaneous? Or perhaps you are the "Sweet and Savory Traveler" and revel in seeking out the top dining establishments on vacation to delight in pleasing your palate with the finest foods?  Whatever your travel style,  hotels.com is offering an exciting, personality-driven "Mystery Suitcase Sweepstakes" with five distinctive prize packages designed around a  unique theme.  Five lucky grand prize winners will each receive the mystery suitcase for the category they selected filled with a variety of travel related goodies based on its bag theme that is valued up to $899!  In addition, there will be daily random drawings and twenty first place winners will win a $25 "mystery" gift card to an undisclosed retailer.
To enter the sweepstakes visit hotels.com Facebook page and click on the  Sweepstakes tab.  Then simply choose your favorite travel style from the options of: spontaneous, adventurous, stylish, world traveler or sweet & savory and complete the entry form.  The contest runs through October 5, 2011 and open to US residents age 18 and over.  Please read the rules prior to entering.
About the Mystery Suitcase sponsors:
GOAL ZERO (Presenting the adventurous traveler) – GOAL ZERO offers an innovative solution to the demand for transportable energy with the highest quality solar panels and power packs, equipped with relevant accessories needed to power any device, anywhere.

TOMTOM (Presenting the world traveler) – TomTom is the world's leading provider of in-car location and navigation products and services focused on providing all drivers with the world's best navigation experience.

Too Faced (Presenting the stylish traveler) – Too Faced Cosmetics has earned a reputation for being trendy, irreverent, innovative, and fun. From unique products and packaging, to shade names with a wicked sense of humor and undeniably glamorous formulas, Too Faced truly lives up to the brand's philosophy: "Why be pretty when you can be gorgeous?"

N3L (Presenting the spontaneous traveler) – N3L Optics (Newton's 3 Laws of Motion) is a sunglass store committed to carrying the world's best assortment of sport performance optics. Designed specifically for the athlete and outdoor enthusiast, N3L's innovative retail technology and highly trained associates ensures customers will find the right frame and lens to enhance their active lifestyles.
About hotels.com
hotels.com is a leading provider of lodging worldwide, offering almost 140,000 properties in over 60 countries from national chain hotels and all-inclusive resorts to local favorites and bed & breakfasts. Hotels.com is the smarter way to book travel by offering welcomerewards®, an industry leading loyalty rewards program; the real opinions of other travelers captured in over two million Guest Reviews and; a Price Match Guarantee, so that those booking with hotels.com can be assured they are getting the best deal, either online or by speaking directly to a travel expert at 1-800-2-HOTELS 24 hours a day.
$50 "World Traveler-themed" Gift Card Giveaway!
In celebration of the hotels.com "Mystery Suitcase promotion" one lucky reader will win a  mystery $50 "World Traveler-themed" gift card!  Hmmmm…wondering which retailer it is?  I'll give you a few clues…
There are over 258 stores nationwide and always open online.
In 1958 a San Francisco businessman turned traveler and importer opened the first store in San Francisco's famed Fisherman's Wharf.
Carries high-quality, original items such as trend-setting home accents, a wide selection of international foods and wines, and much more that are offered at everyday low prices.
[field name= iframe]
FTC Disclosure:  I was compensated by hotel.com for sharing about the "Mystery Suitcase Sweepstakes" promotion and hosting the giveaway. Prizes, photo, and information supplied by hotels.com.