Vtech is soon releasing a NEW InnoTab multi-function tablet on September 15th geared towards children ages 4-9!  The gadget looks very cool and just might be the HOT educational toy of the   2011 holiday  season!  Check it out!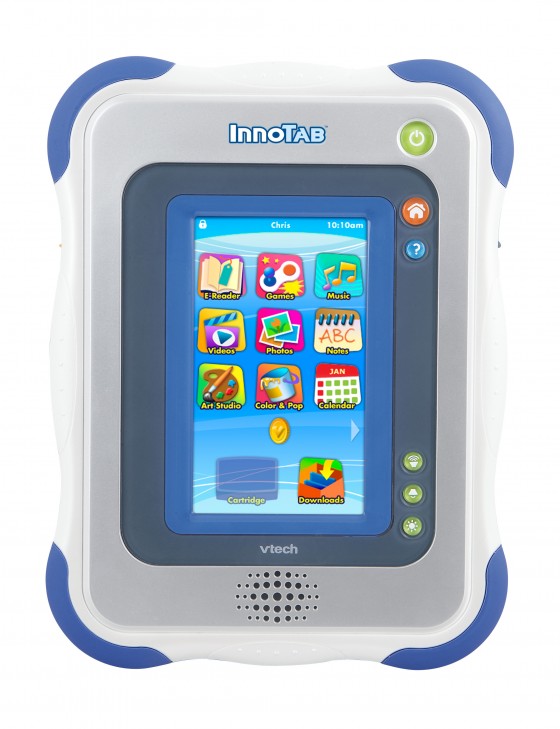 About InnoTab:
• The InnoTab is a cutting-edge, multi-function tablet for children 4-9. Packed with fun, the InnoTab offers interactive and animated e-books, learning games, creative activities and more – all in one compact, durable tablet. Pull it out of the box – and it's ready to go for hours of play
• The InnoTab features:
– A 5" brilliant color touch screen LCD (industry's first?)
– A sleek, kid-tough and compact design to take on the go
– Animated e-books, learning games, music player, video player and so much more,
– A cartridge library that features kids' favorite characters
– A tilt-sensor for game control
– 100 downloadable titles (by the end of the year)
• While adult tablets costs $600, the InnoTab is $79.99 – a smart purchase for kids. You can give your kid a tablet designed just for them for less than your family's monthly cell phone bill.
Product Story Themes Kiddovation:
• Taking the hottest technology trends and bringing them to kids for the first time
• InnoTab – first tablet for kids
• We're bringing tech trends to kids at a dramatically accelerated rate. Gone are the days of waiting 5-10 years for a technology to be designed and launched for kids. We develop the products quickly and capitalize on the hottest trends.
Fun is the key to learning:
• Helping kids have fun (first) and learn (second)
• Laughing and learning every step of the way, keeping kids focused and entertained for hours
• Learning without trying
Technology with Training Wheels:
• Preparing kids for a tech-centric world
• Helping children develop a sense of independence
• Mom's partner – we stay with you throughout your child's life – from infant to elementary school
Smart Purchase:
• Hours of play that lasts for years at a value
• Multi-functional
• More for the child as they develop
INNOTAB FEATURES & DETAILS
Features
1. E.Reader
2. Motion Games
3. Art Studio
4. Coloring
5. Organizer
6. Music
7. Videos (sold separately)
8. Photos (sold separately)
9. Downloads
Product Details
· 5″ color touch screen and tilt-sensor for educational gameplay
· E-books, educational games, creative activities, learning apps, and more available on cartridge or as downloads from VTech Learning Lodge Navigator website
· 4 different media players: E-Book reader, MP3 music player, photo viewer and video player
· 64MB onboard memory and SD card slot for memory expansion
· Learning toy connects to PC/Mac with included USB cable
· 4AA Batteries Required
 Cost = $79.99
See It In Action!
InnoTab Overview Demo from VTech
[field name= iframe]
Behind The Scenes with VTech's InnoTab
[field name= iframe1]
Behind The Scenes: InnoTab's Touch Screen & Motion Games
[field name= iframe2]
I Want It!
I definitely want the VTech InnoTab for my son!  I know he would LOVE it!  I like that the tablet contains all the features he already  enjoys in multiple educational toys he has, but is contained in just one tablet.  Makes it easy to take on trips, long car rides, or outings without having to bring several different toys to keep him occupied.  It looks like it would provide hours of learning fun!  I'm thinking maybe a hot item for Christmas?
Pre-order  the VTech InnoTab Now!
The VTech InnoTab is available in two colors – Pink and White.  It can be pre-ordered at …
Toys R Us
http://www.toysrus.com/product/index.jsp?productId=11888558
Walmart
http://www.walmart.com/ip/VTech-InnoTab-Learning-App-Tablet/16672573
Amazon
http://www.amazon.com/dp/B004VJNRKG
Kmart
http://www.kmart.com/shc/s/p_10151_10104_004W003460800000P
 Prize Pack Giveaway!
In celebration of the upcoming release of this amazing educational toy, VTech would like to give one reader a prize pack containing…
VTech shirt (S,M,or L in children's sizes)
VTech branded 500MB Flash Drive
a box of 8 Crayola Crayons
$10 Gift Card to Toys R Us
Please enter using the Rafflecopter form below. Good luck!
[field name= iframe3]
Disclosure: Information and prizes provided by VTech.  All opinions are of my own.  This is a non compensated post and I have no material connection with the company mentioned within this article.