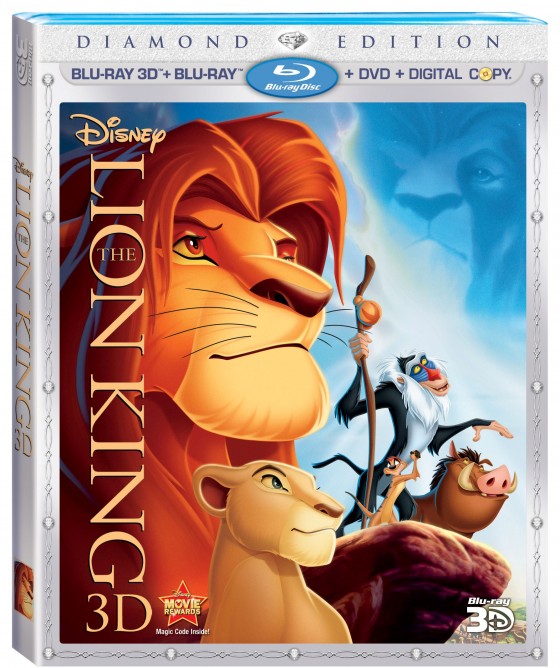 Disney's THE LION KING 3D will be releasing in theaters this Fall!  YEAH! Simba, Mufasa, Nala, Timon and Pumbaa are roaring into theaters for a two week theatrical extravaganza starting September 16th, 2011 showcasing the Oscar and Golden Globe winning film on the big screen in Disney Digital 3D for the first time ever, and fans shortly afterward will be able to take home the highly anticipated home entertainment debut of the "The Lion King" Diamond Edition in high-definition Blu-ray and Blu-ray 3D on October 4th!
About The Lion King
"An unforgettable story, breathtaking animation, beloved characters and award-winning music sets the stage for "The Lion King", a Disney classic that follows the adventures of Simba, the feisty lion cub who "just can't wait to be king." But his envious Uncle Scar has plans for his own ascent to the throne, and he forces Simba's exile from the kingdom. Alone and adrift, Simba soon joins the escapades of a hilarious meerkat named Timon and his warmhearted warthog pal, Pumbaa. Adopting their carefree lifestyle of "Hakuna Matata," Simba ignores his real responsibilities until he realizes his destiny and returns to the Pride Lands to claim his place in the "Circle of Life." The all-star vocal talents—including Matthew Broderick, Nathan Lane, Whoopi Goldberg, James Earl Jones, Jeremy Irons, Ernie Sabella, Jonathan Taylor Thomas, Robert Guillaume, Cheech Marin and Moira Kelly—rip-roaring comedy and uplifting messages of courage, loyalty and hope make this a timeless tale for all ages. Produced by Don Hahn and directed by Roger Allers and Rob Minkoff from a script by Irene Mecchi, Jonathan Roberts and Linda Woolverton, "The Lion King" is rated G by the MPAA."
FUN Family Pride FREE Activities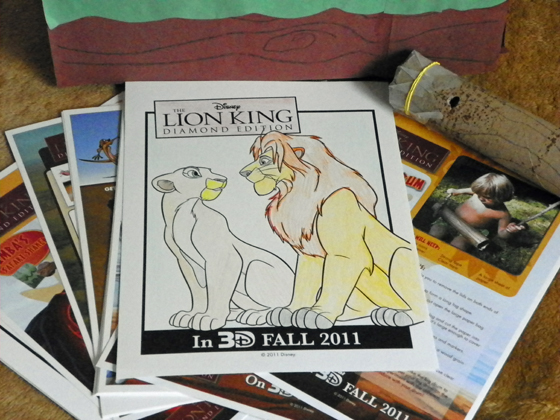 In celebration of the of the all-time favorite Disney movie coming to theaters in breathtaking 3D and being released in stunning Blu-ray hi-def, my family had a Family Pride Party!  The activities below are easy to follow and you can have your very own low cost Lion King party too!  The kids will love making the fun treats and constructing instruments out of simple household items like tin cans, shoe boxes, and canisters.  Check it out!
Pumbaa & Timon's Bug Buffet!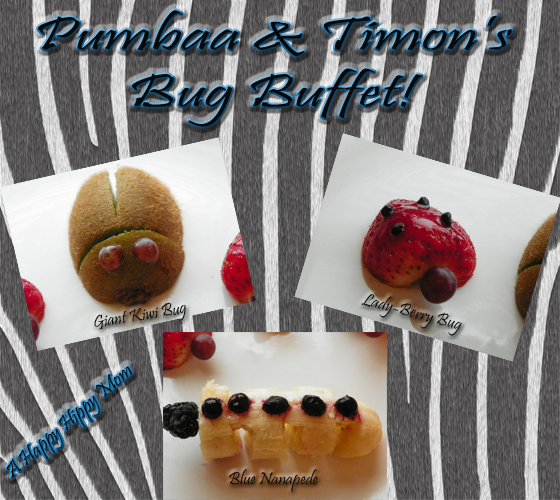 How To Make:
Giant Kiwi Bug
Body – Kiwi half split partway down the back.
Head – Kiwi top attached with toothpick.
Eyes – champagne grape halves stuck on with honey.
Lady-Berry Bug
Body – Strawberry halves coated in honey.
Head – Grape attached with toothpick.
Spots -blackberry drupelets stuck to honey coating (easier if using frozen blackberry to remove drupelets)
Blue Nanapede
Body -Banana with notches cut along the side and blueberries lined up on the back ( I used honey to attach blueberries).
Head- Blackberry attached with a toothpick.
Ant Appetizer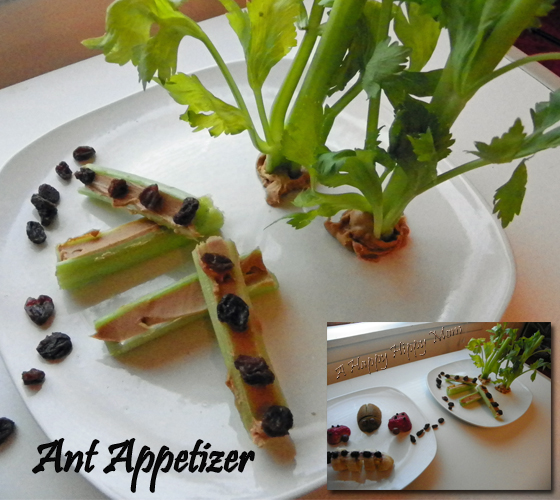 How To Make:
"Celery stalks, peanut butter and raisins or dried cranberries. Fill the center channel of your celery with peanut butter and raisins as shown. Have fun trying to make the habitat look as real as possible!"
Pumbaa & Timon's Bug Sludge Smoothie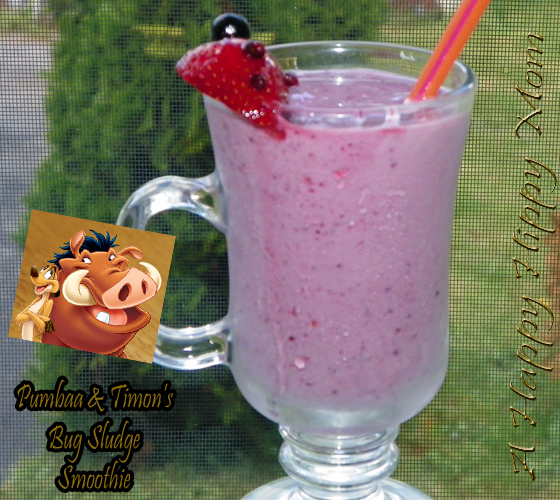 Smoothie Recipe
INGREDIENTS (for the smoothie shown):
1 cup frozen mixed berries
1 cup vanilla yogurt (regular or frozen)
1 cup skim milk
1 banana
PREPARE: Combine all ingredients in a blender and blend until smooth.
Add that extra creative touch by garnishing with creepy, crawly fruit creations!  I used the lady berry bug as the garnish for the smoothie above.
Hakuna Matata Harp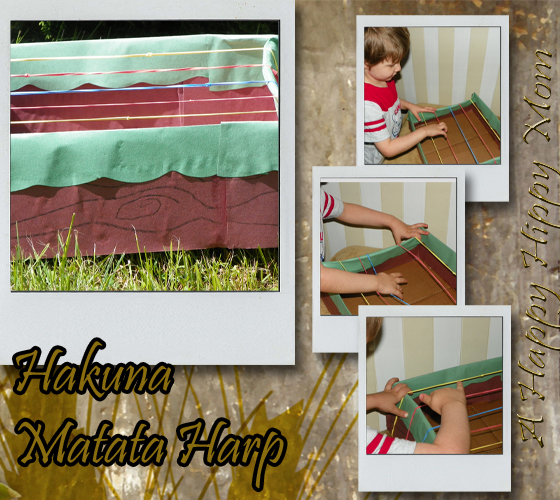 Supplies Needed For Project
Shoe ox Rubber bands Scissors Glue Decorating tools: crayons, markers, paint, paper, glitter, etc.
How To Make:
"1. Remove the lid from your shoebox.
2. Decorate your construction paper with whatever patterns and designs you want using your decoration tools.
3. Glue (or tape) your decorated papers to the inside and outside of your box.
4. Extend the various widths of rubber bands around the outside of the box and arrange them next to each other from thickest to thinnest.
5. Pluck individual strings or strum them altogether and you now have your very own shoebox harp!"
Zazu's Kazoos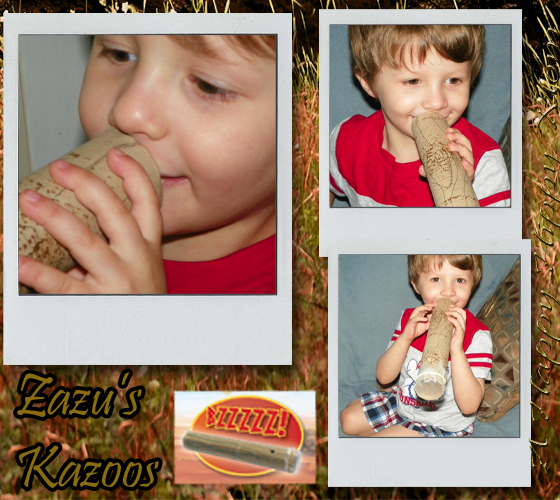 Supplies Needed For Project
A toilet tissue or paper towel tube,  Wax paper,  Rubber bands,  Scissors, and Pencil or pen.
How To Make
"1. Have an adult help you to cut the wax paper into a circle that is larger than the end of your cardboard tube.
2. Put the cut circle over the end of the tube and smooth it out. Hold it in place with the rubber band. Be sure to keep it smooth and tight around the outer edge of your tube.
3. With the pencil or pen, twist a hole into the tub just below the rubber band.
4. To play your kazoo, hold the open end of the tube to your mouth and hum or sing into it. You just might have to pucker your lips a bit."
How To Draw Pumbaa!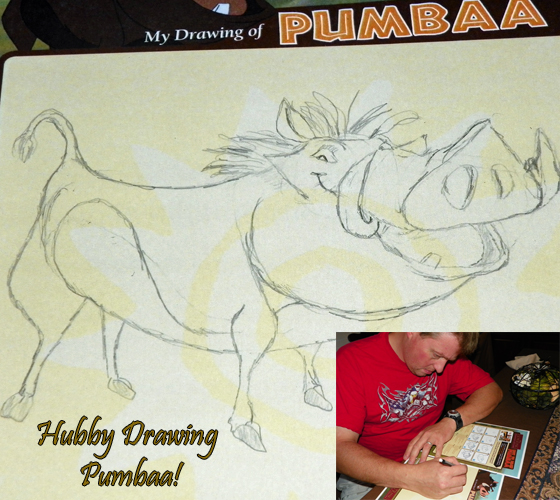 Hubby tried drawing Pumbaa and I think he did an excellent job! Check out the slide shows below to learn how to draw Pumbaa and Timon!
How to draw Pumbaa