I'm always in search of new tasty recipes which make my life much easier in the kitchen.  On the other hand, finding mealtime ideas isn't necessary simple, considering that the dishes will need to entice my fussy toddler's palate in addition to pleasing my teenager's and husband's tastebuds as well.   On occasions I turn out creating two different dinners to get everybody to eat and it is incredibly straining plus time consuming!
I was thrilled to find out about  how Chef Boyardee has  put together simple and yummy "Almost Homemade" meals that get dinner completely ready in 30 minutes or less!  The recipes incorporate Chef Boyardee products as the main ingredient, have the same wholesome great taste youngsters love, but additionally present an adult twist making them perfect for the entire family to enjoy.  The five new recipes include Cheeseburger-roni,Chili-roni, Pepperoni Spaghetti Bake, Ravioli Lasagna, and Taco-roni.
The Taco-roni recipe is similar to a dish I normally make, so  I wanted to test it out to see how it compared and if it took less time to cook.  The dish contains just 7 ingredients, serves 6 (1 cup each), and is just 249 calories per serving.  Check it out!
Taco-roni Recipe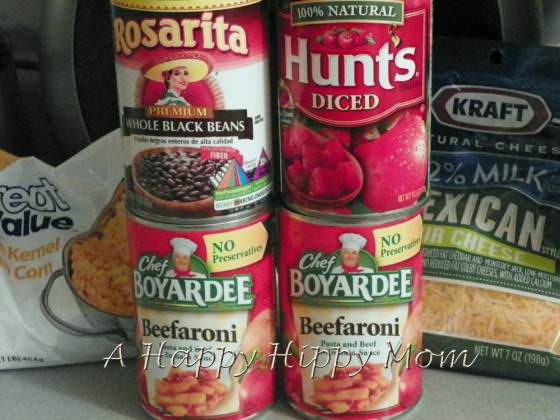 Ingredients
 * 2 can (15 oz each) Chef Boyardee® Beefaroni®
* 1 can (14.5 oz each) Hunt's® Diced Tomatoes, drained
* 1 can (15 oz each) Rosarita® Premium Whole Black Beans, drained, rinsed
* 1 cup frozen whole kernel corn
* 1 teaspoon ground cumin
* 1/4 cup shredded reduced fat Mexican cheese blend
* 1/2 cup broken yellow tortilla chips
Directions:
1. Place beefaroni, drained tomatoes, beans, corn and cumin in large saucepan; stir to combine.
2. Bring to a boil over medium-high heat. Reduce heat, cover and simmer 15 minutes. Sprinkle with cheese and broken chips just before serving.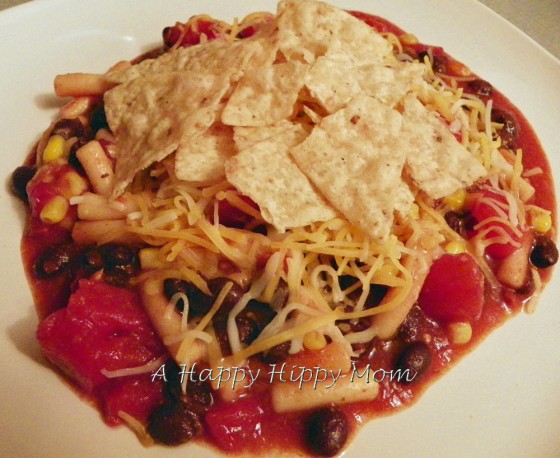 What I liked about the recipe is that  I only needed one pan to create it!   I'm the dishwasher in my home, so less cleanup means less dish pan hands. I also like how the ingredients are probably already in your pantry or very easy to find in the grocery store.   Not to mention it was extremely easy to make and  my daughter (who hates to cook) even could make this on her own.  My son picked around the beans and corn. NO BIG SURPRISE!   However, he ate the pasta, cheese, and chips.  It actually was quite delicious and I would definitely make it again!  I would rate it 4 out of 5 stars for being cost efficient (under $10), delicious, and simple to make!
What Chef Boyardee "Almost Homemade" recipe would you like to try the most?
"I wrote this review while participating in a campaign by Mom Central Consulting on behalf of Chef Boyardee and received a gift card to facilitate my review and a promotional item to thank me for taking the time to participate."
[ad#Google Adsense-1]