When I received a personal invitation to join the Carmex Blog Squad, I leaped at the opportunity!   Primarily because I've been a very long time consumer of Carmex's lip balms and find their products to be exceptional in relieving my dry, chapped lips. I can remember always having a jar of Carmex around the house when I was kid.  I guess I just adopted the tradition and have grown accustomed to loving their products, because I know they work.
Recently, the company sent me two of their newest items to try: ultra moisturizing Carmex Lime Twist and Carmex Vanilla click sticks.  Both have delicious flavor, SPF 15 (Octinoxate and Oxybenzone) and all of the fantastic moisturizing ingredients of the Carmex lip balm line.  However, these premium lip balms have three additional moisturizers not found in the original line.  The ultra moisturizing formula goes on smooth and makes your lips feel incredibly kissable soft!
The Carmex Lime Twist has a wonderful fresh,  fun flavor and goes on without making your lips feel greasy, oily, or waxy.  The lime is actually very subtle, but it adds just enough flavor and still has the great cool menthol feeling of the original Carmex products.
The Carmex Vanilla Stick lip balm is very lightly flavored and smells soooooooo good!  I know the company  says their products don't contain any addictive additives, but the camphor and menthol makes your lips feel tingly and the vanilla fragrance is incredibly delightful you just want to keep spreading it on and on and on…you get the picture!
Carmex also threw in a stick of their Moisture Plus lip balm for me to sample.  This stuff is the bomb.  It comes in a stylish,  sleek, slant-tip applicator and is perfect for dropping in your purse and using when your lips need  moisturizing.  I like to use it after applying lipstick to add a little shine for extra pucker power.  It contains Aloe, Vitamin E, and SPF 15 to protect your lips from the sun.  A MUST-HAVE PRODUCT to keep on hand!
The Carmex products are available at Walgreens, Walmart, and CVS.  I know it is rather early to think about the holidays, nevertheless the new click sticks would make great stocking stuffers.  I'm definitely going to stock up on them!
Oh I almost forgot to say that Carmex NEVER tests their products on animals!  That is a BIG PLUS in my book!
Carmex Jar Goes Green
Carmex is eliminating 20% of the plastic from the jar bottom. This will save 35 tons of plastic from being wasted and from being shipped so less fuel will be used. Read more about Carmex going greener here.
Carmex Prize Pack Giveaway!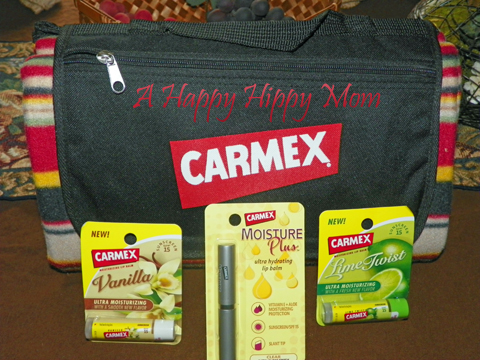 Courtesy of Carmex, one lucky reader will win a fantastic kit including a very cute picnic blanket and the three Carmex products I mentioned above.  To enter the giveaway please leave a comment sharing what Carmex product you would like to try the most.
Extra Entries
1. Read any of my other reviews and leave me a comment there.  Then come back here letting me know you did. Make sure you leave ten separate comments  (example: Left a comment at review extra entry 1, Left a comment at review extra entry 2, Left a comment at review extra entry 3, ect.).   This is worth 10 extra entries.
2.Mention the giveaway on your own blog linking back to this post and Carmex.  Leave an additional comment with a link to where you blogged about the giveaway. This is worth 5 extra entries.  Make sure you leave five separate comments. (example blogged extra entry #1, blogged extra entry #2, blogged extra entry #3, ect…)
3. Follow my blog and leave me an additional comment. ( There is a Google Friend Connect widget on my footer that shows my followers. Just click follow). If you already follow leave me a comment letting me know you already do. (3 extra entries)
4. Enter any of my current giveaways and let me know you did here. (3 extra entries)
5. Follow @ahappyhippymom on Twitter plus tweet about the giveaway. Please make sure you leave the link where you tweeted in your comment. YOU CAN TWEET ONCE PER DAY TO INCREASE YOUR CHANCES OF WINNING.
6. Follow Carmex Lip Balm on Twitter (2 extra entries)

7. Subscribe to my feed and leave a comment. If you already subscribe leave a comment telling me you are already a subscriber.
8. Like Carmex Lip Balm on Facebook.  This is worth 2 extra entries.
9. Like ahappyhippymom on Facebook. Worth 2 extra entries
10.  Stumble any of my reviews or recipes.  Worth 3 extra entries
Winner will be chosen at random via Random.org.   Info will be forwarded to sponsor.
Open US Only- age 18 +
The contest ends August 31st,  11:59 PM eastern
FTC Disclosure: Carmex provided me with products to facilitate my review.  However, all opinions and comments are of my own.  No compensation was received.
[ad#Google Adsense-1]