I can't believe that summer season is nearly over and my daughter is going back to school in less than two weeks!  It feels like only yesterday she was dropping her bookbag at the front door all pumped up about school break and wanting to know what there was in the kitchen to nibble on.  This coming year she's going to be attending high school and I'm trying to find some simple snacks she can bring along with her that I know she will enjoy as well as keep the munchies away so she can completely focus throughout her classes.
Recently,  Betty Crocker through MyblogSpark,  introduced me to their Lucky Charm and Golden Grahams Cereal Treats Bars.
* Flavor varieties include the ever popular Golden Grahams® (130 calories) and new Lucky Charms® Treats (100 calories), loaded with popular favorites like chocolate and marshmallows.
* Cereal Treats Bars contain less than 140 calories per bar and are made with wholesome cereal, making them a snack option that you can feel good about giving your kids.
* TWO Box Tops for Education seals on each box of Cereal Treat Bars, making earning cash for your school doubly cool!
My daughter really liked the  Cereal Treat Bars and thought they were absolutely delicious!  I asked her if she would want to take them along in her backpack for a quick snack and she said yes,  so these yummy treats are definitely a keeper I will be stocking up on!  If you're looking for a snack ideas to help your kiddos get "back to cool" and easy treats that they are sure to love,  give them a try.
These flavor-packed Cereal Treats Bars are sure to meet the 'cool factor' that kids demand. Check out Cereal Treats Bars online for great information and coupons for new products. Also, be sure to visit the Betty Crocker Facebook page and get involved in the conversation. We'd love to hear how your family enjoys Cereal Treats Bars!
Betty Crocker Cereal Treats Bars Prize Pack Giveaway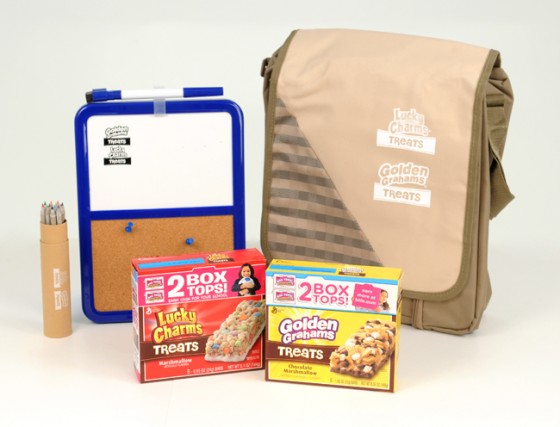 Courtesy of MyBlogSpark, one reader will win a cool Betty Crocker Cereal Treats Bars Prize Pack containing…
# One box of Lucky Charms® Cereal Treats Bars
# One box of Golden Grahams® Cereal Treats Bars
# Lunch bag
# Locker whiteboard
# Colored pencil set
To enter the giveaway, please leave a comment sharing how you will use Cereal Treats Bars to help make Back-to-School season cooler for your kids.
Extra Entries
1. Read any of my other reviews without a giveaway and leave me a comment there.  Then come back here letting me know you did. Make sure you leave ten separate comments  (example: Left a comment at review extra entry 1, Left a comment at review extra entry 2, Left a comment at review extra entry 3, ect.).   This is worth 10 extra entries.
2.Mention the giveaway on your own blog linking back to this post, Betty Crocker and MyBlogSpark.  Leave an additional comment with a link to where you blogged about the giveaway. This is worth 5 extra entries.  Make sure you leave five separate comments. (example blogged extra entry #1, blogged extra entry #2, blogged extra entry #3, ect…)
3. Follow my blog and leave me an additional comment. ( There is a little widget on my footer that shows my followers. Just click follow). If you already follow leave me a comment letting me know you already do. (3 extra entries)
4. Enter any of my current giveaways and let me know you did here. (3 extra entries)
5.Follow @ahappyhippymom and tweet about the giveaway including the hash tag #myblogspark. Please make sure you leave the link where you tweeted in your comment. TO INCREASE YOUR CHANCE OF WINNING I AM ALLOWING 1 TWEETS PER PERSON DAILY.
6. Subscribe to my feed and leave a comment. If you already subscribe leave a comment telling me you are already a subscriber.
7. Like Betty Crocker on Facebook .  This is worth 2 extra entries.
8. Like ahappyhippymom on Facebook. Worth 2 extra entries
Winner will be chosen at random via Random.org.   Info will be forwarded to sponsor.
Open To US Residents Only- age 18 +
The contest ends  September 8th,  11:59 PM eastern
"Disclosure: Cereal Treats Bars, information, and giveaway have been provided by General Mills through MyBlogSpark."