General Mills,  through MyBlogSpark, recently sent me a package containing the brand new Fiber One 80 Calories cereal, pedometer, and neoprene iPod holder with armstrap.  To be honest,  as much as I was excited to receive the last two items, I was kinda dreading the cereal.  WHY?  Because most fiber cereals are usually in the form of boring flakes or hard to chew crunchy things that are tasteless.  Yet, I was pleasantly surprised when I saw the box of  Fiber One 80 Calories cereal and noticed the fiber was in the form of a crunchy wheat and corn puff squares plus was easy to chew!    The best part is the cereal actually had a nice slight taste of honey and was delicious!  Yup, you now can get your 40 percent of the recommended Daily Value of fiber in just one 80 calorie serving and do it without having to sacrifice flavor and dental work!
I don't like to drink milk,  so I eat the cereal straight out of the box  or include it in a snack mix of nuts, raisins, and dried cranberries!  Its absolutely delicious and a great way to help curb my appetite throughout the day.  Eating fiber can make you feel full longer, which is extremely beneficial if you're trying to lose weight and staying on a weight loss plan.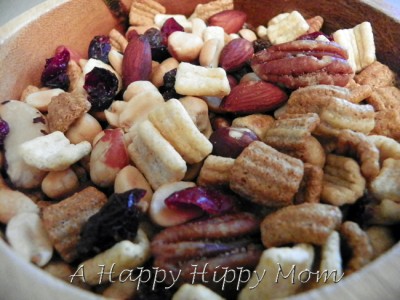 Besides the great tasting cereal I'm also enjoying the pedometer and ipod holder!  The arm holder is fantastic for being able to listen to my iPod touch when I'm working out on the treadmill and keeps it safe from falling or getting scratched.    The sensor pedometer accurately records my steps and converts them to miles and calories burned.   A perfect combination for helping me shed unwanted pounds!
"Are you hungry yet? If so, look for new Fiber One 80 Calories cereal on grocer's shelves now! Visit http://www.fiberone.com/ for great information on healthy living and coupons for new products. Also, be sure to check out the Fiber One Facebook page and get involved in the conversation. We'd love to hear how you feel satisfied with new Fiber One 80 Calories cereal! "
Fiber One 80 Calories Cereal Prize Pack Giveaway!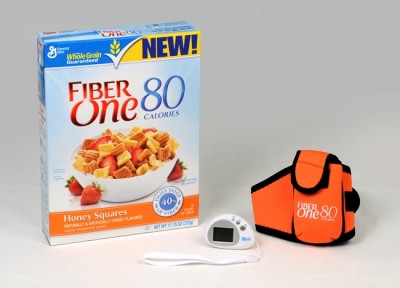 One reader will win a prize pack containing
1 box of Fiber One 80 Calories Cereal
1 sensor pedometer with USB connector to chart walking progress
1 neoprene iPod/smartphone holder with armstrap
To enter the giveaway please leave a comment letting me know if your current breakfast keeps you full until lunch time.
Extra Entries
1. Read any of my other reviews without a giveaway and leave me a comment there.  Then come back here letting me know you did. Make sure you leave ten separate comments  (example: Left a comment at review extra entry 1, Left a comment at review extra entry 2, Left a comment at review extra entry 3, ect.).   This is worth 10 extra entries.
2.Mention the giveaway on your own blog linking back to this post, Fiber One and MyBlogSpark.  Leave an additional comment with a link to where you blogged about the giveaway. This is worth 5 extra entries.  Make sure you leave five separate comments. (example blogged extra entry #1, blogged extra entry #2, blogged extra entry #3, ect…)
3. Follow my blog and leave me an additional comment. ( There is a little widget on my footer that shows my followers. Just click follow). If you already follow leave me a comment letting me know you already do. (3 extra entries)
4. Enter any of my current giveaways and let me know you did here. (3 extra entries)
5.Follow @ahappyhippymom and tweet about the giveaway including the hash tag #myblogspark. Please make sure you leave the link where you tweeted in your comment. TO INCREASE YOUR CHANCE OF WINNING I AM ALLOWING 1 TWEETS PER PERSON DAILY.
6. Subscribe to my feed and leave a comment. If you already subscribe leave a comment telling me you are already a subscriber.
7. Like Fiber One on Facebook .  This is worth 2 extra entries.
8. Like ahappyhippymom on Facebook. Worth 2 extra entries
Winner will be chosen at random via Random.org.   Info will be forwarded to sponsor.
Open To US Residents Only- age 18 +
The contest ends  August 4th,  11:59 PM eastern
"Disclosure: Fiber One 80 Calories cereal, information, and giveaway have been provided by General Mills through MyBlogSpark.""
[ad#Google Adsense-1]