The most anticipated movie of the summer is about to hit theaters on Wednesday, August 10th – DreamWorks Pictures' THE HELP! Check it out!
Synopsis
Based on one of the most talked about books in years and a #1 New York Times best-selling phenomenon, "The Help" stars Emma Stone ("Easy A") as Skeeter, Academy Award®–nominated Viola Davis ("Doubt") as Aibileen and Octavia Spencer as Minny—three very different, extraordinary women in Mississippi during the 1960s, who build an unlikely friendship around a secret writing project that breaks societal rules and puts them all at risk. From their improbable alliance a remarkable sisterhood emerges, instilling all of them with the courage to transcend the lines that define them, and the realization that sometimes those lines are made to be crossed —even if it means bringing everyone in town face-to-face with the changing times.

Deeply moving, filled with poignancy, humor and hope, "The Help" is a timeless and universal story about the ability to create change.
Watch The Trailer!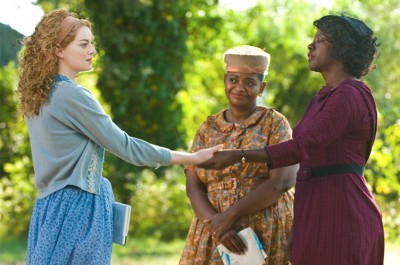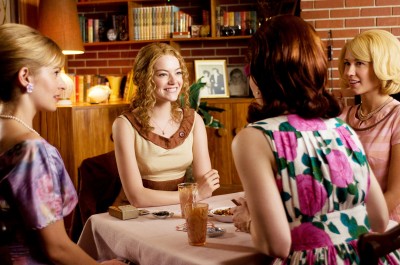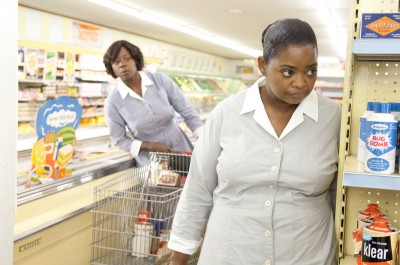 I've never read "The Help,"  but the movie looks fantastic!  I can't wait to see it!
The Help Fun Facts!
The film is based on the phenomenal New York Times best-selling book by Kathryn Stockett. With 3 million copies in print, "The Help" remained on the NYT best-seller list for 103 weeks, six of which were at No. 1.

·    Produced by Brunson Green, Chris Columbus and Michael Barnathan, and directed and written for the screen by Tate Taylor, "The Help" is a deeply moving, poignant film about the ability to create change.

·    Tate Taylor directed and wrote the screenplay for "The Help." Both he and the author of the novel, Kathryn Stockett, were childhood friends and grew up in Jackson, Mississippi, where the book is based.

·    "The Help" boasts an illustrious cast, including Academy Award® nominee Viola Davis, Allison Janney, Emma Stone, Bryce Dallas Howard, Octavia Spencer, Oscar® winner Sissy Spacek and Academy Award® nominee Cicely Tyson.

·    Growing up in Jackson, Miss., in the 1970s, both director Tate Taylor and author Kathryn Stockett had maids (whom both refer to as their "co-mothers") who cared for them while their mothers worked. Taylor's "co-mother," Carol Lee, has a small part in the film.

·    The film was shot on location in and around Greenwood, Miss., and the citizens of Greenwood willingly pitched in to find period props for the film by digging around in their attics and basements, and many played extras in "The Help" as well. Even producer Brunson Green's grandmother's dress wound up in wardrobe.

·    Octavia Spencer, who plays Minny in the film, is a longtime friend of director Tate Taylor, having met him when they both worked on a film. The two eventually became roommates in LA for four years. In addition, producer Brunson Green (also from Jackson, Miss.) is also a longtime friend of both Taylor and Spencer and the three used to hang out together, occasionally with Kathryn Stockett, author of "The Help."

·    While growing up in Jackson, Miss., Tate Taylor, Kathryn Stockett and Brunson Green would regularly be treated to milkshakes and grilled cheese sandwiches at Brent's Pharmacy soda fountain. The production was able to recreate the real Brent's Pharmacy as it was back when they were children.

·    Local chefs were brought in to make sure foods used in the scenes, from fried chicken to congealed salads, were regionally correct and also correct for the times, and a conscious effort was made to make it all look homemade—not fancy or store-bought—to add to the authenticity of the film.

·    Cast members spent a whole day in a ballroom learning how to do period dances, including the bunny hop—taught by Sissy Spacek.

·    A dialect coach, hired to make sure everyone's southern accent was perfect, flew into Jackson, Miss., to record accents for the actors.  Even the real southerners in the cast were coached in the proper way of speaking specifically for the Mississippi Delta. Allison Janney picked Producer Brunson Green's mother's accent to emulate for her character, Charlotte. In 1963, Mrs. Green was the same age as the character Skeeter, played by Emma Stone.

·     The mothers of Tate Taylor, Kathryn Stockett and Brunson Green all have appearances in "The Help."

·    Due to the intense summer heat in Mississippi, the filmmakers adjusted the schedule to shoot only indoors in the middle of the day. Exteriors were shot in the early morning and late afternoon.

·    Director Tate Taylor grew up visiting Greenwood, Miss., as a child and would later spend nights in the home used for the interior of Skeeter Phelan's house. Taylor was college buddies with the homeowner's son.

·    The Mayflower Café, a Jackson, Miss. landmark, where Stuart and Skeeter eat oysters in the movie, is one of Director Tate Taylor's favorite restaurants. It is the place where Taylor ate his first raw oyster as a child.

·    The movie theater that Skeeter observes in the beginning of THE HELP while getting gas was the theater Director Tate Taylor went to as a child. It closed down in the 1980s and was brought back to life by the production crew. The gas station is a yoga studio today, but was transformed back into a gas station for the shoot.
THE HELP Prize Pack Giveaway!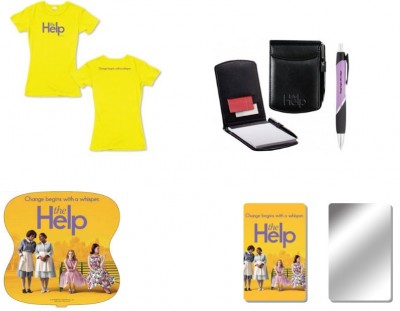 Courtesy of DreamWorks Pictures, one reader will win THE HELP Prize Pack containing…
- THE HELP t-shirt in adult female sizes of S, M, L, XL
- THE HELP pocket jotter & pen
- THE HELP fan
- THE HELP nail file/mirror
To enter the giveaway leave me a comment sharing if you have ever read the book "The Help" and if you plan on seeing the movie.
Extra Entries
Extra Entries
1. Read  any of my  REVIEWS without a giveaway and leave me a comment there.  Then come back here letting me know you did. Make sure you leave ten separate comments  (example: Left a comment at review extra entry 1, Left a comment at review extra entry 2, Left a comment at review extra entry 3, ect.).   This is worth 10 extra entries.
2.Mention the giveaway on your own blog linking back to this post and Pampers.  Leave an additional comment with a link to where you blogged about the giveaway. This is worth 5 extra entries.  Make sure you leave five separate comments. (example blogged extra entry #1, blogged extra entry #2, blogged extra entry #3, ect…)
3. Follow my blog and leave me an additional comment. ( There is a Google Friend Connect widget on my footer that shows my followers. Just click follow). If you already follow leave me a comment letting me know you already do. (3 extra entries)
4. Enter any of my current giveaways and let me know you did here. (3 extra entries)
5. Follow @ahappyhippymom on Twitter plus tweet about the giveaway. Please make sure you leave the link where you tweeted in your comment. YOU CAN TWEET ONCE PER DAY TO INCREASE YOUR CHANCES OF WINNING.
6. Follow The Help on Twitter (2 extra entries)

7. Subscribe to my feed and leave a comment. If you already subscribe leave a comment telling me you are already a subscriber.
8. Like The Help on Facebook.  This is worth 2 extra entries.
9. Like ahappyhippymom on Facebook. Worth 2 extra entries
10.  Stumble any of my reviews.  Worth 3 extra entries
Winner will be chosen at random via Random.org.   Info will be forwarded to sponsor.
Open US and Canada Residents Only- age 18 +
The contest ends August 22,  11:59 PM eastern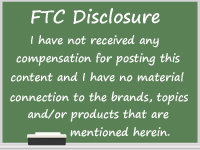 [ad#Google Adsense-1]