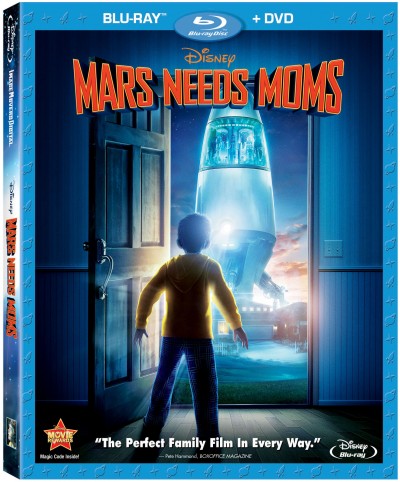 On August 9th, Walt Disney Studios Home Entertainment releases MARS NEEDS MOMS on 3D Blu-ray, 2D Blu-ray, & DVD!  My family received an advanced copy to view and we LOVED it!
The motion-capture intergalactic adventure revolves around Milo, an average nine year old boy who hates doing chores and believes he is a slave to his mom's constant nagging.  Milo is more interested in watching zombie movies, reading comic books, and jumping on his bed than listening to what his Mom has to say.  However things become worse when he blatantly refuses to eat his broccoli and is told by his mom "Ok. Well, no broccoli, no TV."  Not wanting to miss Zombie Dawn III on pay per view, he cleverly makes it look like he finishes his dinner by feeding the veggies to the cat.  When mom notices Cujo yakking up the green stuff she gets angry and orders Milo to go to bed.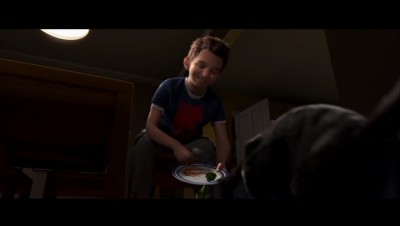 After Mom tells Milo to go to his room,  she hears the bed springs creaking and opens Milo's bedroom door only to see him disobeying yet again and jumping on his bed.  She tells him to get into bed and that her life would be so much better if she didn't have to be a nagging mom.  Milo,  still being mad at missing his movie,  angrily spouts out that his life would be so much better if he didn't have a mom at all.  Mom is shocked and saddened by what she just heard.  She begins to silently cry and then closes the door.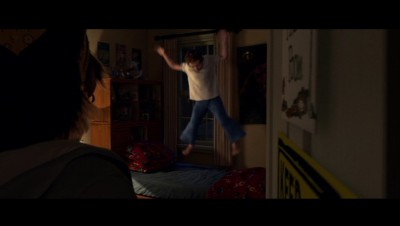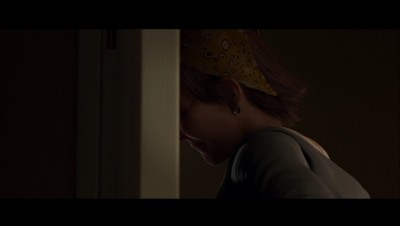 Milo can't sleep, because the guilt of what he said overcomes him.  He gets up to apologize and heads down stairs to tell her sorry.  Nevertheless, his efforts are interrupted by a strange hissing sound and he notices a bright light coming from his mom's bedroom.   He opens the door, runs to the window, and sees mom being whisked away by martians.  Milo runs through the woods to try and find his mom.  He soon discovers she is inside a spaceship and screams "Let her go! Let her go!"   The ship begins to power up and his shirt gets caught on the landing gear,  which pulls him up into the spacecraft.  The craft shoots up into outer space and Milo passes out from the G forces.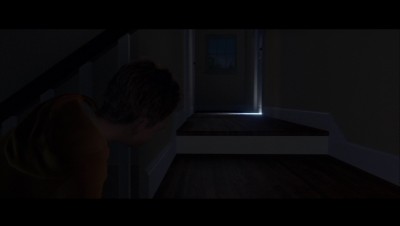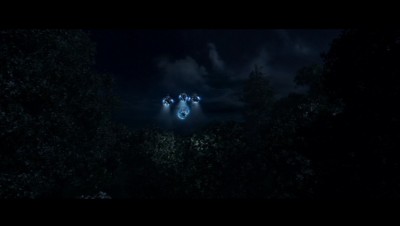 Waking up on Mars, Milo is locked up in a cell, but manages to escape down a garbage chute where soon meets a man child named Gribble.  He learns from his new fellow Earth friend that "Mars needs moms."  Meaning, every twenty five years or so,  hatchlings (baby martians) pop out of the ground like potatoes.  And the Martians, being terrible at mothering, build Nanny-bots to raise the girls (the hatchling boys are a different story).  The Nanny-bots are only good to raise one child and then are no good.   The bots need to be programmed each time, so they find Earth moms who are good at controlling their own kid and extract the discipline with the memory extraction machine.  Then they program the Nanny-bots with it.  After that they terminate the mother at sunrise,  which is only 7 hours away.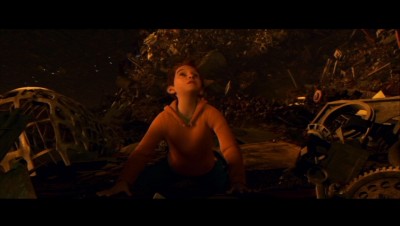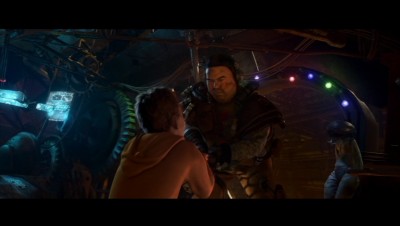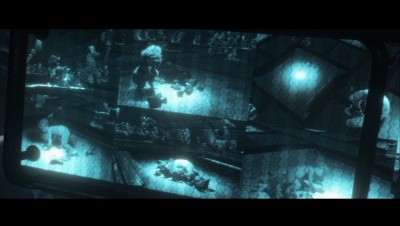 Milo convinces Gibble to help rescue his mom before Earth's night is up.  With a race against time and oxygen, he sets out to save his mom and gets some unexpected help along the way.  However, can he get to her in time before she becomes toast?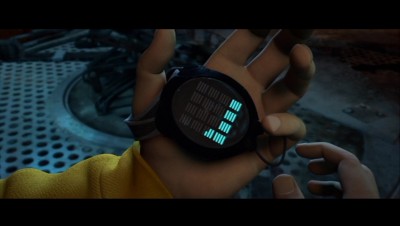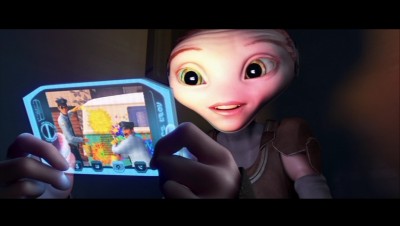 Watch the trailer
This Fall, families will not want to miss the chance to own MARS NEEDS MOMS, the story of a young boy's intergalactic adventure to find his Martian-nabbed mother as it arrives into living rooms across the country in a Blu-ray™ Combo Pack with 3D, DVD, Movie Download and On-Demand August 9, 2011. From Disney and Academy Award®-winner Robert Zemeckis (Best Director, Forrest Gump, 1994), comes the craziest adventure in the galaxy— complete with out-of this world special effects and jam packed with bonus features, it's a thrilling journey that's pure fun.

"The perfect family film in every way. Funny, warm and wonderful."
Pete Hammond, BOXOFFICE MAGAZINE

Uniquely packaged with families top of mind, MARS NEEDS MOMS will be available for purchase as a 4-Disc Blu-ray Combo Pack (Blu-ray 3D™ + Blu-ray 2D + DVD + Digital Copy) for the suggested retail price of $49.99 US/ $56.99 Canada; a 2-Disc Blu-ray Combo Pack (Blu-ray 2D + DVD) for $39.99 US/ $46.99 Canada; a 1-Disc DVD for $29.99 US/ $35.99 Canada; a High Definition Movie Download for the suggested retail price of $39.99 U.S./45.99 Canada; a Standard Definition Movie Download for the suggested retail price of $29.99 U.S./$35.99 Canada; and/or On-Demand (for additional information and pricing, please contact your television provider or favorite digital retailer. Bonus features are not offered with On-Demand).

The Disney Blu-ray Combo Packs provide families with an enhanced entertainment experience – offering the flexibility to enjoy the film at home, in the car and on portable devices, in several platforms of choice (i.e., Blu-ray 3D, Blu-ray 2D, DVD + Digital Copy) and comes packaged complete with never-before-scene bonus features, including deleted scenes, a special featurette and more. To learn more, fans are invited to visit

www.disney.com/marsneedsmoms

.

MARS NEEDS MOMS is brought to life by the performances of Seth Green (TV's ―Family Guy‖) as Milo, Joan Cusack (Toy Story 2 & 3) as Milo's Mom, Dan Fogler (Kung Fu Panda, Robot Chicken) as Gribble and Elizabeth Harnois (A Single Man, TV's ―90210‖) as Ki and is directed by Simon Wells (The Time Machine, The Prince of Egypt) and produced by Robert Zemeckis (Disney's A Christmas Carol, Forrest Gump).

Bonus Features:

Blu-ray 3D:

Everything on the Blu-ray & DVD plus…. Mom-Napping (All-new 3D Exclusive) – There's more than meets the eye during the Martian abduction of Milo's Mom. This alternate scene — completely finished in 3D — tells all.

Blu-ray 2D:

Everything on the DVD plus… Extended Opening – The movie begins… but wait, there's more. See it here. Life On Mars: The Full Motion-Capture Experience – Go way behind the scenes to the ‗space' where the actors' performances are captured. This feature-length, picture-in-picture viewing mode also lets you listen to director Simon Wells and actors Seth Green and Dan Fogler give a fun and insightful look into creating the movie. Deleted Scenes with Simon Wells introductions (4 Blu-ray 2D Exclusive Deleted Scenes) – 7 deleted scenes of which four are exclusive to the Blu-ray 2D release. Some cool scenes ended up on the cutting room floor. Now you can see them with introductions by director Simon Wells. "Flower Power" Easter Egg – the name of the show that Ki watched and learned English from is entitled ―Freaks on the Street.‖

Movie Download:

Everything on the DVD plus… Deleted Scenes – Three deleted scenes with introductions by Director Simon Wells

DVD: "Fun With Seth" – The cast and crew had a galaxy of fun making Mars Needs Moms, thanks to the on-set antics of Seth Green and Dan Fogler. Watch them do the ROM dance see them compete to see who can do their verbal ROM the fastest, and much more. Martian 101 – Do you speak Martian? Go behind the scenes and see how the producer and cast came up with their own unique Martian language. Then learn how to speak it yourself with lessons from a leading Martian language expert.
Win It
One luck ready will win a Mars Needs Moms Blu-ray DVD Combo pack!  Enter
here
for your chance to win it!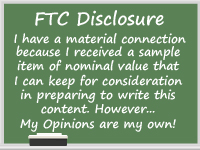 [ad#Google Adsense-1]