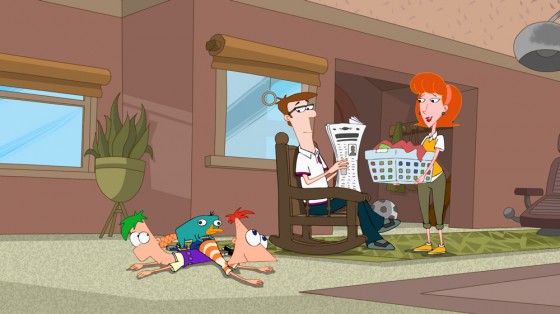 My family is huge Phineas & Ferb fans, so we were extremely excited to hear the announcement that the premiere of the Disney Channel original Movie, "Phineas and Ferb: Across the 2nd Dimension" is set to debut Friday August 5 (8:00 p.m., ET/PT) on Disney Channel and Saturday, August 13 (10:00am., ET/PT) on Disney XD!
I'm sure most of you are familiar with Phineas and Ferb if you have a Tween in your house, since the Disney's Emmy Award-winning animated hit series has ranked #1 among Tweens for the past three years.  However, if you have never heard of the cartoon its about two stepbrothers who seem to always be on summer vacation and want to make each 104 days of it spectacular .  The brothers are continuously inventing and building some strange contraption and striving to outsmart their jealous older sister Candace who's objective is to get them in trouble with their mom.  Meanwhile, their seemingly mindless, but actual clever family pet platypus, named Perry hides as suave secret crime fighting agent P and is saving the planet from destruction as he battles  the evil Dr. Doofenshmirtz. The cartoon is fantastic and hugely entertaining!
"Phineas and Ferb: Across the 2nd Dimension" Synopsis
"The story begins on a summer afternoon in Danville. While celebrating the anniversary of getting their beloved pet, Perry, imaginative stepbrothers Phineas and Ferb are catapulted into Dr. Doofenshmirtz's Evil Inc., where they encounter a machine that opens portals into other dimensions.  Phineas and Ferb travel to Alternate-Danville, the eerily familiar dimension resembling their home in the Tri-State area. There, they come face to face with their alternate egos, while their faithful pet Perry reveals a secret of his own.

In Alternate-Danville they encounter the sinister Dr. Doofenshmirtz2, who has successfully managed to reign over the gloomy universe, forbidding all things summer. Phineas and Ferb team up with Isabella2 and an underground group called the Resistance, led by Candace2, who together help open up a window back home.

Unfortunately Dr. Doofenshmirtz2 and his sentinel of robots follow the kids back home and threaten to take over the real Danville. Phineas and Ferb get a resurgence of hope with help from Agent P and a key that holds the secret to usurping Dr. Doofenshmirtz2 and his army. Meanwhile, the Resistance seizes an opportunity to restore order, happiness and summer back in their home. Even though everything hangs in the balance, including Perry's future fate with Phineas and Ferb, everybody must focus on the task at hand before Dr. Doofenshmirtz2 unleashes true havoc on the Tri-State Area.

The voice cast features singer-actor Vincent Martella ("Everybody Hates Chris") as Phineas Flynn, Thomas Brodie-Sangster ("Nanny McPhee") as Ferb Fletcher, Ashley Tisdale ("Sharpay's Fabulous Adventure") as Candace Flynn, Mitchel Musso ("Pair of Kings") as Jeremy, Caroline Rhea ("Sabrina, the Teenage Witch") as mom Linda Flynn-Fletcher, Richard O'Brien ("The Rocky Horror Picture Show") as dad Lawrence Fletcher, Dee Bradley Baker ("American Dad") as Perry the Platypus, Alyson Stoner ("Camp Rock," "Camp Rock 2: The Final Jam" ) as Isabella, Jeff "Swampy" Marsh as Major Monogram and Dan Povenmire as the nefarious Dr. Doofenshmirtz. Doris Roberts ("Everybody Loves Raymond") guest stars as Mrs. Thompson, Dr. Doofenshmirtz's senile neighbor.

Other core cast members include Maulik Pancholy ("30 Rock") as brainy neighbor Baljeet, Bobby Gaylor ("Hope & Faith") as neighborhood bully Buford, Kelly Hu ("Hawaii Five-0") as Candace's best friend, Stacy, and Tyler Mann ("Weeds") as Major Monogram's faithful intern, Carl.

The teleplay was written by creators/executive producers Emmy Award-winner Dan Povenmire, Jeff "Swampy" Marsh and Jon Colton Barry. Povenmire and Robert Hughes direct. "Phineas and Ferb: Across the 2nd Dimension" is a production of Disney Television Animation. It carries a TV-G parental guideline.

"Phineas and Ferb" airs daily on Disney Channel and Disney XD."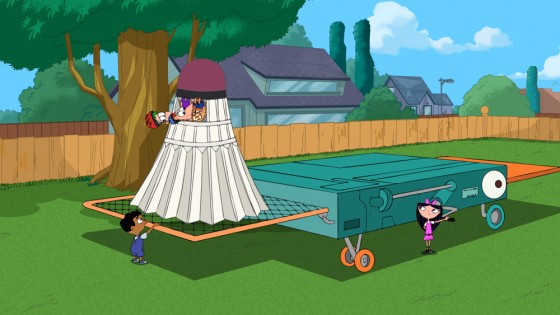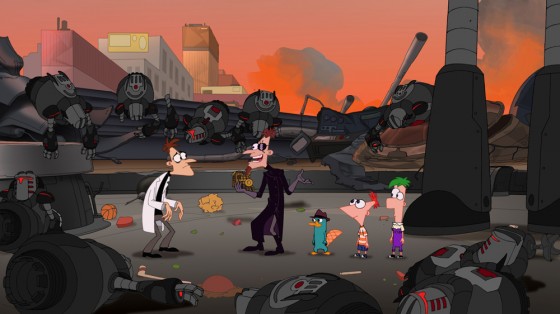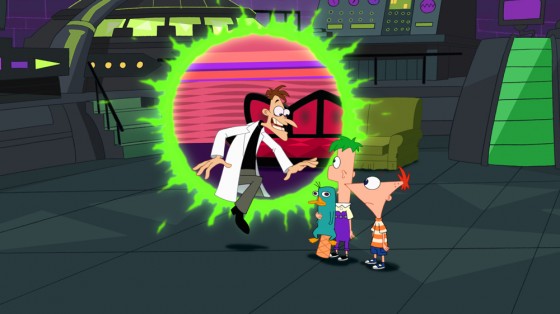 "Perry the Platy-bus On Tour"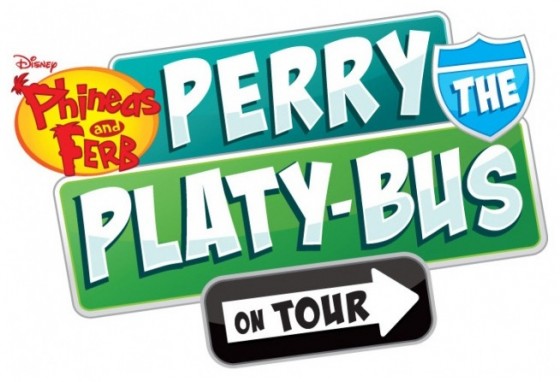 On Monday, Jully 11, in New York City, Disney launched "Perry the Platy-bus On Tour," featuring a distinctive, 27-foot long, customized, rounded aluminum Airstream trailer outfitted stem-to-stern as Phineas' and Ferb's teal-colored pet platypus, Perry!  During the tour, enthusiasts are invited to marvel at nearly 4,000 pounds of Perry (complete with bill, tail, and googly eyes), come aboard, play the exciting new Unity 3D video game, "The Movie Game: The Dimension of Doooom!" and video console games, sing Perry-oke and more. Admission is FREE. If you would like to attend this amazing event and witness Perry the Platy-bus firsthand it is on a coast-to-coast journey from New York City to San Diego's Comic-Con International (july 21-24) and the Disney D23 Expo in Anaheim (August 19-21).
Also other Phineas and Ferb activities and products available this summer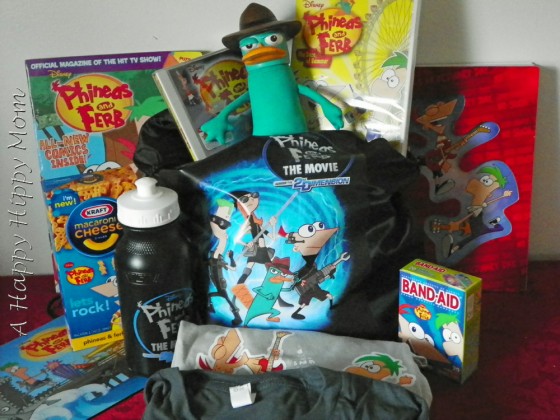 There is tons of "Phineas and Ferb"  fun products and activities available  this summer to keep fans thrilled including:

The soundtrack, "Phineas and Ferb: Across the 1st and 2nd Dimensions," from Walt Disney Records, will debut Tuesday, August 2,

Two-disc "Ultimate Fan Pack" including a DVD, digital copy of the movie, eight digital music tracks, eight deleted scenes, a bonus episode with character and filmmaker commentary and more, will be available Tuesday, August 23.

"The Movie Game: The Dimension of Doooom!" and a "2D Yourself" activity that allows users to create a custom avatar to explore the 2nd Dimension, among other digital experiences.

A video game inspired by the movie, "Phineas and Ferb: Across the 2nd Dimension," for the Wii system, Nintendo DS family of handheld systems and PlayStation 3 computer entertainment systems, will release this summer through Disney Interactive Studios.

A special junior novel, joke and novelty book, and an official 96-page magazine will be available Monday, July 27 via Disney Publishing Worldwide.

"Disney's Phineas and Ferb: The Best LIVE Tour EVER!," a live touring stage show produced by Feld Entertainment that will play in more than 80 hometowns across the country, beginning August 21 in Lakeland, Florida.

"Phineas and Ferb: We're Making a Movie," an interactive live entertainment experience starring Phineas and Ferb.

"Phineas and Ferb" action figures, apparel, accessories, grocery and health and beauty products, and MORE!
We received a cute sling bag packed with some Phineas and Ferb items to get us excited about the upcoming movie and absolutely love the stuff!  My son is running around and shaking the Perry plush doll and listening to it sing "Doo-Bee-Doo-Bee-Doo-Bah!"  Too cute!  We cant wait to see the new movie!
"Disclosure: As a thank you for posting we received a Phineas and Ferb gift pack courtesy of Disney Channel.  However, all opinions were of my own."
[ad#Google Adsense-1]