Have you checked out Cooking.com recently?  The online shop features more than 60,000 cooking products from  the finest manufacturers you trust such as KitchenAid, Cuisinart, Le Creuset, Calphalon, Pfaltzgraff, Viking, and much more!  You can browse everything from   furnishings,  cookware, barware, cooking tools, small appliances, cookbooks, and featured recipes excellent for spicing up your kitchen.  They even have a section specializing in kids cooking with playful products to get them involved and making the most of mealtime!
I'm particularly  astounded by the wide array of specialty and professional cookware sets at Cooking.com!  No kitchen is complete unless of course it possesses a great  set of cookware and my pots and pans are all chipped up, so I'm in the market for a new set.  The store carries all major kitchen cookware brand names, including Cuisinart,  EarthPan,  Emerilware from All-Clad,  Fagor,  Farberware,  Paula Deen, and  Rachael Ray, just to mention a few!
This time around I'd prefer a pan set that is definitely nonstick BUT eco-friendly and noticed Earthpan's 10 pc. Espresso Nonstick Cookware Set for just $149.00.  The Earthpan products are coated with exclusive eco-friendly SandFlow that originates from sand and is designed to provide exceptional food release plus easy cleanup.  Evidently, based on lab tests, the SandFlow nonstick food releasing performance will last longer than all other ceramic-based, eco-friendly cookware, three to one,  which sounds incredible!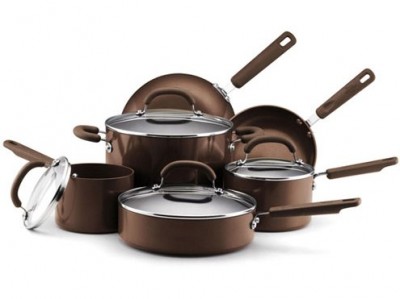 On the other hand, I'm rather  partial to Cuisinart items, simply because I've used them previously and they've performed effectively way beyond the product guarantee.  Cooking.com offers a Cuisinart GreenGourmet 10 pc. Nonstick Cookware Set for $199.99 and it looks magnificent.   Cuisinart  employs Ceramica nonstick technology which happens to be ceramic-based as opposed to petroleum based,  helping to  conserve existing oil supplies.  The pots and pans are literally constructed from 70% recycled stainless steel and also have a PTFE- and PFOA_free surface for much healthier cooking.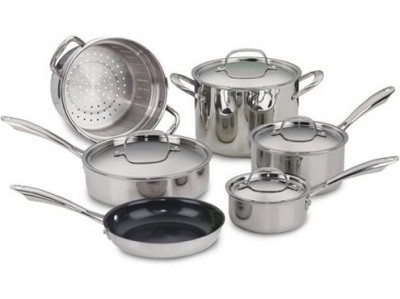 Both sets look fantastic!  Have any of you invested in either set?  I'd be interested in knowing how you like the cookware and what one you would recommend!
Betty Crocker Store
Check out the Betty Crocker Store, which is operated by Cooking.com!  The site offers more than 5,000 premium cooking-related items and delivers them straight to your front door! Now that's service!
Disclosure:  "This post is in association with our friends at Cooking.com ."
[ad#Google Adsense-1]