Dr. McDougall's Right Foods, the nation's leading natural meal cup brand, began sixteen years ago in efforts  to create delicious wholesome foods accessible to absolutely everyone. Throughout the years, the company broadened its product  line to provide 42 scrumptious, healthy and hassle-free meals.
Not too long ago, Dr. McDougall's Right Foods introduced a brand new line of  all-natural Asian Entrees which are very YUMMY!  The convenient meals are available in eight low-fat varieties including Pad Thai  Noodles, Spicy Kung Pao Noodles, Teriyaki Noodles, Thai Roasted Peanut Noodles, Soy Ginger Noodles, Spicy Szechuan Noodles, Masala Lentil Pilaf, and Lentil Curry Pilaf.  The Asian Entrées are all-natural, eco-friendly, vegan, and non-GMO and give a nutritious alternative to the typical higher-calorie, lower-nutrition ramen noodle  cups you presently see within the current market.  All of the  Asian Entrees  are just 200-280 calories per meal and come in handy light-weight BPA-free microwavable paper cups. They are fantastic for the person who's continually on a busy schedule looking for healthy quick meal choices and may be easily dropped in a purse or backpack.  Not to mention, the Asian Entrees will also be great for anyone who is watching their weight and looking to monitor portion sizes!
I enjoy Asian takeout, but the vast majority of  the meals are coated in fattening oils.  Its somewhat deceiving to see an entire plate of veggies and noodles and believe you're eating healthy, however in actuality your ingesting loads of calories and getting a mouth full of saturated fats and sodium.   A Few Things I like about  Dr. McDougall's Right Foods   Asian Entrees would be that the noodles are baked, not fried, as well as the company makes use of ground nuts  for fat as opposed to oil.  A Significantly much healthier choice and also the calorie savings is as much as one-third  less than other Asian dishes. Furthermore, the noodles taste superior too!

I received a sample of the Thai Roasted Peanut Noodles, Teriyaki Noodles, Spicy Kung Pao Noodles, and  Pad Thai  Noodles Asian Entrees. Each of the entrees were totally delicious and simple to prepare!  All I needed to do was add some water, microwave on high for 2 1/2 minutes, and allow stand approximately 4 minutes till the noodles turned tender and the sauce thickened.   My personal favorite out of the four varieties was the Spicy Kung Pao Noodles!  It had plenty of spice and tasted as excellent as it smelled!  It absolutely was very good by itself, but I chose to include a little bit of sliced up sweet pepper and fresh chives from my garden.  SUPERB!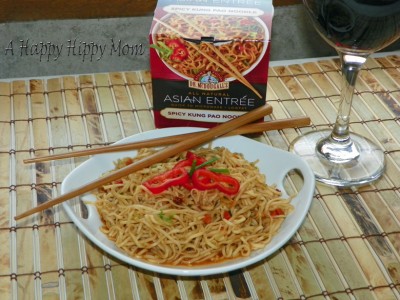 Sustainability
Dr. McDougall's Right Foods is very conscious about product packaging plus the food they make and believe  "what's good for the earth is good for you too."  They are an eco-friendly company that ensures a smaller impact on the environment and a greater, positive impact on your wellbeing.
We use paper-based packaging because paper is a renewable, biodegradable natural resource and BPA free
We source our paper from FSC certified sustainably managed forests that are continuously growing and where biodiversity is preserved
We use only cartons and cups, which weigh less and take up less truck space than cans, reducing fuel consumption and lowering our carbon footprint (It takes 9 truckloads of cans to ship as many units as 1 truckload of cartons!)
We recycle at our own facility
Our suppliers work with waste management companies to encourage investment in equipment that recycles paper cartons and cups.

Sustainable Food

Everything we make is all natural
We use only non-GMO ingredients
We never use animal products
Shipping our Meal Cups and Asian Entrées weighs less, takes up less space and doesn't require the energy consuming refrigeration of frozen foods
 Buy It!
Dr. McDougall's Right Foods is available at thousands of fine stores nationwide,  such as Whole Foods,  Wegmans,  Stop & Shop,  Giant, Tops, and more!  The Asian Entrees carry a SRP of $2.29 per package.
About Dr. McDougall
Dr. John McDougall, M.D. is one of the founding fathers of natural wellness. A best selling author and board-certified internist, he has been writing and speaking about the effects of nutrition on health for over 30 years. His guiding principle, and ours, is that people should feel great, and enjoy the best possible health for a lifetime.

As the founder and medical director of the nationally renowned McDougall Program, Dr. McDougall has helped thousands improve their health and their quality of life by teaching people about the benefits of a plant based, heart healthy diet rich in good starches like whole grains, fruits, vegetables, rice, pasta and legumes.

To find out more, www.drmcdougall.com has a discussion board with support groups and other wonderful forums, recipes to make at home, tips for eating out, links to Dr. McDougall's Newsletters, and information about McDougall Wellness Events and his upcoming book, The Starch Solution. We highly recommend you take a look.