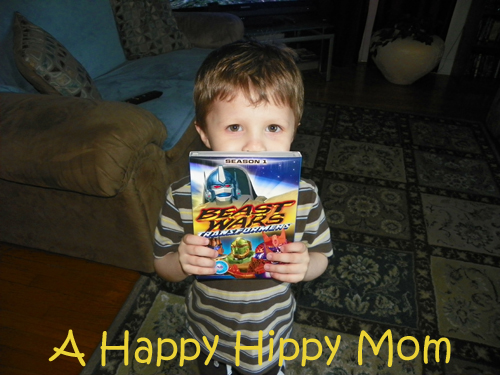 Today Shout! Factory released Transformers: Beast Wars- Season One on DVD!  The CG animated television series debuted in 1996 and ran three amazing seasons.  Obtaining an Emmy Award for Outstanding Individual Achievement in Animation, Beast Wars proved to be successful and introduced a new generation of fans to the stunning world of The Transformers!
My son has several  Transformer toys, but has never actually watched  Beast Wars until a few days ago.  Before I received the advanced copy of Beast Wars I had him view the trailer to see how he would react and if he would really be interested in the series.  Being that most the cartoons he is accustomed to have a fuzzy bunny feeling and are mild in comparison to Beast Wars, I wasn't sure how he was going to respond.  Silly me!  I should have known he was going to flip out in delight like most boys and some grown men do at the sight of talking bots!  I think his exact words were…"OH COOL!"  He was ecstatic to get the Transformers: Beast Wars- Season One in the mail and wanted to begin watching it immediately.  Aiden was glued to the television and watched the first three episodes without moving!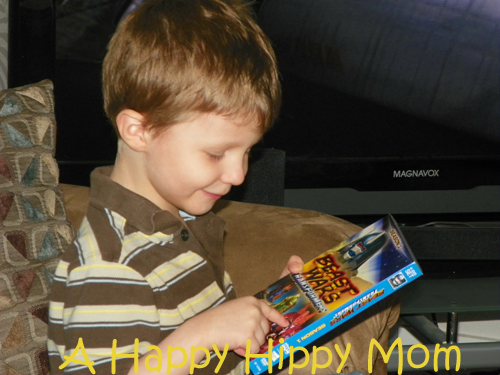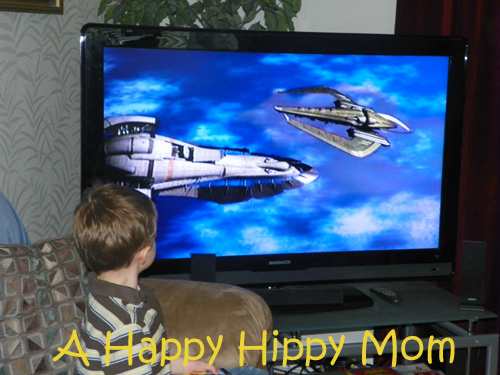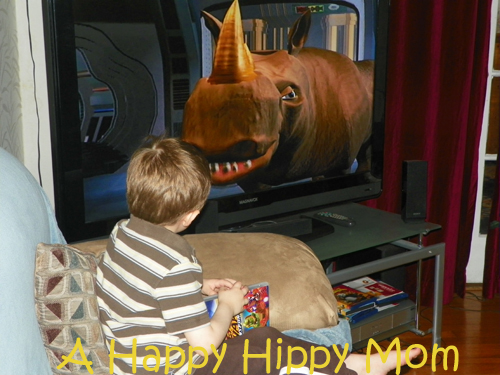 The Beginning – Beast Wars, Part 1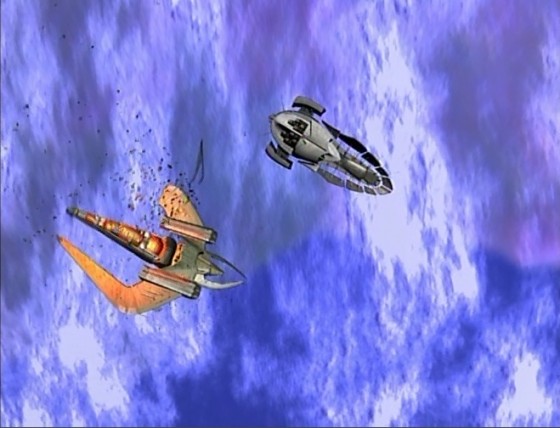 The series begins with Beast Wars, Part 1.  In this episode the Maximals battle the Predacons in outer space and the ships crash onto an unknown planet.  Both ships are badly damaged an unable to fly off the mysterious world.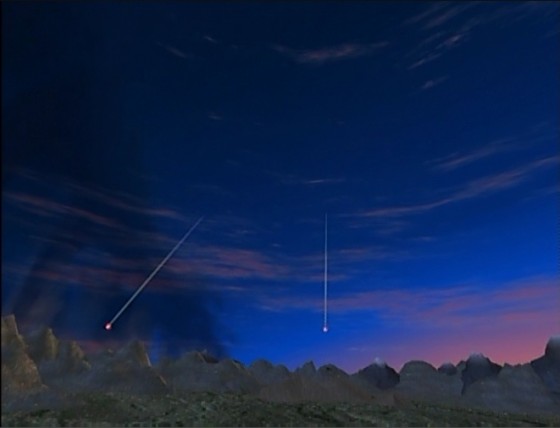 Megatron asks the Predacon computer if its the right planet, only to find out its unkown.  Yet,  the coarse settings show to be accurate, but the readings were inconsistent with what was to be expected of the destination. Megatron dismissing what he has just learned, insists to know if the planet contains energon (fuel).  When his hopes are confirmed, Megatron becomes elated.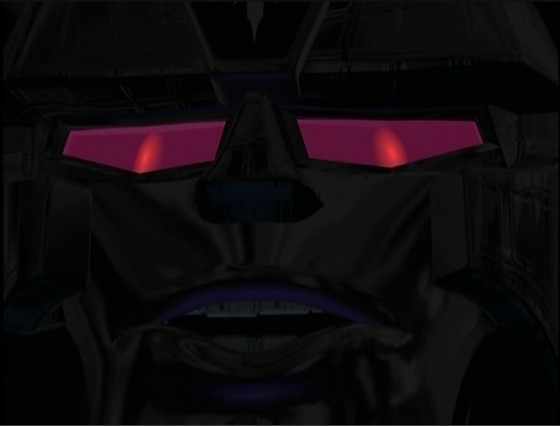 However,the computer warns field readings show too much energon and with continued exposure to robotics permanent damage will result.  Upset at the news,  Megatron declares to create alternate forms based on the most powerful creatures on the planet.  He then orders the planet to be searched for local lifeforms and launches a drone that scans fossils of dinosaurs, a living wasp and spider.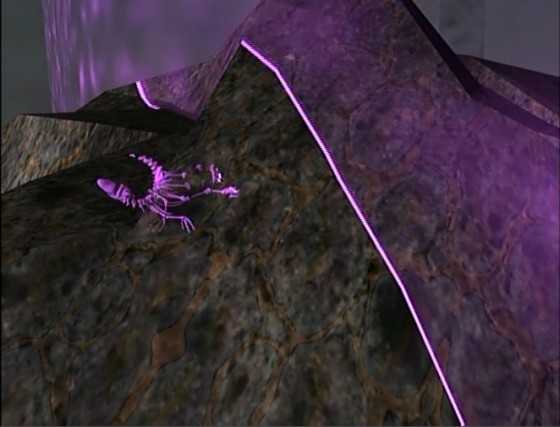 The Maximals have the same idea and scan the planet finding lifeforms of a gorilla, rat, rhino and cheetah.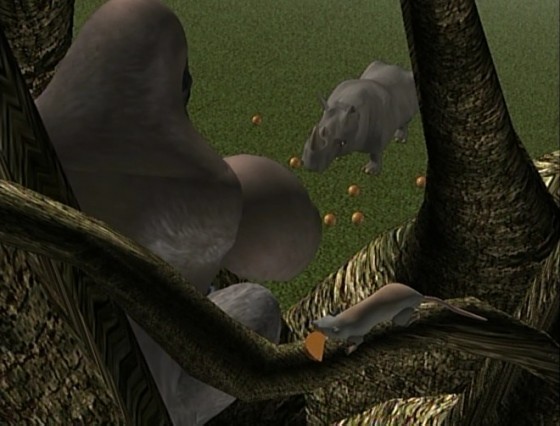 The Maximals and Predacons take on their new forms to protect themselves from the abundant amount of energon.  Thus, the new beast mode characters are created and the battles begin!
[field name= iframe]
4 Discs 26 Episodes
Transformers: Beast Wars- Season One consists of 4 discs for a total of 26 incredible episodes including …
Beast Wars (1)
Beast Wars (2)
The Web
Equal Measures
Chain of Command
Power Surge
Fallen Comrades
Double Jeopardy
A Better Mousetrap
Gorilla Warfare
The Probe
Victory
Dark Designs
Double Dinobot
The Spark
The Trigger (1)
The Trigger (2)
Spider's Game
Call of the Wild
Dark Voyage
Possession
The Low Road
Law of the Jungle
Before the Storm
Other Voices (1)
Other Voices (2)
Season one is non rated and appropriate for all ages with a total running time of 10 hours!
BUY IT!
Transformers: Beast Wars- Season One can be purchased online at amazon.com for $19.99!
WIN IT!
Want to win yourself a copy?  Enter my Transformers: Beast Wars- Season One Giveaway for the chance! (Please make sure to comment on the giveaway post for your entry to count!)
TRANSFORMERS: BEAST WARS
THE COMPLETE SERIES COLLECTOR'S EDITION DVD BOX SET
Featuring 8-DVDs, All 52 Action-Packed Episodes, New Bonus Content, Collectible 24-Page Comic Book and Much More!
FROM SHOUT! FACTORY AT SHOUTFACTORYSTORE.COM
D
ie-hard fans further rejoice! Shout! Factory, along with Hasbro, Inc., are set to release the TRANSFORMERS: BEAST WARS – The Complete Series Collector's Edition 8-DVD box set. Jam packed with hours of entertaining content, this Complete Series Collector's Edition contains the entire CG animated series of BEAST WARS and a bounty of stellar extras, including retrospective featurettes, a 12-page book, art galleries, plus a special collectible 24-page comic book TRANSFORMERS Timelines "Dawn of the Future's Past." Originally published by Fun Publications for BotCon, the official TRANSFORMERS convention, in 2006, the comic book is the official prequel story leading right up to the start of Beast Wars and offers valuable insight into all the events that led to OPTIMUS PRIMAL chasing after MEGATRON and PREDACONS! TRANSFORMERS: BEAST WARS – The Complete Series Collector's Edition arrives exclusively to Shout! Factory's official online store ShoutFactoryStore.com on June 7, 2011. Pre-order begins now!
As excitement builds for these home entertainment releases, Shout! Factory will announce additional activities for fans in the incoming months.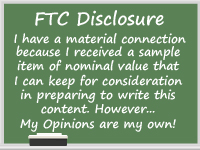 [ad#Google Adsense-1]