I cherish movies made for TV the whole family can view without the worries of inappropriate content and ads,  as I'm sure you do too.  That is why I'm excited to be able to tell you about the newest addition to the P&G and Wal-Mart Family Movie Night lineup called "Field of Vision."  The movie is the 6th film released in the P&G and Wamart Family Movie Night initiative and will premiere this Saturday, June 11th at 8/7c on NBC.
I was able to get a sneak peek of "Field of Vision" and have to say it is my favorite out of all the Family Movie Night films I have seen thus far.  Mainly because it highlights the relevant subject matter of bullying and for kids to make a stand against it,  even when it might not be the most popular or easiest thing to do. Bullying and being bullied has always been a big problem in schools.  However, the nature of the acts have become more violent and there needs to be an increase in films produced like "Field of Vision" to encourage children to react in a positive way when it occurs and not cave to peer pressure.  Realistically, I don't believe there will ever be a time when bullying stops in the school system or anywhere else for that matter, but how children are taught to handle the situation could make a significant difference in the outcome!
"Field of Vision" is made for all ages.  Nevertheless, I believe it would best be viewed for children 7 and above.  I think younger audiences might not understand the actual moral of the story and get lost within the content.
Synopsis (from website)
Through mysterious footage captured on an old malfunctioning video camera, Sinclair High School's star quarterback, Tyler McFarland, learns that some of his teammates have been bullying Cory Walker, a troubled new transfer student. Aware that sharing this information with the coach might get his friends kicked off the team and ultimately cost the school the state championship, Tyler must choose what's more important: winning or doing what's right.

As these events unfold, the camera also reveals more surprising footage to Tyler's kid sister Lucy. She learns that Cory has a secret past, unknown even to him. Now Lucy must convince her mom (Faith Ford, Murphy Brown) and family that the camera's revealing insight is not a product of her imagination as she enlists their help to find the answers Cory so desperately needs. It's a compelling and intriguing story that shows both the challenges and rewards of doing the right thing even when it's tough to do.
Cast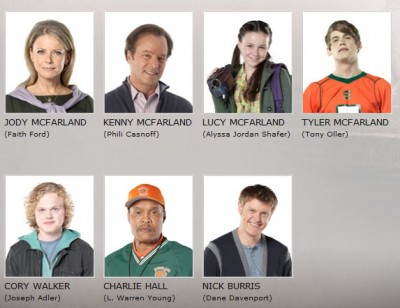 Check out the Family Movie Night Facebook page!
"I wrote this review while participating in a campaign by Mom Central Consulting on behalf of P&G and received a promotional item to thank me for taking the time to participate."
[ad#Google Adsense-1]