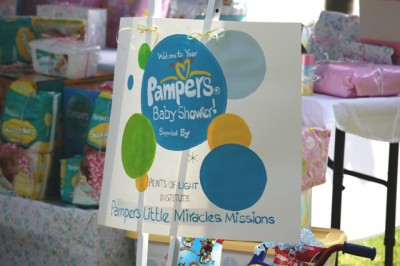 Last month I told you about how Pampers  was turning 50 and in celebration unveiled its Little Miracle Missions program.  The year long campaign was a wonderful way of encouraging others to pay-it-forward and deliver acts of kindness to the most precious miracles – babies – and their families while encouraging parents to support others.  Thanks to Pampers, I was able to pay-it-forward to a family in my own community who just recently had a beautiful baby girl.  The feeling of giving something to someone without expecting anything in return was absolutely surreal!  This was the couple's third child and every tiny bit helped.   They were more than appreciative to receive the gift and I knew I made the correct decision to choose them.  I'm hoping someday they can return the act of  kindness and pay-it-forward to someone else who is expecting a little miracle!
Pampers is taking their pay-it-forward campaign to a whole new level with the help of Points of Light Institute by throwing 1,000 baby showers for expectant mothers across the country in May and June.  Their pictures and uplifting stories will be shared on the Pampers Facebook page and will ensure to inspire acts of kindness everywhere.  In fact, I have a few stories and pictures to share with you right here!
The first video shows how a Military family in Cleveland,  Ohio was honored with a Pampers baby shower.  Watch as Sam and Cindy Wolford get the big surprise!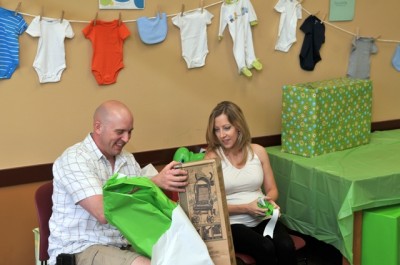 The next video features expecting mom Magdalene Adolphe of Orlando, Florida. She was honored on May 27th, 20011 by Pampers, Points of Light Institute, and the Honor Society from Meadows Woods Elementary. Magdalene and family arrived from Haiti last year. She is already a mom to Meadow Woods first grader Joshua and cares for a child in her home with Downs Syndrome. Check out her Pampers Little Miracle Missions story!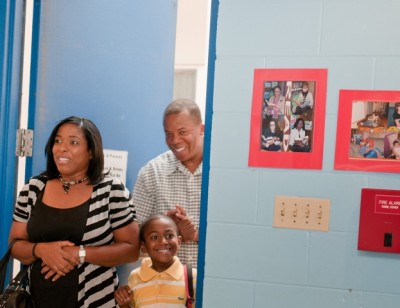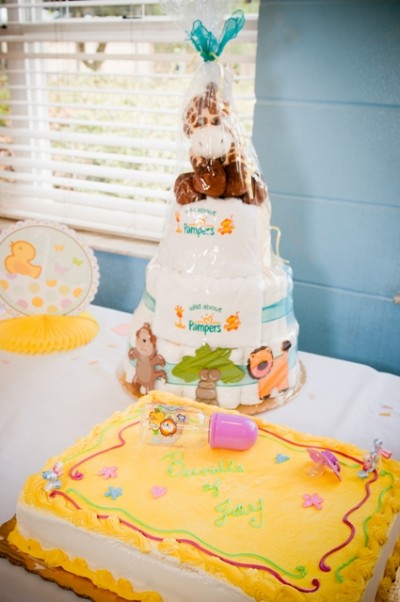 The last video I have to share with you comes from Cincinnati and honors young mom Jessica Baker who had her baby at 23 weeks old. I love this story! Michael and Jessica are such a cute couple and so happy to be honored! Take a look for yourself!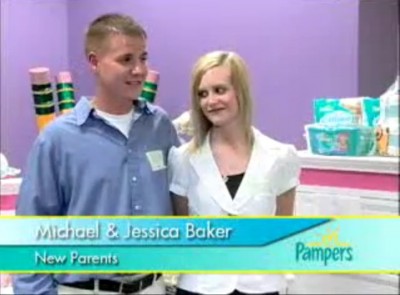 Mission 2 Needs Your Help!

Just in time for Father's Day, Pampers has moved on with its next mission to help give dads the time he and his baby deserve to bond!  We all know bonding takes time and it is critical to a baby's development, so lets join in and support the new mission!  Here is how you can get involved!  Go here and make a pledge to get involved by finding a way to free up some time for a dad to spend some quality moments with his new little miracle.  Suggestions include running some of his errands, covering chores at home, or covering his late meeting at work.  Pick one of these or share one of your own.  For committing to help, you can also enter The Little Miracles sweepstakes for a chance to win free diapers and wipes for a year!   Oh and because Pampers already received 4,000 commitments to complete the mission, they will throw special Father's Day cook-outs for dads and babies across the country designed to give dads and their babies valuable bonding time!  How great is that!
Pampers $300 AMEX GC Giveaway
CLOSED WATCH FOR WINNER ANNOUNCEMENT COMING SOON!



Here is where you come in!  Pampers would like to donate a $300 AMEX GC to one A Happy Hippy Mom reader with the challenge of throwing an awesome baby shower for an expectant mother.   To enter the giveaway, leave me a comment sharing who you would throw a baby shower for and how you would add that special touch that really makes it a memorable day.  PLEASE make sure to answer the question completely to be eligible for the prize.
EXTRA ENTRIES!
1. Read any of my other REVIEWS without a giveaway and leave me a comment there.  Then come back here letting me know you did. Make sure you leave ten separate comments  (example: Left a comment at review extra entry 1, Left a comment at review extra entry 2, Left a comment at review extra entry 3, ect.).   This is worth 10 extra entries.
2.Mention the giveaway on your own blog linking back to this post and Pampers.  Leave an additional comment with a link to where you blogged about the giveaway. This is worth 5 extra entries.  Make sure you leave five separate comments. (example blogged extra entry #1, blogged extra entry #2, blogged extra entry #3, ect…)
3. Follow my blog and leave me an additional comment. ( There is a Google Friend Connect widget on my footer that shows my followers. Just click follow). If you already follow leave me a comment letting me know you already do. (3 extra entries)
4. Enter any of my current giveaways and let me know you did here. (3 extra entries)
5. Follow @ahappyhippymom on Twitter plus tweet about the giveaway. Please make sure you leave the link where you tweeted in your comment. YOU CAN TWEET ONCE PER DAY TO INCREASE YOUR CHANCES OF WINNING.
6. Follow Pampers on Twitter (2 extra entries)

7. Subscribe to my feed and leave a comment. If you already subscribe leave a comment telling me you are already a subscriber.
8. Like Pampers on Facebook.  This is worth 2 extra entries.
9. Like ahappyhippymom on Facebook. Worth 2 extra entries
Winner will be chosen at random via Random.org.   Info will be forwarded to sponsor.
Open To US Residents Only- age 18 +
The contest ends July 2,  11:59 PM eastern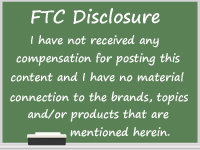 The $300 AMEX Gift Card was donated to A Happy Hippy Mom to be given away, no compensation or product was provided. Any feedback or opinions remain to be my own.
[ad#Google Adsense-1]