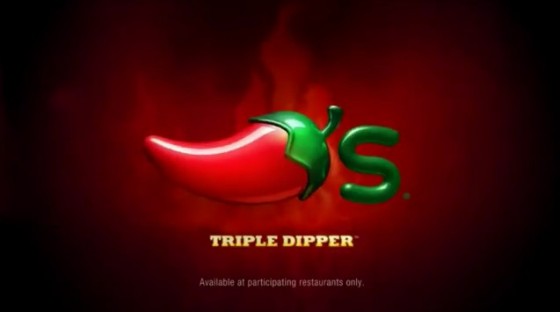 Not sure what to make for dinner, because your taste buds are craving a multiple of  different flavors?  No worries!  Take a night off from the kitchen and head to Chili's for their new Triple Dipper!  Chili's Tripple Dipper lets you create the perfect dinner combination by choosing three of your favorite appetizers served with dipping sauces .  Select from 10 mouthwatering  choices including Loaded Potato Skins, Memphis BBQ Skins, Honey-Chipotle Shrimp, Big Mouth Bites, Boneless Buffalo Wings, Southwestern Eggrolls, Chicken Crispers, Wings Over Buffalo, Fried Cheese, and Hot Spinach & Artichoke Dip.  Your taste buds will explode with delight!
Triple Dipper Review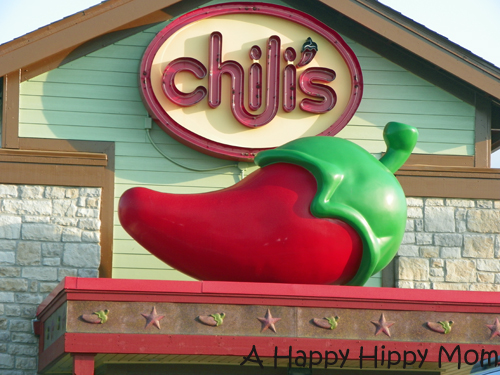 Hubby and I had every intention of sitting down at Chili's on Saturday to have a nice relaxing dinner.  Nevertheless, Mr. Grumpy (my son) had other plans and was exhausted from all the shopping prior.  I've learned to accept the fact my toddler rules in my house and it's best to avoid any public place when he gets tired.  To  save the embarrassment of  someone wearing pico de gallo as a hat,  we decided to get our Triple Dipper meals to go.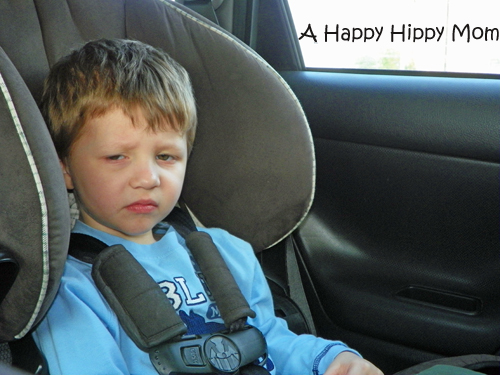 I was looking forward all week to eating out at Chili's and knew way ahead of time what 3 appetizers I was going to get– Hot Spinach & Artichoke Dip, Southwestern Eggrolls, and Chicken Crispers.   Hubby ordered the Big Mouth Bites, New Honey-Chipotle Shrimp, and New Loaded Potato Skins.  We figured if we both got 3 different appetizers that we could share and try each other's meals for more of a variety.
The order took approximately 15 minutes until it was ready to be picked up which was extremely fast in my opinion, since the place was so packed we had a hard time even finding a parking spot!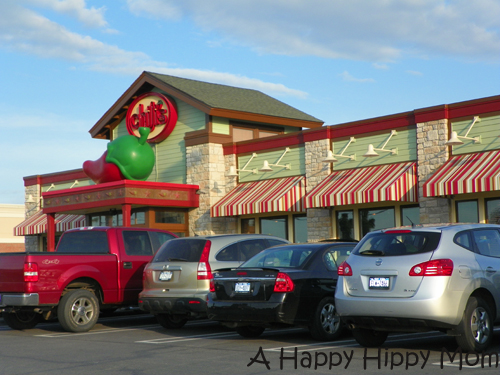 (Ha  ha ha!!! Love the sign!)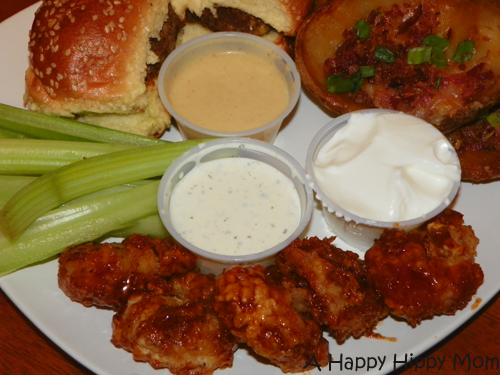 I loaded hubby's and my plate with our appetizers plus dips.  Then we sat down together and enjoyed the yummy bites.  The Southwestern Eggrolls were fantastic and very filling!  The tortillas were stuffed with bits of smoked chicken, black beans, corn, jalapeno Jack cheese, red peppers, and spinach. The avocado-ranch dressing made a superb dip for the eggrolls and gave the appetizer an extra special zing.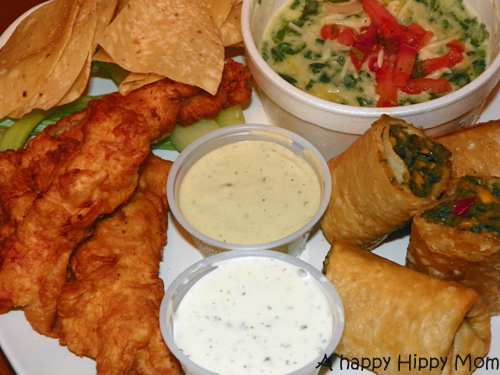 My favorite out of the appetizers I tried was the Hot Spinach & Artichoke Dip.  The dip had a rich creamy and cheesy taste and served with warm tostada chips.  IT WAS LIP SMACKING GOOD!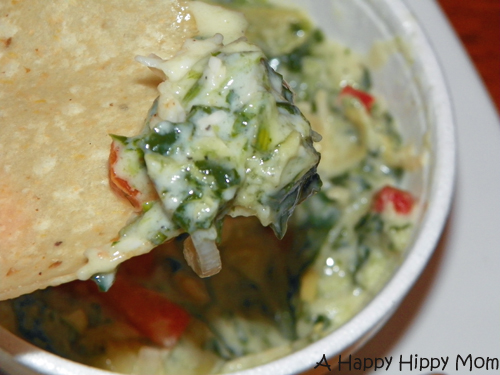 I tried the hand battered Honey -Chipotle Shrimp and it was fantastic!  The ranch dressing was a nice cool down to tame the spiciness. If you are a shrimp lover…you have to try it! Its soooooo good!
Hubby and I switched dips and I gave him the honey mustard dressing to dip his Big Mouth Bites in.  He already had ranch dressing for his Honey -Chipotle Shrimp, so I used the extra ranch for my Chicken Crispers.  That is what makes the triple Dipper extremely fun.  You can mix and match and create your own combination.  We enjoyed everything and would definitely order the Triple Dipper again!
Shout Out To Eat Out – Good Things Come In 3's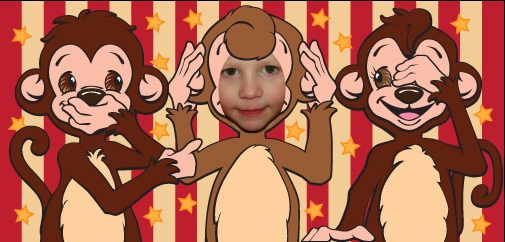 Ever hear the famous saying "good things come in 3's?"  Well it's certainly true when it comes to Chili's! Right now through June 30th you can enter the Chili's 'Triple Dipper' Sweepstakes for the chance to win some fantastic prizes!  There is a $20 Chili's gift card given away daily and three Grand Prize winners will win a $333 Chili's electronic gift card.  To enter, you have to create your own terrific trio.  Go to www.shoutouteatout.com and upload a photo of your face (.gif or .jpeg format, maximum 2MB file size) into one of the terrific trio images.  Complete the entry form by filling out your name, mailing address and e-mail address.  Then hit submit and your in it to win it!  Make sure to read the rules before entering!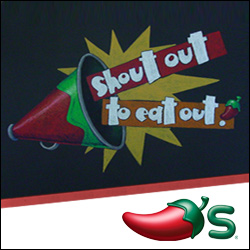 My 3 Favorite Foods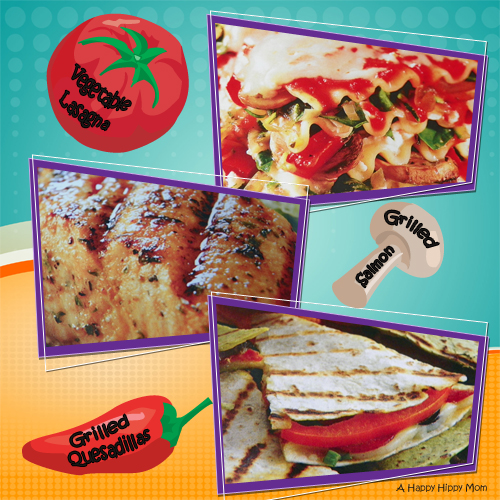 Do you ever have days you are not sure of what you want to eat?   I have those days more often than not and want to have a little bit of everything.  However, if I could have three of my favorite foods on one plate at the same time without the worries of calories I would choose vegetable lasagna, grilled salmon, and spicy grilled quesadillas.  Strange mix?  Maybe it is, but I get hungry just thinking about it!  Of course the lasagna and salmon would have to be prepared  by none other than  Chef Gordon Ramsey himself to be absolutely perfect! The quesadillas can come from Chili's, because they make them taste out of this world delicious!
Chili's Triple Dipper $20 GC Giveaway! NOW CLOSED!
MANDATORY – To enter for the chance to win a Chili's $20 GC  FIRST  fill out the form entering  "A Happy Hippy Mom" for the name of blog hosting giveaway and leave me a comment letting me know you did.  After that  your entered and free to gain extra entries by taking the steps below!  Good luck!
[field name= iframe]
Extra Entries
Please leave a separate comment for every extra entry you complete. (example: Left a comment sharing my 3 favorite foods extra entry 1, Left a comment  sharing my 3 favorite foods extra entry 2, Left a comment sharing my 3 favorite foods extra entry 3, ect.)
1. Tell me your 3 favorite foods you would like to have all on 1 plate.  (3 extra entries)
2. "Like" Chili's on Facebook (2 extra entries)
3. Follow @Chilis & @Shoutout2eatout on Twitter (2 extra entries)
4. Create your terrific trio located on http://www.shoutouttoeatout.com/ and comment with the URL link (3 extra entries)
5. Opt-In to Chili's email club here http://bit.ly/m6HYef (You'll receive a free appetizer certificate too!) (3 extra entries)
6. Tweet out this "At @Chilis Good Things Come In 3's! Check out @2Wired2Tired http://bit.ly/linkyrave for 200 chances to win in the #tripledipper linky rave!" (2 extra entries)
7. Write a post on your blog about your 3 favorite foods you would like to have allon 1 plate and mention the Shoutout2eatout.com promotion.  Then comment with the URL link. (5 extra entries)
8. Read any of my reviews without a giveaway and leave me a comment there.  Then come back here letting me know you did. Make sure you leave five separate comments  (example: Left a comment at review extra entry 1, Left a comment at review extra entry 2, Left a comment at review extra entry 3, ect.).   This is worth 5 extra entries.
9. Follow my blog and leave me an additional comment. ( There is widget on my footer that shows my followers. Just click follow). If you already follow leave me a comment letting me know you already do. (3 extra entries)
10. Enter any of my current giveaways and let me know you did here. (3 extra entries)
11. Follow @ahappyhippymom on Twitter and tweet about the giveaway. Please make sure you leave the link where you tweeted in your comment. YOU CAN TWEET ONCE PER DAY TO INCREASE YOUR CHANCES OF WINNING.
12. Subscribe to my feed and leave a comment. If you already subscribe leave a comment telling me you are already a subscriber.
13. Like ahappyhippymom on Facebook. Worth 2 extra entries
Open To US Residents Only- age 18 +
The contest ends June 12th,  11:59 PM eastern
More Chances To Win! 2wired2tired.com's Linky Party!
Want more chances to score a Chili's $20 GC?  Check out sizzling hot Tesa from 2wired2tired.com and join in the Triple Dipper Linky Rave!   There is 200 bloggers participating in the Chili's Triple Dipper – Good Things Come in 3's event  and she has a list of all them for you to enter!  Click on the button below and it will take you straight to the linky! There is no limit on how many times you can win, so enter them all!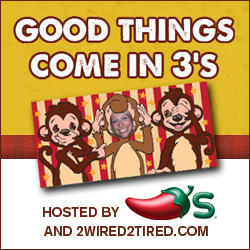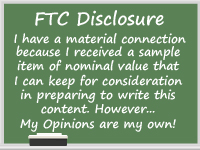 [ad#Google Adsense-1]