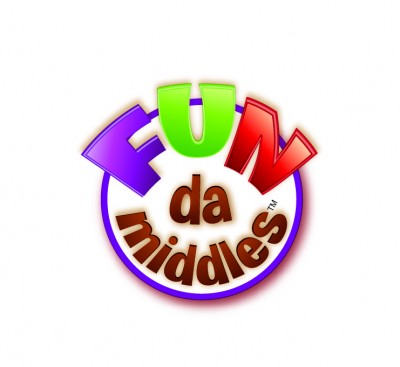 As most of you already know on special occasions I sometimes receive products to test and enjoy before the items are made available in the stores.  This time I was given a box of Betty Crocker Fun da-middles,  the first boxed-cupcake mix of its kind, which is expected to hits shelves later this year!  Combining cake mix and filling pouch in ONE BOX, Fun da-middles have a special creamy filling that bakes inside the cupcake.  Available in three delicious flavors, Vanilla Cake with Creamy Chocolate Filling, Chocolate Cake with Creamy Vanilla Filling, and Vanilla Cake with Creamy Vanilla Filling, everyone is sure to have a favorite!  PLUS, because the frosting is on the inside, Fun da-middles are portable, easy to pack in lunches, and children can take the fun treat everywhere they go!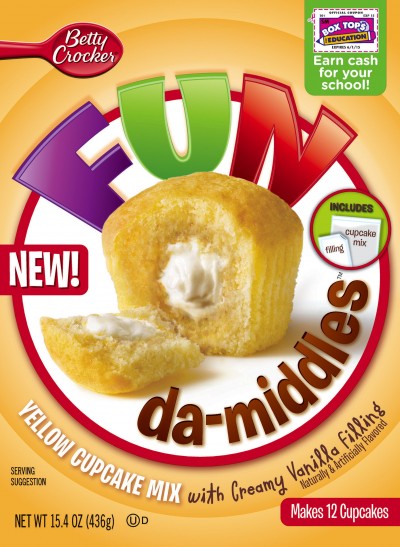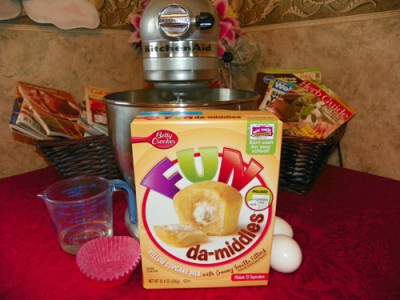 Betty Crocker,  through MyBlogSpark,  sent me a sample of Betty Crocker Fun da-middles yellow cupcake mix with creamy vanilla filing.  All I needed to complete the ingredients to be able to make the cupcakes was 2 eggs, 3/4 water, 1/3 cup of oil, and 12 baking cups.  I began by preheating my oven to 325 (used nonstick pan) and lining the  cupcake pan with the 12 paper baking cups.
Then I emptied the cupcake mix into my Kitchen Aid mixer, added the other ingredients, and beat the contents on low speed for 30 seconds.  Per directions,  I turned up the speed on medium for 2 minutes and scraped the bowl occasionally to get all the ingredients blended together.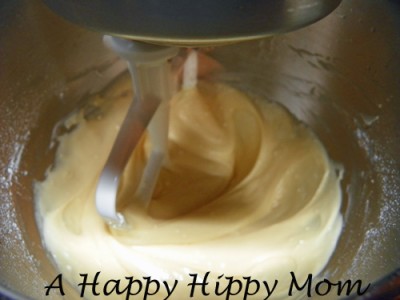 Next I filled each cup 1/3 of the way full with batter, making sure the batter completely covered the bottom and saved the remaining batter for later.
This step was a little tricky, because you have to squeeze the filling pouch, dividing it equally among the 12 cupcakes making sure the filling is in the center of each of them and no filling touches the sides.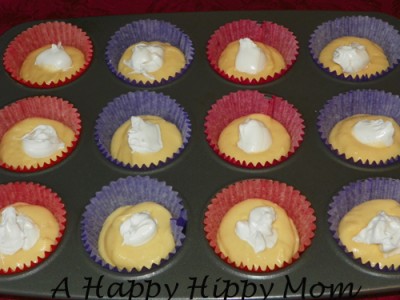 Last step prior to baking the cupcakes is to evenly distribute the reserved batter among the 12 cupcakes, making sure the filling is completely covered.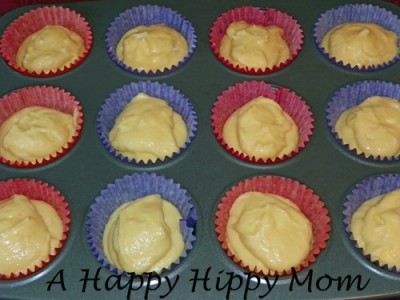 Then your all set to pop the pan into the oven and bake for 24 to 29 minutes or until the tops are light golden brown.
4 easy steps and you have delicious yummy cupcakes ready to eat!  There is no need to frost them!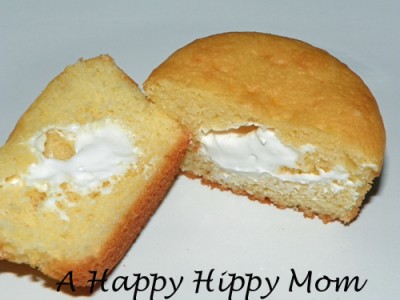 HOWEVER, in my opinion, part of the fun of making cupcakes is to decorate them, so I frosted each one with Betty Crocker Lemon Frosting and used yellow plus white jelly beans to make them look like Bread and Butter Corn!  Lastly,  I topped each one with a Starburst yellow candy to resemble a pat of butter on the corn.  I got the idea from Woman's Day Magazine and think the cupcakes would be perfect to serve at a BBQ or for the upcoming 4th Of July holiday!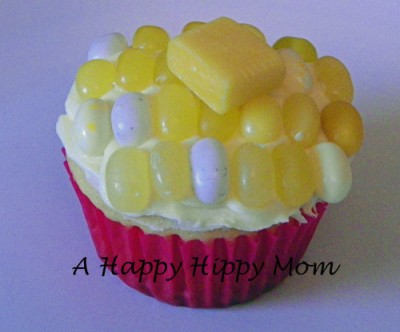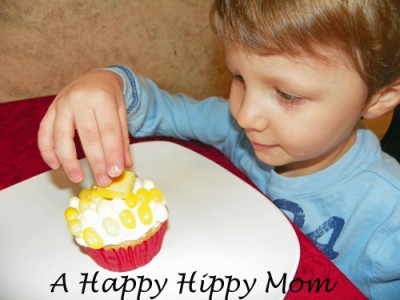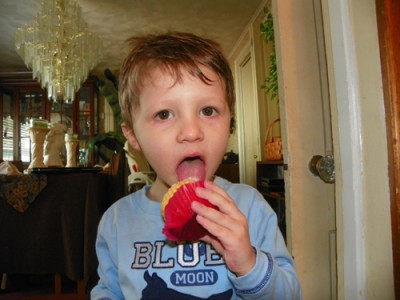 WIN IT!
Courtesy of Betty Crocker and Myblogspark, one lucky reader will win a box of Betty Crocker Fun da-middles!  To enter the giveaway leave me a comment sharing an upcoming event or gathering at which you would most like to debut the new Betty Crocker Fun da-middles.
EXTRA ENTRIES
1. Read any of my other reviews without a giveaway and leave me a comment there.  Then come back here letting me know you did. Make sure you leave ten separate comments  (example: Left a comment at review extra entry 1, Left a comment at review extra entry 2, Left a comment at review extra entry 3, ect.).   This is worth 10 extra entries.
2.Mention the giveaway on your own blog linking back to this post, Betty Crocker and MyBlogSpark.  Leave an additional comment with a link to where you blogged about the giveaway. This is worth 5 extra entries.  Make sure you leave five separate comments. (example blogged extra entry #1, blogged extra entry #2, blogged extra entry #3, ect…)
3. Follow my blog and leave me an additional comment. ( There is a little widget on my footer that shows my followers. Just click follow). If you already follow leave me a comment letting me know you already do. (3 extra entries)
4. Enter any of my current giveaways and let me know you did here. (3 extra entries)
5.Follow @ahappyhippymom and tweet about the giveaway including the hash tag #myblogspark. Please make sure you leave the link where you tweeted in your comment. TO INCREASE YOUR CHANCE OF WINNING I AM ALLOWING 1 TWEETS PER PERSON DAILY.
6. Subscribe to my feed and leave a comment. If you already subscribe leave a comment telling me you are already a subscriber.
7. Like MyBlogSpark on Facebook .  This is worth 2 extra entries.
8. Like ahappyhippymom on Facebook. Worth 2 extra entries
Winner will be chosen at random via Random.org.   Info will be forwarded to sponsor.
Open To US Residents Only- age 18 +
The contest ends  July 2,  11:59 PM eastern
"Disclosure: The Betty Crocker Fun da-middles product, information, and giveaway have been provided by Betty Crocker through MyBlogSpark."
[ad#Google Adsense-1]