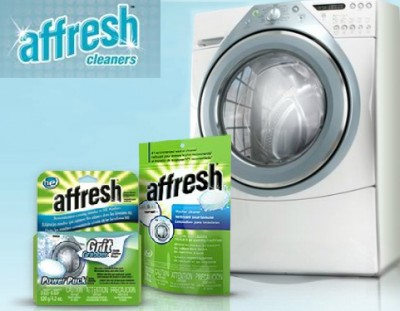 Have you ever thought to clean your washing machine?  Seriously, I never put too much thought into it.  I figured by doing my normal laundry and adding the detergent to clothes,  the washer would magically stay fresh all on its own.  Then one day I was sitting in my living room and got this whiff of something that smelled like a dirty dishrag mixed with dog's breath and mold.  My laundry room is located directly next to my living room,  so I expected the odor was coming from there.  My first thoughts  were my  teen daughter did a load of laundry days ago and left the wet clothes inside the basket to rot.  However, when I walked into the laundry room there was no sign of any wet clothes and the washer was empty plus looked clean.  I did notice the door to the washing machine was left open and when I want to close it…the STENCH just blew me away! YUCK!  I was completely puzzled as to why my front loader would stink so bad and immediately blamed my husbands work clothes,  thinking there must have been something disgusting lingering on them and it didn't wash away during the cycle.  WRONG!  Upon further investigation (googled stinky washing machine) I learned washers have the potential for odor-causing residue build-up if not properly cleaned on a regular basis.   And high-efficiency (HE) models can be more susceptible to odor-causing residue because they seal more tightly and use less water that conventional models. I did not know this and now try wiping my washer down with soap and water, but it still omits a nasty smell.
A few weeks ago I received an email from Mom Central looking for moms to apply for the new ambassador program from affresh & Whirlpool.  To help prevent residue and particle buildup, affresh and Whirlpool recently launched a series of new products designed to keep our home appliances clean, smelling fresh, and performing as they are intended. I jumped at the chance to try the new affresh Power Puck tablets specifically made to clean washers and was lucky to be sent a sample containing three tablets.
Affresh washer cleaner helps remove and prevent odor-causing residue build-up in all brands of washing machines as part of a regular maintenance routine.  The tablets are designed to be placed directly into the wash basket  (without clothes) once a month using a "Normal" cycle with the hot water setting.  Affresh works by releasing powerful  oxygenated bubbles that penetrate, break up and remove unseen residue, mildew, and mold.   Unlike bleach which only kills odor-causing bacteria leaving behind the residue, affresh Washer Cleaner attacks the source and removes the root problem leaving the washer smelling fresh and clean. Stinky heavily soiled washers such as mine require repeated treatments to remove traces of odor and residue. In this case, Whirlpool recommends running three successive washer cleaning cycles with one affresh Power Puck tablet in each. The affresh products are environmentally friendly,  safe on septic tanks, and won't harm your washer components.
Whirlpool also offers an affresh washer cleaning kit for HE models containing three Power Puck tablets and six Grit Grabber cloths.  The kit helps remove and prevents odor in areas that are hard to be reached, such as behind the washer drink, around the rubber door seal and detergent dispenser. The hypoallergenic Grit Grabber cloths remove odor-causing build-up and lock it into the cloth.
Check out the video explaining the science behind affresh…
Over the next day or two I will be testing out the affresh Washer Cleaner.  The tablets sound simple to use and effective!  Keep watching  for my update coming in three weeks where I'll let you know what I think about the new product!
Availability
Affresh products can be found at retailers nationwide including Sears, Best Buy and Lowe's, as well as supermarkets and www.affresh.com. The Affresh products are  also available via a subscription through the Web site to help consumers save time and money!
MSRP
$6.99 for a package of three tablets
About Whirlpool Corporation
Whirlpool Corporation is the world's leading manufacturer and marketer of major home appliances, with annual sales of approximately $19 billion, 70,000 employees, and 69 manufacturing and technology research centers around the world. The company markets Whirlpool, Maytag, KitchenAid, Jenn-Air, Amana, Brastemp, Bauknecht and other major brand names to consumers in nearly every country around the world. Additional information about the company can be found at http://www.whirlpoolcorp.com.
"I wrote this review while participating in a campaign by Mom Central Consulting on behalf of affresh and received product samples and a promotional item to thank me for taking the time to participate."
[ad#Google Adsense-1]