I'm very excited to share with you about an amazing new eco-friendly product I had the pleasure of testing over the past week.  NOW to be perfectly honest,  when I was first approached to try the Spoonk Space acupressure eco-mat I was VERY hesitant.  The thought of acupressure scared me and I've never had the desire of venturing into the natural stress busting solution.  However, I'm so glad I put me fears aside and checked out the Spoonk acupressure mat, because it is unlike anything I have ever experienced before…in a good way!
Spoonk acupressure eco-mats are the hottest new item to hit the U.S. and Canadian market.  The  acupressure mats are based on the principles of the Indian bed of nails and Japanese healing art of shiatsu massage.  The concept is when pressure is applied to specific reflex points throughout the body it helps stimulate blood circulation, release blocked energy, and ease tense muscles.  With regular use the mat is thought to help balance the body and create deep mental plus physical relaxation by increasing the intake of oxygen and releasing endorphins and oxytocin which induce feelings of happiness and calmness.
The Spoonk acupressure mat is is 67 cm long, 42 cm wide and 3 cm thick and features 230 flower-shaped discs which contain 27 small spikes for a total of 6,210 spikes.  It is an all-natural product consisting of  55% organic hemp and 45% organic cotton cover (depending upon cover color), recyclable non-toxic ABS plastic spikes, and eco-foam created with "Variable Pressure Foaming' technology that has a 5-year warranty.  The foam used  does not contain polybrominated diphenyl ethers (PBDEs), a chemical sometimes applied as a fire retardant found in  polyurethane foam.  Instead, the manufacturing process uses renewable plant-based polyols.  The mat is  free from synthetic AZO dyes which can cause skin hypersensitivity and allergies.  Spoonk eco-mat is portable and comes with a convenient plus stylish tote making it easy for you to bring to the office, gym, hotel, or wherever stress may strike you!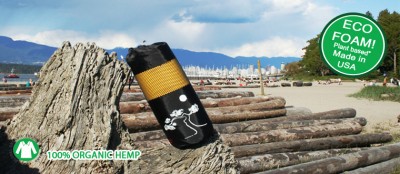 With regular use, the Spoonk acupressure mat may:
• Reduce back, and muscle pain

• Improve circulation

• Increase energy

•Improve sleep

• Create physical and emotional relaxation

• Increase levels of endorphins

• Improve digestion

• Boost the immune system
How To Use:
If you are new to acupressure, the manufacturer recommends beginning with a 5 or 10 minute session. Once you become accustomed to the sensation of the spikes pressing against your skin (it might take a few sessions), gradually lengthen your time on the mat to 15, 20 or even 40 minutes. To experience ongoing physical and emotional benefits, Spoonk recommends a daily session of approximately 25 minutes.
My Experience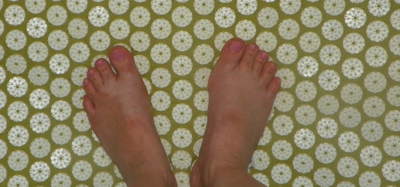 When I first saw the Spoonk Space acupressure eco-mat my first response was…OH this looks like its going to hurt.  I put the mat on the floor and gently applied my feet on it and I do mean GENTLY.  I stepped on the mat with my bare feet and to be honest it felt uncomfortable.  I probably should have initially tried it out with my socks on.  I had to work my way up to being able to stand on it for five minutes and once I did there was an incredible warm sensation felt up my legs.  Umm…WOW!
Then the wheels in my brain began spinning and I started to think about how the mat increases circulation.  NOW not to get too personal, but I have an area on the back of my thighs that have a patch of cellulite on them.  You know what I'm talking about,  the ugly dimpled skin caused by fat deposits which seems to stick to your tush no matter how much miracle cream you use.  I have read several reports stating there is a connection between cellulite and poor circulation.  Why couldn't you use the acupressure mat to improve the circulation and appearance of the cellulite?   SO every morning I have been laying on the eco-mat for 20 minutes AND before I go to bed at night.  I'm hoping it works!  However, I do feel extremely relaxed after using the Spoonk mat and I"m hooked on using it for that reason alone!
The Spoonk acupressure mat in my honest opinion is a fantastic product. To be able to receive acupressure treatments in the comfort of your own home anytime you want to without having to pay a mint is a HUGE selling point for me!  Definitely would make a unique Mother's Day gift!  Mom can stand on it while doing dishes and give her legs a treat!
*Spoonk is GOTS certified (Global Organic Textile Standard) which recognizes them as a company that meets a high level of environmental criteria for organic textiles and requires them to be in compliance with social responsibility.
Buy It
The Spoonk acupressure mat is available at www.SpoonkSpace.com for $79.
GIVEAWAY!


Courtesy of Spoonk, one lucky reader is going to win their very own Spoonk Space acupressure eco-mat.  To enter for the chance to win please,  leave me a comment letting me know why you would like to win the Spoonk acupressure mat.
EXTRA ENTRIES
1. Read any of my other reviews without a giveaway and leave me a comment there.  Then come back here letting me know you did. Make sure you leave ten separate comments  (example: Left a comment at review extra entry 1, Left a comment at review extra entry 2, Left a comment at review extra entry 3, ect.).   This is worth 10 extra entries.
2.Mention the giveaway on your own blog linking back to this post and Spoonk Space.  Leave an additional comment with a link to where you blogged about the giveaway. This is worth 5 extra entries.  Make sure you leave five separate comments. (example blogged extra entry #1, blogged extra entry #2, blogged extra entry #3, ect…)
3. Follow my blog and leave me an additional comment. ( There is a Google Friend Connect widget on my footer that shows my followers. Just click follow). If you already follow leave me a comment letting me know you already do. (3 extra entries)
4. Enter any of my current giveaways and let me know you did here. (3 extra entries)
5. Follow @ahappyhippymom on Twitter plus tweet about the giveaway. Please make sure you leave the link where you tweeted in your comment. YOU CAN TWEET ONCE PER DAY TO INCREASE YOUR CHANCES OF WINNING.
6. Follow Spoonk Space on Twitter (2 extra entries)

6. Subscribe to my feed and leave a comment. If you already subscribe leave a comment telling me you are already a subscriber.
7. Like Spoonk Space on Facebook.  This is worth 2 extra entries.
8. Like ahappyhippymom on Facebook. Worth 2 extra entries
Winner will be chosen at random via Random.org.   Info will be forwarded to sponsor.
Open To US Residents Only- age 18 +
The contest ends May 26,  11:59 PM eastern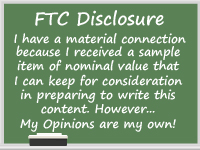 [ad#Google Adsense-1]