FEATURING NEW MUSIC FROM SIR ELTON JOHN

Fall In Love With This Fresh And Funny Take On One

Of The World's Most Timeless Stories

GNOMEO & JULIET

Releases on Blu-ray™, Blu-ray 3D™, DVD, Movie Download & On-Demand May 24th

Only On Blu-ray For Fans To Enjoy: Two Really Cute Alternate Endings,

Two Alternate Openings, Six Deleted Scenes and More!

This coming summer to the U.S., don't miss the chance to bring home GNOMEO & JULIET – the hilarious twist on William Shakespeare's legendary tale Romeo & Juliet as you've never seen it before, perfect for the whole family. Enter the secret world of garden gnomes and meet two adorable gnomes from completely different worlds who fight the odds to be together. From a director of Shrek 2, and featuring fun, all-new music by Sir Elton John, the out- of-the-ordinary animated comedy GNOMEO & JULIET releases on Blu-ray™, Blu-ray 3D™, DVD, Movie Download and On-Demand – May 24, 2011.

Uniquely packaged with families' top of mind, GNOMEO & JULIET will be made available for purchase by Walt Disney Studios as either a 3-Disc Blu-ray Combo Pack (Blu-ray 3D, Blu-ray 3D + DVD with Digital Copy), a 2-Disc Blu-ray Combo Pack (Blu-ray 2D + DVD) and/or a 1-Disc DVD. Disney Blu-ray Combo Packs provide families with an enhanced entertainment experience – with the value and flexibility to enjoy your favorite movies on a variety of platforms of choice.

And for those who enjoy to learn more about the making of the film, GNOMEO & JULIET discs come enclosed with never-before-seen bonus features including "Elton Builds A Garden," "Frog talk with Ashley Jensen,", "Crocodile Rock Music Video featuring Elton John and Nelly Furtado." And for those who purchase the Blu-ray Disc, it includes hours of extra exclusive bonus features including alternate endings, deleted scenes and more.

"Makes you smile from start to finish." Kenneth Turan, Los Angeles Times

GNOMEO & JULIET is brought to life by the extraordinary voices of Golden Globe nominee James McAvoy (The Chronicles of Narnia: The Lion, The Witch and the Wardrobe) as Gnomeo; Emily Blunt (The Devil Wears Prada) as Juliet; Academy Award winner Michael Caine (Inception) as Lord Redbrick; Jason Statham (The Trasnsporter franchise) as Tybalt; Ashley Jensen (TV's Ugly Betty) as Nanette; Patrick Stewart (X-Men franchise) as William Shakespeare; Ozzy Osbourne (TV's The Osbournes) as Fawn and Maggie Smith (Harry Potter franchise) as Lady Blueberry.

"It's family-friendly fun." Ashley Muldoon, OK! Magazine

Bonus Features:

DVD & Movie Download:

• Elton Builds a Garden

• Frog Talk with Ashley Jensen

• "Crocodile Rock" Music Video, featuring Elton John and Nelly Furtado

Blu-ray:

• DVD Bonus plus:

• 2 Alternate Endings with Filmmaker Introductions

• Deleted & Alternate Scenes with Filmmaker Introductions, including:

o 1 Alternate Opening

o 1 Alternate Scene

o 6 Deleted Scenes

• The Fawn of Darkness, featuring Ozzy Osbourne

Film Synopsis:

From a director of Shrek 2 comes your chance to step into the secret world of garden gnomes — Gnomeo & Juliet. Perfect for the whole family, this fresh and funny makeover of one of the world's most timeless stories features music from Sir Elton John, and the voice talents of Emily Blunt, James McAvoy and Sir Michael Caine. Caught up in a feud between neighbors, Gnomeo and Juliet must overcome as many obstacles as their namesakes. But with flamboyant pink flamingos and epic lawnmower races, can this young couple find lasting happiness? Complete with hilarious never-before-seen bonus features, Gnomeo & Juliet is an out-of-the-ordinary animated comedy your entire family will love. We just gnome it!

[field name = iframe]
Dripping With Cuteness!
I couldn't wait to see Gnomeo & Juliet and missed it at the theaters, so when I received an advanced Blu-ray copy of the movie I was ecstatic!  The animated film is a lighthearted twist on William Shakespeare's classic play Romeo and Juliet and takes place in the gardens of Mrs. Montague and Mr. Capulet,  two elderly neighbors who despise each other.  Mrs. Montague has a garden filled with blue garden gnomes, and the Capulet lawn contains red garden gnomes.  Just like the owners who can't seem to get along, the gnomes don't like each other neither and are constantly battling when the humans aren't looking.
Events begin to heat up on opposite sides of the wooden fence when  Gnomeo (blue gnome), and Benny decide to kick some grass and head into Red garden territory to spray paint the reds' lawnmower with blue paint as revenge for Tybalt destroying Gnomeo's during a lawnmower race.
In the mean time,  Juliet (red gnome)  is sick and tired of not being taken seriously and with a little design help from Nanette ( Juliet's hopeless romantic water squirting garden friend frog) sneaks out to snatch the last remaining orchid in the greenhouse.
Everything is going as planned until Benny sees Tybalt sleeping and decides to spray Tybalt's well instead.  Gnomeo tries to stop him which startles Benny and he tosses the spray can triggering a laser security beam that turns on the lights,  alerting the red gnomes to attack the intruders.  Gnomeo and Benny escape together, but end up splitting apart during the getaway over the fence.  Gnomeo finds himself in a different part of the garden where he notices Juliet (music plays -Elton John and Lady Gaga begin to sing "Hello Hello") and becomes intrigued by what she is doing.  He follows her on top of the greenhouse and they both reach for the flower at the same moment locking eyes.  The two fall in love during the process.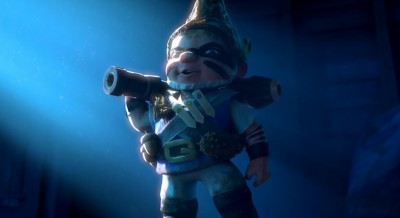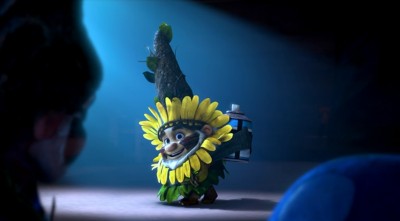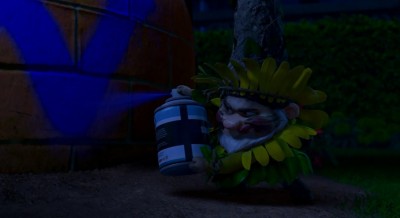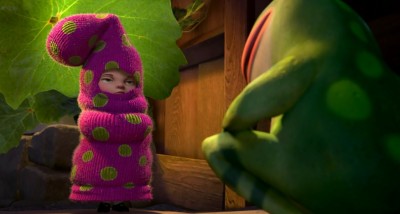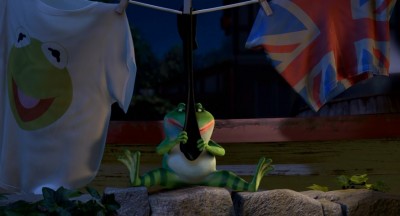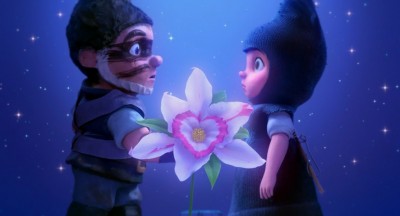 Things become complicated when Gnomeo and  Juliet learn they are from different sides of the garden and their love is forbidden.  The star-crossed lovers have to overcome the obstacles of being blue and red plus the war between the two gardens.  Can they achieve ever lasting happiness?  You will have to watch to find out!
Gnomeo & Juliet is a rush with lots of funny adult humor to keep the older audience laughing along with the youngsters too.  The music throughout is fantastic and if your an Elton John fan this movie is right up your garden's alley!  My favorite part of the movie is when Paris serenades Juliet with a garden gnome version of Elton John's  "Your Song"  and Nanette envisions him decked out,  reminding you of what Elton John might look like if he was a gnome.  This movie is just dripping with cuteness and I loved it!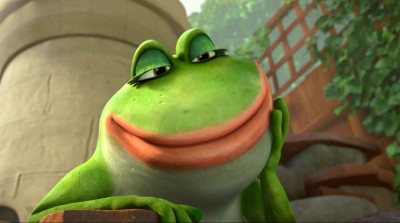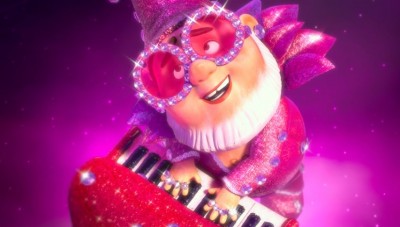 Buy It!
Gnomeo & Juliet will be hitting shelves next Tuesday, but you can pre-order the Two-Disc Blu-ray / DVD Combo pack  at amazon.com for $24.99!  Get it now and save 38% off the suggested retail price!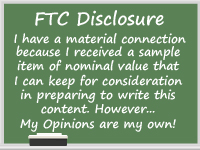 [ad#Google Adsense-1]