Can you believe there is only 54 days remaining until summer officially hits?  The BBQs, outside activities, beach, pool parties, and smoking hot  heat are on the way!  With the warm weather also comes more revealing clothes and the dreaded BIKINI too!  Did you run when you saw that word?  I know I usually do, but this year is going to be different.  I might not be brave enough to get into a bikini in 54 days, but I do have some easy tips to share with you on how I plan on getting my body, skin, and mind looking and feeling great for the summer months ahead.   Maybe I will even be ready to slip into a tankini by June 21st!
Make Water Your Best Friend
If you don't like to drink water you need to learn to and make it your best friend.  Water is the principle component of the human body and makes up about 60 percent of your body weight.  Your body depends on it to flush toxins out of vital organs and keep your system functioning smoothly.  You lose water just by breathing and in the summer heat your going to perspire even more which could lead to dehydration if you don't replenish your water supply.  When  your mildly dehydrated your energy level decreases and you feel tired and thirsty.
Water has also been found to help people lose weight and keep the pounds off.   A recent study conducted by Virginia Tech has shown that drinking just two 8-ounce glasses of water before meals helps people melt pounds away.  I know it has worked for me over the past months and have maintained to keep the weight I lost last year (9 pounds) off plus continued to lose another five pounds.  I can't be sure it was solely due  to the water intake, but I'm pretty convinced it was a key contributor to the weight loss.
How much should you drink?  It all depends on your activity level, health,  and climate.  However, doctors recommend for a healthy adult to consume 8 or 9 cups a day.  Make sure not to over do it though!  Drinking too much water can lead to a serious and possibly fatal condition called hyponatremia.
If you can't stand the taste of water than try adding a splash of lemon juice with a sprinkle or two of Stevia to give it a sweetened refreshing flavor.  In my opinion,  Stevia is much better for you than aspartame which is normally found in pre-bottled flavored water with zero calories.
Combine Muscle-strengthening With Aerobic Exercise
This is an important step in maximizing your workout results.  I found when I combined 25 minutes of brisk walking along with 20 minutes of muscle-strengthening on my Total Gym I felt much better and shed the pounds faster.  It doesn't mean you have to do it back to back.  Splitting up the workout throughout the day  is just as good.  If your not willing to dedicate 45 minutes 6 days a week to exercising try alternating the days you strengthen with walking.  Start off slow and increase your time gradually as you begin to feel more confident and want to challenge yourself!
Please make sure that you don't overdo it!  I've over worked my muscles on several occasions and found myself too sore to exercise the next day.  It took time for my muscles to recuperate and I lost out on burning calories until I felt like my body was ready to resume the workouts.
Buy The Proper Gear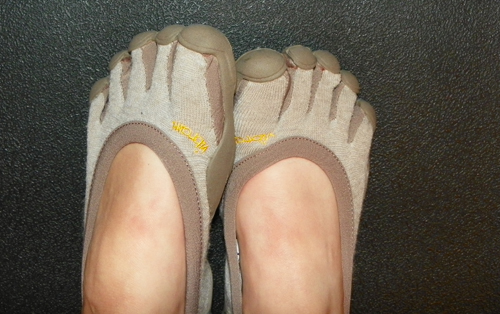 I know this might sound silly, but I found out when I was not wearing the proper attire for exercising my workouts lacked intensity.  Equipping yourself with a good sports bra, comfortable clothing, and footwear is extremely important to looking and feeling great during your routine.  You don't want to have to stop and adjust your undies when your just getting into your groove!
It took testing several different pairs of sneakers until I found the ultimate shoe to workout in.  I know they may look strange, but I can't even begin to tell you how much I LOVE my Vibram FiveFingers shoes!  The shoes are the latest craze in minimalist running and have individual toe pockets to help strengthen and stretch muscles in the feet.  My feet never felt so good!
Grow Your Garden and Eat Fresh
Working in the  garden can be a fun way to burn off extra calories and you will save money by growing your own veggies.  Depending upon what you decide to grow,  you can reduce the overall cost of your groceries.  Vegetables such as tomatoes and melons are very expensive to buy in the grocery stores. Growing large quantities of vegetables that you purchase regularly will save you money in the long run and you will feel great plus energized by eating fresh!  Not to mention, you will also be doing something good for the environment too!
Know Your Omegas
A part of feeling wonderful during the summer is getting your skin prepared for those summer shorts and pretty dresses.  Take a good look at your skin.  Is it dry and flaky?  It  could be because you're not getting enough of Omega 3 in your diet!  Omega 3  is good for your brain, heart, joints, vision, and skin.  It also has been documented to lower bad cholesterol levels and even boost fertility. Oh and the best part…it helps fight wrinkles and makes the skin smoother!
According to Dr. Oz,  who I absolutely adore, the best source of Omega 3 is wild salmon!  He recently did a show with Dr Mark Hyman (The Ultramind Solution), called "The Big O: Know Your Omegas."  The segment highlighted the ways to increase your Omega 3 naturally in your diet and explained the difference between Omega 3 and Omega 6.  Omega 6 is an essential part of our diet, but too much of it isn't good for you.  In fact, Dr. Hyman said that Omega 6 Fats are oils in our diets that cause inflammation and lead to problems including Diabetes, Arthritis, and Heart Disease.  Having an excessive amount Omega 6 in your blood actually fights against the Omega 3 and cancels out the benefits.  You need to find the correct balance between Omega 3's and Omega 6's to optimize your health.
Energize With Organic Raw Unfiltered Apple Cider Vinegar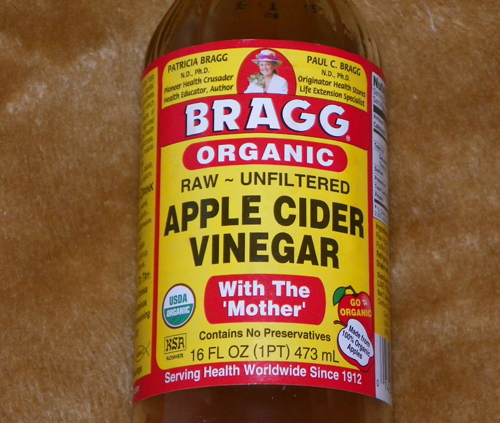 Feeling a little sluggish and need a boost before working out or your summer party?  I add 2 tsps of organic apple cider vinegar to 8 ounces of purified water as a quick pick-me-up.  Apple cider vinegar has been used for centuries for cleansing, healing, and energizing the body.  Known as ""The Celebrity Elixir" the apple cider vinegar has been said to help aid in digestion, weight normalization and control, and much more! I use Bragg's brand that can be found at Wegmans in the natural foods section.
Manage Stress
You notice how I said manage stress and not eliminate it?  Years ago after having my daughter I was diagnosed with a  pituitary condition and was told by the doctor to eliminate all stress.  As nice as the doctor was,  his advice was impractical.  There is no way you can completely get rid of all stress in your life,  especially when you have an infant to take care of!  What he should have told me is to find a way to manage it.  Stress can cause so many health problems including headaches, high blood pressure, heart disease, obesity, diabetes, and even cancer.  You can't control every factor in your life giving you stress, so the best way to deal with it is to manage it with ways that release anxiety plus relax the mind.   Take time out and meditate or read a few chapters in your favorite book.   Experiment with different activities and find something that works the best for you.  Take 30 minutes out of your day to ensure your health!  It's the least you can do for yourself and family.  Plus your summer will go a lot better!
Quick Portion Controlled Meals

Weight Watchers Smart Ones is making it easier to stay on track with a healthy meal plan without spending time on prep work beforehand. Their products provide a variety of delicious, convenient and portion controlled meals and snacks that contain lean proteins, whole grains, fruits and vegetables. And now they are offering two new breakfast items – like the new Egg, Sausage & Cheese Wrap and the French Toast with Turkey Sausage. Plus, the packaging tells you the Weight Watchers PointsPlus values in each serving, allowing you to conveniently plan for the day. Visit www.eatyourbest.com for more information.
Smart Ones Coupon!
Save $1.00 when you purchase any 5 Weight Watchers Smart Ones meals.
"I wrote this review while participating in a blog tour campaign by Mom Central Consulting on behalf of Weight Watchers Smart Ones and received a promotional item and coupons to facilitate my review."
[ad#Google Adsense-1]