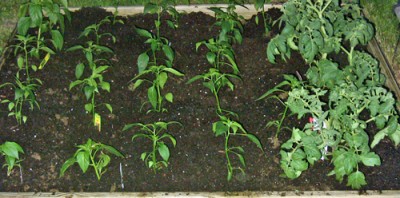 Are you planning on planting a garden?  Last year I built a small raised garden bed and it was so easy to do.  You don't need a lot of space and the raised bed created a fertile, well-drained area even though my existing ground had poor  soil and drainage.  If you want your own fresh veggies and have a restricted space, a raised bed is the perfect option to meet your growing needs. You can either purchase the already kits containing the material you need or buy some untreated lumber and build the box yourself.  The construction is basic and relatively inexpensive to create.
This year on Earth Day I am going to make a few raised garden beds and plant tomatoes, lettuce, and a variety of herbs.  I think it will be a fun way to celebrate and teach my son about the importance of knowing how to grow his own food and the environment.  He is 31/2, but it's never to early to begin teaching a child and if he only grasps a brief understanding than it was all worth it to me!
A large part of getting the best out of a garden is to safely keep the fungus, mites, and insects of the growing vegetable plants.  Battling the determined buggers can be a task, but if you don't nip them in the bud they will fast destroy all your yummy hard work.  You can make an all-natural insecticide by mixing 1 to 2 tablespoons of liquid plant-based soap and 1 quart water. Pour mixture into a spray bottle and spray pests as needed.  Or if you would rather purchase a safe insecticide stick with products approved for organic gardens, such as Garden Safe Fungicide 3.  The treatment contains the active ingredient extract of NEEM oil .9% and wards off caterpillars, aphids, spider mites, and red mites. Plus, it also helps prevent and control black spot, powdery mildew, downy mildew and other fungal diseases!  The 3 in one formula can be found at Lowes for approximately $5.50 for 24 ounces.
What are your plans this Earth Day?
[ad#Google Adsense-1]