Is anyone entering the 2011 HGTV Green Home Giveaway?  This year the house is in Denver, Colo and the Grand Prize package is worth almost $700,000!  Here is what it includes:
* A custom-built, eco-fabulous home located in the premier sustainable community of Stapleton in Denver, Colo.
* A new 2011 GMC Terrain
* Gorgeous green furnishings and home accessories, eco-friendly flooring, local artwork and stylish water-saving fixtures
* $100,000
I was curious as to why they weren't giving away a hybrid suv instead to make the package eco-friendlier, but then read the GMC  Terrain gets an EPA-estimated 32 mpg on the highway which is  almost as good as the top ranking hybrids currently out there on the market.
What really caught my eye with this home is that the bedroom ceilings are painted to match the room.  I thought about doing this in my son's room (keep watching for the makeover).  However, don't you think it gives the room a more closed in and smaller appearance?  I'm debating to do it and would llike your opinion!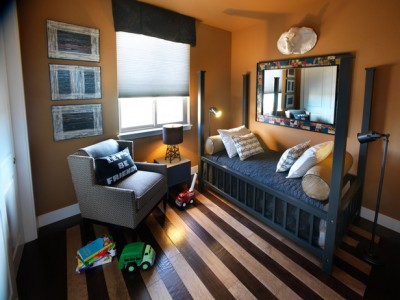 I would LOVE to win the green home, since my house was constructed in 1895 and an eco nightmare!  The windows, plumbing, roof, flooring, electrical, and appliances would need to be replaced for it to be efficient!  It would be like winning the lottery!  The 2010 green home pulled in 17 million entries!  I know they randomly draw the winner, but was wondering how they actually went about selecting the name.  This video explains the process!  The best bet would be to enter the giveaway online and by mail to get into more bins to better your chances!  Check this out!
The official rules state there is a limit of two online entries per day, one at HGTV.com and the other at frontdoor.com.  However, mail in entries are UNLIMITED!   To mail in your entry hand print your name, complete address, and phone number (including area code) either on a postcard or on a separate piece of paper no larger than 8½ x 11 inches, and mail the postcard or paper in an envelope with the proper postage affixed to: "HGTV Green Home Giveaway, PO Box 51412, Knoxville, TN 37950". Mail-in entries must be postmarked by June 2, 2011 and received by June 9, 2011.
Oh and here is something I didn't know until now and you might also find interesting!  The winner has the option of choosing $480,000.00 in cash in lieu of the home, so if you can't afford to pay the annual property taxes on the HGTV Green Home you can still go buy yourself an eco house that is less expensive and be living "green" within your means!  How cool is that?
*photos borrowed from HGTV
[ad#Google Adsense-1]