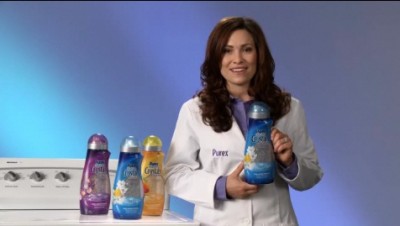 Purex has recently added videos featuring Purex research scientist (and mom) Dana to purex.com.  Dana explains the drawbacks of oil based softeners and the advantages of using 92% natural Purex Complete Crystals.  For instance, did you know most  traditional liquid fabric softeners use oil to coat the fabrics and make them feel slick?  Some of them actually contain 20% oil per bottle!  YUCK!  The worst part is the oil makes your Children's Sleepwear  flammable.  You can learn interesting tidbits like this and why you should never use liquid softener on Performance Sportswear and more by watching Dana.
Purex Complete Crystals is a whole new approach on softening and based on 92% natural ingredients. Unlike traditional oil based softeners, Purex Crystals dissolve in water and gets in the spaces between fabric fibers,  safely fluffing plus softening everything including Children's Sleepwear and Performance Sportswear.  The great part is the crystals are easy to use too!  All you do is throw them in the beginning of the wash cycle and your clothes will come out soft and smelling amazingly fresh.
Head to Purex.com to learn more about Purex Crystals from Dana and while your there don't forget to grab your $1.00 off coupon on any  ONE Purex Complete Crystals Softener.
[ad#Google Adsense-1]