A Modern Twist on the Famous Hair-Raising Fable Rapunzel Unravels This Spring!
Disney's 50th Animated Feature Film
Debuts as the Ultimate 4-Disc Disney Blu-ray™ Combo Pack on March 29, 2011
— First Disney Animated Title to Debut Day-and-Date on Disney Blu-ray 3D —
Grossing over 400 million dollars in global theatrical sales to date, TANGLED, The Walt Disney Studios blockbuster animated feature that takes a modern twist on the famous hair-raising fable Rapunzel, debuts as the ultimate 4-Disc Disney Blu-ray Combo Pack (3D Blu-ray + Blu-ray + DVD + Digital Copy in a single package) on March 29, 2011. As the 50th full-length animated feature in The Walt Disney Studios' celebrated library and the first animated feature film to ever debut day-and-date on Disney Blu-ray 3D, TANGLED's uniquely packaged home entertainment release ensures that viewers of all ages can enjoy this film on a variety of superior, hi-def media platforms while diving further into the history and quirky details behind the making of this film via amusing and informative bonus features.
"Disney's spirited re-telling of Rapunzel in 3D animation turns out to be a dazzler."
Peter Travers, Rolling Stone
Featuring unexpected heroes, magic, laughter and adventure, this animated feature is supported by an amazing cast of voice talents including Mandy Moore ("A Walk To Remember," "The Princess Diaries") as Rapunzel, Zachary Levi (TV's "Chuck," "Less Than Perfect") as Flynn Rider, Brad Garrett (TV's "Everybody Loves Raymond," "'Til Death") as Hook Hand Thug, Donna Murphy ("Spider-Man 2," "The Fountain") as Mother Gothel, and Ron Perlman ("Hellboy," "Hellboy II: The Golden Army," "The City of Lost Children") as the Stabbington Brothers. From directors Byron Howard ("BOLT") and Nathan Greno and the award-winning songwriter of "The Little Mermaid" and "Beauty and the Beast," Alan Menken, TANGLED's hair-raising adventure keeps viewers entertained throughout with its exciting storyline and memorable melodies.
" 'Tangled' has all of the qualities we look for in an animated Disney feature… Bravo!"
Leonard Maltin
TANGLED hits store shelves this spring and is available as a 4-Disc Blu-ray Combo Pack (Blu-ray 3D + Blu-ray + DVD + Digital Copy) for the suggested price of $49.99 US/$56.99 Canada, a 2-Disc Blu-ray Combo Pack (Blu-ray + DVD) for $39.99 US/$44.99 Canada and/or a 1-Disc DVD for $29.99 US/$35.99 Canada.
BONUS FEATURES
Blu-ray
• Untangled: The Making of a Fairy Tale – Exactly how long is Rapunzel's hair? How many lanterns were used? Where did Pascal's name come from? Which Disney animated feature first utilized CG animation? These and more will be answered when Mandy Moore and Zach Levi take viewers on a kooky behind-the-scenes tour to learn how the filmmakers styled this film's "Golden Tresses."
• Deleted Scenes – Co-directors Byron Howard and Nathan Greno introduce three scenes and illuminate why they were ultimately cut.
The Jaunty Moose
Chemistry Develops
"Vigor The Visionary"
• Extended Songs – The complete versions of two great songs are shared in a unique feature that explains the co-directors decision to scale them down.
"When Will My Life Begin"
"Mother Knows Best"
• Two Original Storybook Openings – Two alternate versions of the film's opening sequence described by co-directors Nathan Greno and Byron Howard.
[field name=iframe1]
• 50th Animated Feature Countdown – A video montage celebrating Tangled as the 50th film to join The Walt Disney Studios' prestigious lineup of classic animated features.
• 9 Tangled Teasers – A collection of the most unique and quirky commercials made for the theatrical release of "Tangled." Some are spoofs based off of infomercials and/or breaking news, some are teasers and others are simply just funny filmstrips.
DVD & Movie Download
• Two Original Storybook Openings – Versions 1 & 2
• 50th Animated Feature Countdown
FILM SYNOPSIS
When the kingdom's most wanted—and most charming—bandit Flynn Rider (voice of ZACHARY LEVI) hides out in a mysterious tower, he's taken hostage by Rapunzel (voice of MANDY MOORE), a beautiful and feisty tower-bound teen with 70 feet of magical, golden hair. Flynn's curious captor, who's looking for her ticket out of the tower she's been locked away in for years, strikes a deal with the handsome thief, and the unlikely duo sets off on an action-packed escapade, complete with a super-cop horse, an overprotective chameleon and a gruff gang of pub thugs. Tangled is a story of adventure, heart, humor and hair—lots of hair.
*Press release via Disney
Watch The Trailer
[field name=iframe]
LOVED IT!
Tangled is a hilarious and hair-raising twist on Brothers Grimm's Rapunzel.  The movie is the 50th animated feature in the Walt Disney Animated Classics series and to date is the most expensive animated film ever made with a budget costing $260 million.   Hey…it takes a lot to animate 70 feet of magical golden hair!  The film was created using computer-generated imagery (CGI) and in my opinion is one of the best Disney flicks I have ever had the pleasure of seeing.  Not only was the graphics suberb, but the story line was not lacking in detail and HIGHLY entertaining!  My whole family loved it, including my hubby who  isn't usually amused by animated family movies.  Tangled was nothing less than amazing and fun to watch!  You will be thrilled the entire way through and learn how a frying pan soon becomes a popular weapon of choice!
The story begins with a single drop of sunlight falling from the heavens that grew a magic golden flower.   The flower had the ability to heal the sick plus injured and was horded  by an old woman named Gothel to keep herself young for hundreds of years.  Gothel would sing a special song to the flower which would reverse the clock and return her to a youthful appearance.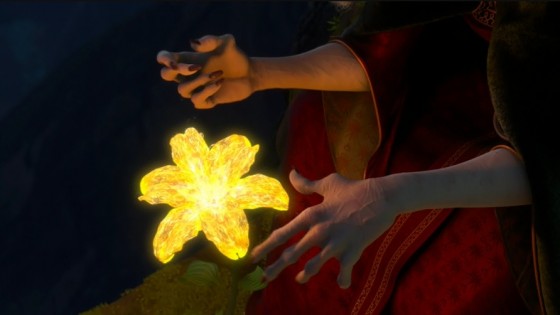 Centuries past skipping to a kingdom ruled by a beloved king and queen.  The queen was about to have a baby, but became very ill.  She was running out of time and the guards searching for a miracle set out to find the golden flower.  The search party finds the flower and lifts it out of the ground with the roots intact,  as mother Gothel watches from the shadows.
The magic flower is shown to be floating in water.   The queen drinks it and  the magic heals her.  She gives birth to a healthy baby girl with beautiful golden hair.  To celebrate her birth the king and queen launched a flying lantern in the sky decorated with a sun.  All was perfect in the kingdom until one night when Rapunzel's bedroom door opens and a shadow appears over her crib.  Gothel begins to sing her song and Rupunzel's hair begins to give off golden light.  Gothel snips of a strand of Rupunzel's hair, but it instantly turns brown and her skin begins to turn old again.  She picks up the child and steals her from the castle.  The kingdom searched and searched, but they could not find the child and every year send thousands of lighted lanterns into the sky hoping that one day their lost  princess would return.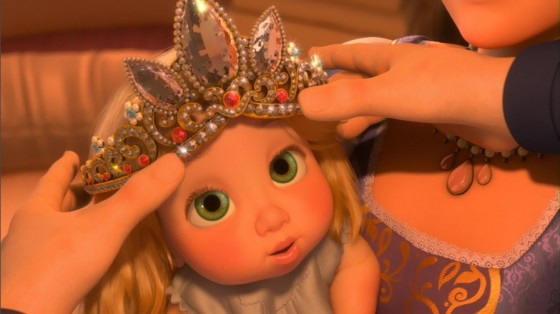 Deep within the forest in a hidden tower,  Gothel keeps Rupunzel locked inside and raises the child as if she was her own.  For years she keeps herself young by brushing  Rupunzel's magical golden hair.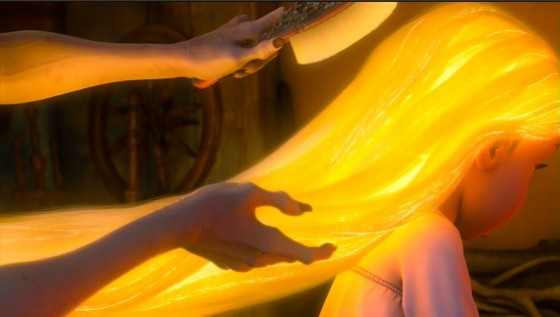 All was going as planned until Rupunzel's eighteen birthday when she asks Gothel if she can see the floating lights in person which appear every year on the day she was born.  Gothel denies Rupunzel's request saying the world is scary place and not to ever ask again to leave the castle, because "mother knows best."  The wicked mother then sets out with her basket and slides down Rupunzel's long golden hair exiting the tower leaving her alone with Pascal the chameleon .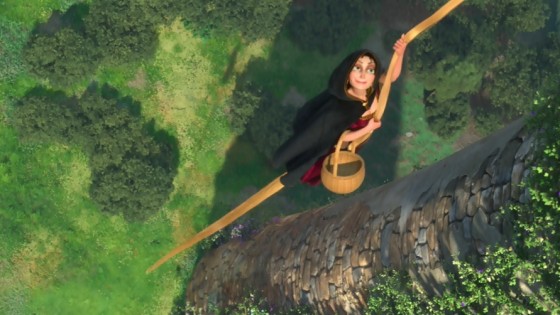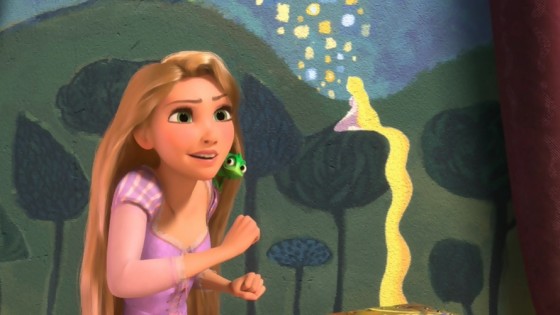 Meanwhile, Flynn Rider and the Stabbington Brothers are being chased through the forest by a captain of the guard on a white steed and his royal brigade for stealing the tiara of the missing princess from the castle.  Flynn soon ditches the twin theives and takes of with the satchel containing the stolen crown.  Still being chased by the soldiers, he flees through a narrow tree with a low fork trunk and manages to block all of the horsemen except the captain who is riding Maximus.  Flynn is able to knock the captain of the horse and rides Maximus, but the white horse is less than thrilled and soon comes to a sudden halt.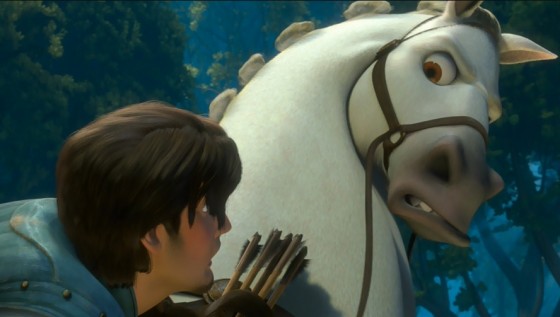 Maximus tries to snatch the satchel with his teeth and is able to nip it.  Flynn trying to stop the horse for getting the satchel,  flings the bag onto a tree limb over hanging a cliff.  The two dash to get it and Flynn grabs the satchel first.   However, the tree snaps and falls taking both Maximus and Flynn with it.  The trunk hits a rock and snaps in two splitting them up.  Flynn then escapes into a cave covered by ivy which leads him to Rupunzel's tower!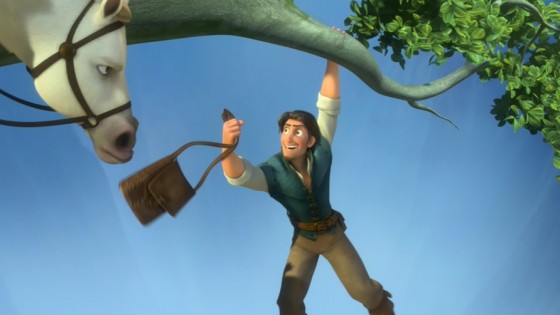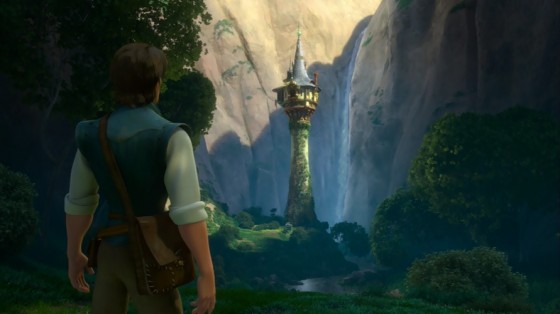 I'm not going to tell you any more, because I don't want to spoil the movie in case you haven't already seen it, but I'll let you know this is where the gut-busting fun starts!  You'll have to watch it for yourself to see what happens next.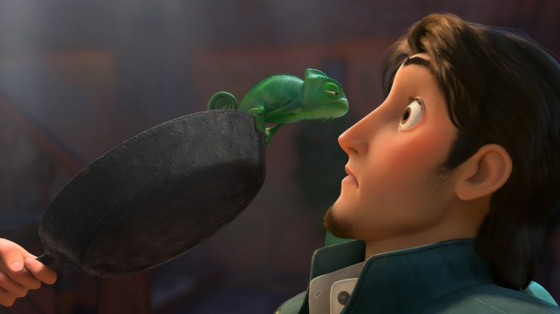 Buy It!
Tangled 4-Disc Blu-ray Combo Pack (Blu-ray 3D + Blu-ray + DVD + Digital Copy) is set to hit the shelves starting March 29th at a suggested retail price of $49.99!  The 2-Disc Blu-ray Combo Pack (Blu-ray + DVD) will be made available for $39.99.  Pre-order it now at Amazon.com for only $19.99 and save 50%!
Tangled Giveaway!
Courtesy of Walt Disney Studios Home Entertainment, I have been given the opportunity to give one reader a Tangled 2-Disc Blu-ray Combo Pack (Blu-ray + DVD), Adult Size Large Green T-Shirt featuring Pascal the chameleon, an Adult Size Large Blue T-Shirt featuring Maximus the police horse, and a do-it-yourself paper lantern!  To enter leave me a comment.
Extra Entries
1. Read any of my other reviews without a giveaway and leave me a comment there.  Then come back here letting me know you did. Make sure you leave ten separate comments  (example: Left a comment at review extra entry 1, Left a comment at review extra entry 2, Left a comment at review extra entry 3, ect.).   This is worth 10 extra entries.
2.Mention the giveaway on your own blog linking back to this post.  Leave an additional comment with a link to where you blogged about the giveaway. This is worth 5 extra entries.  Make sure you leave five separate comments. (example blogged extra entry #1, blogged extra entry #2, blogged extra entry #3, ect…)
3. Follow my blog and leave me an additional comment. ( There is widget on my footer that shows my followers. Just click follow). If you already follow leave me a comment letting me know you already do. (3 extra entries)
4. Enter any of my current giveaways and let me know you did here. (3 extra entries)
5. Follow @ahappyhippymom on Twitter and tweet about the giveaway. Please make sure you leave the link where you tweeted in your comment. YOU CAN TWEET ONCE PER DAY TO INCREASE YOUR CHANCES OF WINNING.
6. Subscribe to my feed and leave a comment. If you already subscribe leave a comment telling me you are already a subscriber.
Winner will be chosen at random via Random.org.   Info will be forwarded to sponsor.
Open To US Residents Only- age 18 +
The contest ends April 4th,  11:59 PM eastern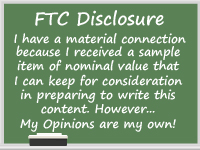 [ad#Google Adsense]