Can you remember your first taste of coffee?  I can recall I was 14 years old and my first cup of coffee was at Dunkin'  Donuts with my Dad.  We were sitting at the table and he had ordered us some glazed donuts, a cup of coffee for himself, and hot chocolate for me.  Dad got up to grab the cream from the other table and I snook a sip of black coffee from his mug.  I didn't particularly like it at first, and it smelled way better than it tasted.  Then I tried it after he added the cream plus sugar and I fell for it hook, line, and sinker!  I've been drinking coffee ever since and I don't believe there has been many days I have gone without consuming at least one cup. In fact, coffee is my favorite hot or cold beverage and it's the first thing I look forward to and grab in the morning.  The quicker I get it the better my day goes!
Over the years I've tried all kinds of  cool coffee gadgets such as multi-cup drip brewers, grinders, espresso machines, cappuccino machines, coffee grinders, frothers, ect… I've even attempted to try a French press to squeeze  out the best flavor and essential oils out of the coffee grounds.  Lets just say I have become a serious fine-bean connoisseur over the years.   I'm always searching for the perfect cup of coffee that is going to knock my socks off.  Strarbucks has come pretty close with its  latte and cappuccino beverages.  Yet, the closest Starbucks is 20 minutes away, so driving there to get a cup of coffee every morning is impractical and not an option.  However, I have found the single-serve home brewing systems can just about duplicate the same great taste and deliver a perfect cup of coffee in less than a minute at a fraction of the cost per cup.
Bosch Tassimo T20
For the past week I've been test driving a Bosch Tassimo T20.  I have to say I'm rather impressed with the single-serve brewbot, because it is  uniquely different than any other coffee machine I have ever used before.  The Tassimo T20 is actually intelligent in it uses " ingenious T DISCs"  marked with a unique bar code printed on the label. The brewer reads the code then automatically calculates the amount of water needed, brewing time, and temperature to prepare the perfect beverage. Depending upon the drink size, temperature and flow rate of the water, most beverages are ready in about 60 seconds. The brewbot takes the guess work out and you can prepare different authentic coffeehouse beverages including coffee, tea, cappuccino, espresso, latte, and hot chocolate,  one right after the other.  The top notch "smart bar code technology" gives you a quality cup every time.  This makes the Home Brewing System ideal for entertaining or for individuals such as myself who get bored with the same cup of Joe and like a variety of coffee flavors throughout the day.
T DISCs
Each T DISC is expertly filled with the right amount of coffee, hot chocolate, tea, or concentrated shelf-stable milk (developed by Kraft Foods).
TASSIMO T DISCs are available in over 40 varieties, including:
Rich Coffees: Roasted from 100% Arabica beans – Regular and Decaffeinated in a variety of roasts.

Frothy Cappuccinos and Lattes: Made by combining bold espressos and frothed real 2% milk.

Café Crema Coffees: Rich 100% Arabica coffees capped with a velvety non-dairy foam.

Espresso: Bold Espressos capped with crema for an authentic coffee house taste.

Steeped Teas: Green and Black teas from such well known brands as Twinings, TAZO® and Gevalia.

Hot Chocolate: Rich and creamy Hot Chocolate made from the finest European Suchard chocolate.

Milka: A delicious Hot Chocolate beverage with a tender Milka chocolate taste and a smooth velvety chocolate layer on top.
The T DISCs are designed to only be used once and should be removed from the brewer and discarded shortly after brewing is complete.  The packaging is "suitable for energy recovery through incineration."  To discard properly you need to remove the label, , rinse the remaining coffee grounds, tea leaves or milk from the container and deposit it along with the label in the general plastics (non PET) bin.
The TASSIMO Discs can be found to purchase in the coffee aisle of major retailers such as Lowe's, Walmart, Bed Bath & Beyond, Target, KOHLS, Macy's, Sears, ect… To find a location near you T DISCs directly from Tassimo.
The Tassimo T20 Design
The Tassimo T20 has a great space saving design!  The brewers dimensions are  7.88″ wide by  11″ high with a depth of 11.75."  Being that it so compact it is ideal  for apartments, dorm rooms and countertops.  It fits wonderfully on my limited space countertop and looks fantastic too.
What I really love about the brewer is you can personalize it  simply by purchasing a "Brewer Kit."  The color  kits come with a splash cover plus cup stand and are available in Strawberry Red, Mint Blue, Lime Green or Hazelnut Brown.  Installing it is a breeze!  You just remove the existing cup stand, pull the splash cover out and insert the new one.
I was sent the Mint Blue kit and think it looks fantastic!  However, I'm going to be replacing my kitchen countertop soon and will be purchasing a kit to match my color scheme.  The kits are reasonably priced with a suggested retail of $19.99.
A Quick Look At The Tassimo T20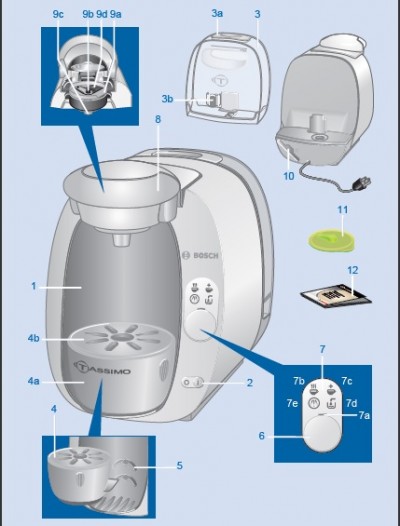 The First Initial Use
The Bosch Tassimo T20 is one of the easiest single serve coffee machines I have ever used.  When you first get it home your going to want to clean it before use.   Make sure you rinse the water tank thoroughly under running water and fill it to the max line with fresh cold water. Replace the tank and push down into place.   In the back there is a slot that holds the Service T DISC and cleaning/descaling directions.  Remove the T DISC from the compartment.  Next make sure you have the machine plugged in and turn it on by switching it in the (l) position.  Select a large cup that can hold at least 8 oz and place it on the cup stand.  Open the brewing unit by lifting the lid and insert the Service T DISC on the T DISC holder with the barcode facing down.  Close the lid and press the start button.  The cleaning process begins and the water flows into the cup.  Repeat 4 more times.  Now your machine is ready to brew your favorite hot beverage!
Brewing Your Hot Beverage
After cleaning your Tassimo your now ready to brew your beverage.
Choose the correct cup size for your beverage to avoid overflow and splattering.  The closer you can get it to the brewing unit the better!  Espresso: 3 oz / 85 ml-Filter coffee & Café Crema: 11 oz / 325 ml-Cappuccino, Latte, Tea & Hot Chocolate beverages: 11 oz / 325 ml- 12 oz Coffees: min. 16 oz / 475 ml
Adjust the cup stand.  Use the default position for normal cups.  You can adjust the cup stand for smaller cups (e.g. espresso cups) by pulling the cup stand forward    and out and hooking it into the upper slot in the back panel.  Or remove it for larger cups.
Place cup on the stand (if you didn't remove it).
Open the brewing unit by lifting the lid.
Select a T DISC and insert it in the T DISC holder with the printed side down.  Make sure that the tab of the T DISC is secured in the slot to the right.
Close the brewing unit by pushing the lid down firmly until it clicks into place.  Stand-by flashes while the machine reads the barcode.   Automatic icon lights up (green) when your TASSIMO machine is ready to brew your drink.
The start /stop button. Automatic icon will flash. When the automatic brewing process is complete,  Manual icon lights up.  Your beverage has been brewed for optimum flavor according to predefined settings.  You can customize your drink by pressing the start /stop button at any stage during the brewing process to stop the process early for stronger taste or extend the brewing process for milder drinks by pressing and holding the start / stop button within 20 seconds. Don't be alarmed if you see steam roll out of your brewer, its just part of the normal brewing process.
Wait until you see the ORANGE stand-by- light come on to remove the T DISC.  This allows it to cool enough so you don't get burnt.  The T DISC is still going to be hot to the touch, so proceed with caution.
Now you can sit back and enjoy your favorite hot drink. If you wish, you can prepare the next drink immediately. There is no wait time between!
Making Cappuccino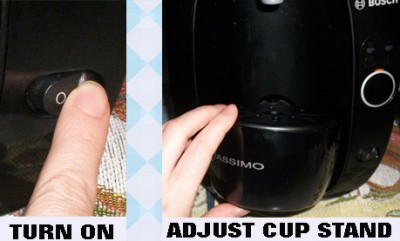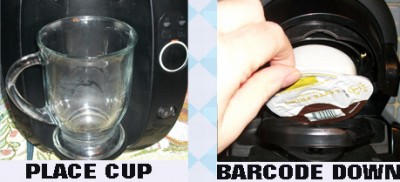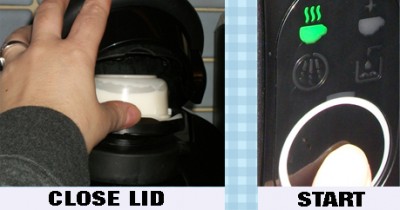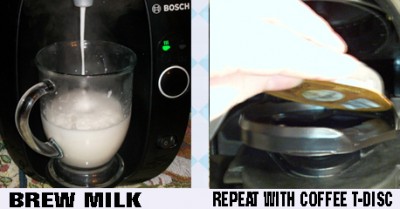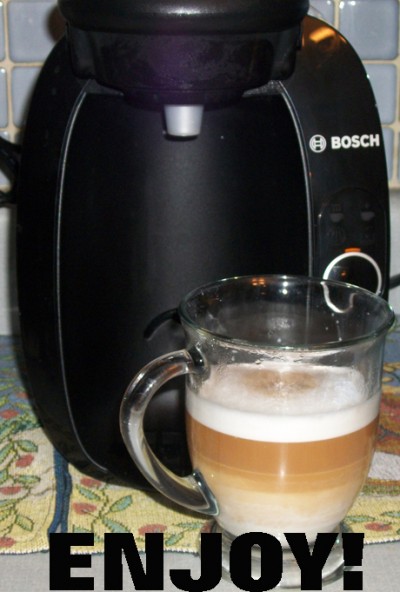 I Like It!
What do you think?  Looks like a great single serve machine?  I think it is!  The reason I like it is there is virtually no wait time between brewing your first, second or third cup.  It's almost immediately ready as soon as you flip it on.  PLUS, the Tassimo T20 T DISCS come in several varieties including my favorite–Starbucks Latte! YUM!  I found the T-DISCS to cost approximately $6.48  for your average brand (Maxwell House, ect…) of Cappuccino and around $10.48 for Starbucks at Walmart.  Anyway you look at it your going to save money in the long run by using the Tassimo T20 if your purchasing coffee at Starbucks or any other coffee house on a daily basis!
My Only Concern
The only problem I have with the Tassimo T20 or any other single serve brewer is that most of them use specific coffee chambers developed exclusively for use with their brewbot.  If for some reason the company stops making the inserts your machine becomes obsolete.  I would like to see Bosch create an insert allowing you to fill it with your own coffee to be used in the Tassimo.  This would ensure you get the most usage out of your machine AND you would be able to brew your favorite coffee flavor if its not offered among the pre-made T DISCs.
Buy It
The Tassimo T20 can be purchased directly from white or black.
GIVEAWAY!
Courtesy of Bosch, a reader is going to win their very own Tassimo T20 Home Brewing System ($129.99)!  To enter the giveaway check out the T DISC varieties and let me know which would be the first one you would brew in your new machine if your chosen as the winner.
EXTRA ENTRIES
1. Read any of my other reviews without a giveaway and leave me a comment there.  Then come back here letting me know you did. Make sure you leave ten separate comments  (example: Left a comment at review extra entry 1, Left a comment at review extra entry 2, Left a comment at review extra entry 3, ect.).   This is worth 10 extra entries.
2.Mention the giveaway on your own blog linking back to this post and Tassimo.  Leave an additional comment with a link to where you blogged about the giveaway. This is worth 5 extra entries.  Make sure you leave five separate comments. (example blogged extra entry #1, blogged extra entry #2, blogged extra entry #3, ect…)
3. Follow my blog and leave me an additional comment. ( There is a Google Friend Connect widget on my footer that shows my followers. Just click follow). If you already follow leave me a comment letting me know you already do. (3 extra entries)
4. Enter any of my current giveaways and let me know you did here. (3 extra entries)
5. Follow @ahappyhippymom and Tassimo on Twitter plus tweet about the giveaway. Please make sure you leave the link where you tweeted in your comment. YOU CAN TWEET ONCE PER DAY TO INCREASE YOUR CHANCES OF WINNING.
[tweetbox width="450″ height="65″ label="Retweet!" content=" Bosch Tassimo T20 Home Brewing System Giveaway!  Enter to #Win it @ahappyhippymom http://is.gd/XMG9Fm "]
6. Subscribe to my feed and leave a comment. If you already subscribe leave a comment telling me you are already a subscriber.
7. Like Tassimo on Facebook.  This is worth 2 extra entries.
8. Like ahappyhippymom on Facebook. Worth 2 extra entries
Winner will be chosen at random via Random.org.   Info will be forwarded to sponsor.
Open To US Residents Only- age 18 +
The contest ends March 31st,  11:59 PM eastern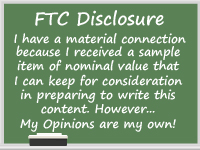 [ad#Google Adsense-1]