In our home we have two laptops–one is my daughter's and the other PC is mine.  I do blogging, banking, online shopping, and business communications in almost every room in my house and when the weather is nice I take the laptop outside and browse the internet under the beautiful trees.  I sometimes even check my email, read  favorite magazine websites, and watch Netflix movies in the privacy of my bathroom.  I know,  the last statement was probably way to much information, but I'm trying to get the point across on how I have complete freedom throughout our home to be able to access the internet without restrictions.  This is all made possible through the use of Cisco's Linksys Wireless Router.  For the past seven years I have enjoyed wireless internet and I honestly don't believe I could go back to not having it.
Recently a Cisco Representative reached out to  me and asked if I would be interested in reviewing their Valet Wireless Router.  The opportunity was a no-brainer for me, because I love their products and would be thrilled to test out the Valet.  Nevertheless, my husband wasn't as excited as I was and the thought of having to reinstall and reprogram wireless internet on all our gaming systems, WiFi gadgets, and PCs was not getting him up and jumping for joy.  The last time we had to replace our router it took at least 45 minutes to hook everything  up again and it wasn't exactly a pleasant experience.  Then he got me thinking and I became a little nervous with the idea too. For review purposes I would be setting up the router by myself, so I could give you as much details as possible about the installation.  I was hoping I would be able to do it without running into any technical difficulties.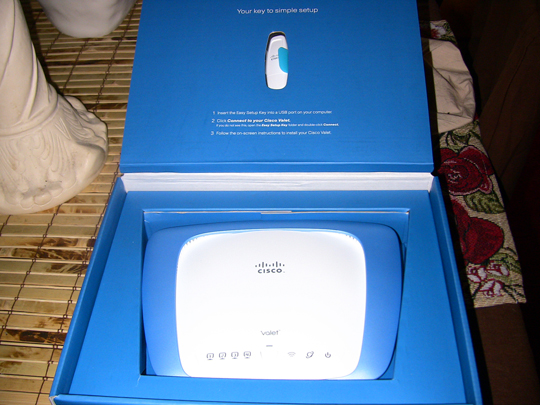 When the Cisco Valet box arrived and I opened it, I was like…ummm…where is the instruction manual!  Could it actually be this easy?  I remember with my previous router there was a CD-ROM disc containing software I had to load and a pamphlet of instructions to follow.  The box contained just the Valet M10 Wireless-N Router, Easy Setup Key with Cisco Connect software, Ethernet Network Cable, and Energy-Saving Power Adapter.   On the inside box top was three simple steps.
1.  Insert the Easy Setup Key into a USB port on your computer.
2. Click Connect to your Cisco Valet.
3. Follow the on-screen instructions to install your Cisco Valet.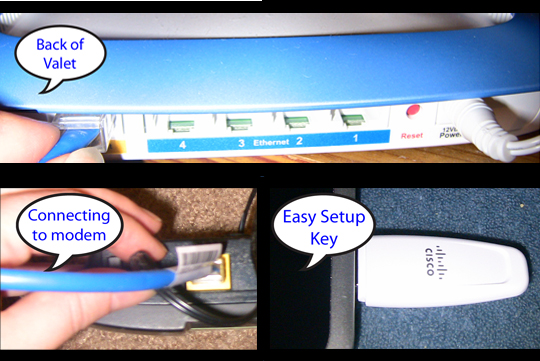 Looks pretty easy!  I think I can do this.  I plugged the Energy-Saving Power Adapter power cord into the Valet router and connected to a power outlet. Next I attached the blue Ethernet Network Cable into the yellow port on the Valet labeled "Internet" and connected the opposite end  to my modem. Then I rebooted my modem. After that I inserted the Easy Setup Key into my USB port.  The key is a USB  flash drive that stores settings such as network name, password, and files allowing you to instantly add all your wireless devices.  I followed the instructions on my computer screen and about 8 minutes later I was fully connected to the internet.  I didn't  even have to create a network name  or security password, because the Valet did it for me!  The claim of easy setup was true for me!  Honestly, I think my mother could install the router and she has a problem working her DVD player. No disrespect to my mom, she is extremely smart but not technically inclined.
However, my daughter's computer ran into a snag, because it was not updated with the latest Windows XP SP3 software pack.  After I installed the update,  hooking up the wireless internet to her computer was as easy as plugging in the Easy Setup Key into the laptop's USB port.  She was back surfing the internet and watching her favorite videos within a matter of minutes.
The WII and PS3 were a tiny bit more work to get setup only due to having to manually type in the security key.  Other than that it was basically a simple  process and the gaming systems were ready to be played and  receive Netflix without any problems.   GOOD TO GO!
What I like about the Valet wireless router!
1.  I love the easy setup.  The claims of empowering your home with a wireless network in three simple steps it true.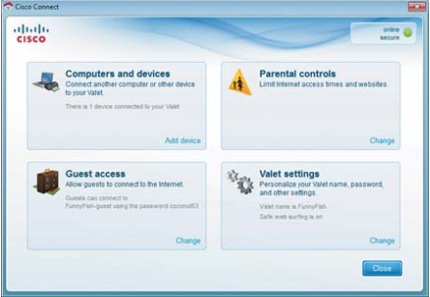 2. If I had a wireless printer,  I know I wouldn't have any difficulty getting it connected to the wireless router and be able to print off tons of money saving coupons.
3. The Valet allows me to stream my favorite movies and TV shows to our HDTV.
4. Guests can easily have Internet access by giving them a temporary password and I don't have to share my personal passwords plus private information.
5. LOVE LOVE LOVE the custom parental controls!  Having a 13 year old on the Internet doesn't have to be scary!  The easy access controls allow you to block unwanted sites, restrict Internet usage during certain hours, and make sure content being viewed is age-appropriate with "Teen" and "Child" settings.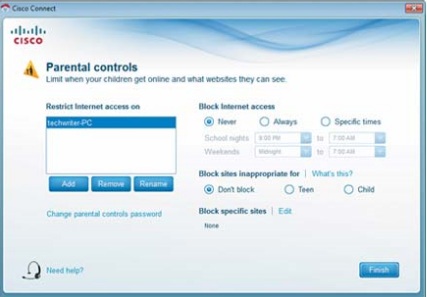 6.  The great looking design!
What I would change.
I can't think of anything!
Product Details Per Manufacturer
Cisco Valet Features:
Get speeds up to 300 Mbps*
Protect your network with integrated firewall protection and WPA encryption..
Block times or websites for each connected device.
Make it easy for your guests to access the Internet with a separate guest network.
Get one full year of customer support for a worry-free experience.
Specifications
Model:
Valet (M10)
Technology:
Wireless-N
Bands:
2.4 GHz
Transmit / receive:
2 x 2
Antennas:
Internal
Ethernet ports x speed:
4 x 10/100
Software setup:
Easy Setup Key
Safer surfing:
Yes
Parental controls:
Duration Access Controls
Specific Domain Blocking
Child / Teen Website Filtering

Support:
24/7 Award-winning Online Support Resources
1 Year Complimentary Assisted Support
Warranty:
1 year hardware limited warranty
OS Compatibility:
Windows, Mac
Minimum System Requirements:
Internet Browser: Internet Explorer 6, Safari 3, or Firefox 2 or higher for optional browser-based configuration
PC: Wireless network enabled PC with available USB port, running Windows XP SP3, Windows Vista SP1 or Windows 7
Mac: Wireless network enabled Mac with available USB port, running OS X Tiger 10.4.11, Leopard 10.5.8, or Snow Leopard 10.6.1
Package Contents:
Valet wireless router
Easy Setup Key
Internet (network) cable
Quick Reference Guide
Energy Star power adapter
Buy It!
The Cisco Valet Wireless Router retails for $99.99, but is currently on sale at amazon.com for just $64.99!
About Cisco
Cisco (NASDAQ: CSCO) is the worldwide leader in networking that transforms how people connect, communicate and collaborate, this year celebrates 25 years of technology innovation, operational excellence and corporate social responsibility. Cisco's vision for the consumer is to enable people to live a connected life that is more personal, more social, and more visual. Further information about Valet can be found at www.thevalet.com. Further information about Cisco and its full line of consumer products including Linksys and Flip Video can be found at www.linksys.com, www.theflip.com, and www.cisco.com/consumer.
ENTER TO WIN A CISCO VALET!
One reader will win a Cisco Valet Wireless Router!  Even if you already have a router in great working condition please enter for someone who might be  technically challenged and need a wireless home network.  To enter the giveaway leave me a comment sharing which wireless devices you need to hook up in your home.
Extra Enties
Extra Entries
1. Read any of my other reviews without a giveaway and leave me a comment there.  Then come back here letting me know you did. Make sure you leave ten separate comments  (example: Left a comment at review extra entry 1, Left a comment at review extra entry 2, Left a comment at review extra entry 3, ect.).   This is worth 10 extra entries.
2.Mention the giveaway on your own blog linking back to this post and Cisco Valet.  Leave an additional comment with a link to where you blogged about the giveaway. This is worth 5 extra entries.  Make sure you leave five separate comments. (example blogged extra entry #1, blogged extra entry #2, blogged extra entry #3, ect…)
3. Follow my blog and leave me an additional comment. ( There is a Google Friend Connect widget on my footer that shows my followers. Just click follow). If you already follow leave me a comment letting me know you already do. (3 extra entries)
4. Enter any of my current giveaways and let me know you did here. (3 extra entries)
5. Follow @ahappyhippymom and Cisco Valet on Twitter plus tweet about the giveaway. Please make sure you leave the link where you tweeted in your comment. YOU CAN TWEET ONCE PER DAY TO INCREASE YOUR CHANCES OF WINNING.
[tweetbox width="450″ height="65″ label="Retweet!" content=" Technically challenged and want to setup a wireless home network? Enter to win a Cisco Valet   @ahappyhippymom http://is.gd/WQ7iNP #Win"]
6. Subscribe to my feed and leave a comment. If you already subscribe leave a comment telling me you are already a subscriber.
7. Like Cisco Valet on Facebook.  This is worth 2 extra entries.
8. Like ahappyhippymom on Facebook. Worth 2 extra entries
Winner will be chosen at random via Random.org.   Info will be forwarded to sponsor.
Open To US Residents Only- age 18 +
The contest ends March 9,  11:59 PM eastern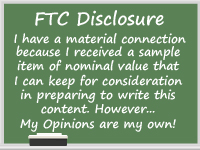 [ad#Google Adsense-1]