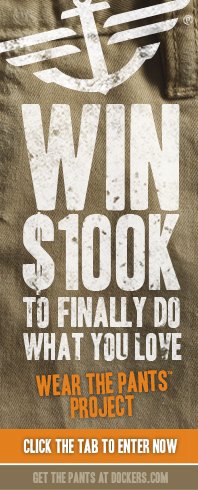 What would you do with an extra $100,000?  Would you pursue your dream business venture, use it for education and change careers, or maybe travel the world and experience different cultures?  $100,000 is a life altering amount of money and Dockers  is going to  make one lucky winner's vision into a reality!
Check this out!

Sound fantastic?  Here is more information about Dockers "WEAR THE PANTS PROJECT."
The Dockers brand is challenging men and women to "love what they do or get busy doing what they love"  by presenting one lucky winner with $100,000 (post tax!) in the "Wear the Pants Project" contest. The Dockers brand is also giving away an additional 43 "Man Grants" (total value: over $75,000 in services, tools, resources, or cash) each week through the end of November 2011.
The contests are about encouraging individuals to take action – whether it's that small project that never got done or a bigger life's passion. To enter the giveaway, contestants must submit a plan for actualizing their dreams, whether professional or personal, on the Dockers Facebook page.
Win $100K to Turn Your Day Job into a Dream Job
Now through March 15, 2011, men AND WOMEN who are ready to change their life's story will be invited to enter their plan at the Wear the Pants Project tab on the Dockers Facebook page. The tab provides a video and other details about the $100,000 contest and serves as an entry point for their application.
"The Wear the Pants Project Facebook page will showcase featured entries so that community members can vote to determine the Top 50 plans (between February 1 and March 15). A panel of experts will review the Top 50 and select five finalists, with the community again voting on the final winner from April 25 – May 1. The winner of the $100,000 prize will be announced on May 2. The winner also receives a year's worth of Dockers  khakis, so he can Wear the Pants™ while pursuing his interests.
The first 500 entries receive a free pair of Dockers  khakis. Every entrant will get a sharable coupon for 30% off Dockers khakis."
Please make sure to read  the contest terms and conditions prior to entering.  Good luck!
[ad#Google Adsense]