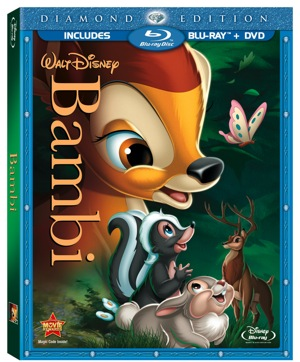 Disney has done it again and added another Blu-ray to it's Diamond Collection line-up.  This time it's one of Disney's most beloved animated-classics, BAMBI!   Released from the Disney vault for a limited time only, BAMBI Diamond Edition features the lovable wide-eyed fawn and his adorable forest friends in stunning  Blu-ray high-definition on March 1, 2011. Experience the movie like you've never seen it before in breathtaking beautiful animation, uplifting music and watch the characters  come alive  in glorious enhanced digital restoration.  Absolutely gorgeous!
Film Synopsis:
As morning light breaks across the meadow, a young deer named Bambi is born and hailed as 'Prince of the Forest.' Soon Bambi emerges from the thicket on wobbly legs, much to the delight of his new friends, Thumper, the playful rabbit, and Flower, the bashful yet lovable skunk. But the fun of nibbling on fresh blossoms and frolicking through the woods is only the beginning. Exploring his new world, and guided by the wisdom of Friend Owl,Bambi learns valuable life lessons with every adventure – experiencing the power of friendship, family, and love along the away.
Thumpers Greenery Lesson
[field name=iframe]
Kind of Wobbly
[field name=iframe1]
Bambi Meets Flower
[field name=iframe2]
Bambi meets Opossums
[field name=iframe3]
BAMBI was Walt Disney's fifth animated full-length feature film which released in 1942 during World War II and took approximately five years in the making due to the exquisite artwork and attention to detail of each and every scene, character and figure. The artwork itself was created by some of the legendary "nine old men," including Frank Thomas, Ollie Johnston, Marc Davis, Milt Kahl and Eric Larson and in order to achieve the film's unprecedented level of realism, animators modeled anatomical studies using live animals (including a pair of fawns named Bambi and Faline) and imbued each with a uniquely endearing personality. Bambi's delightful forest home received the same painstaking attention to detail, as background artists painted hundreds of landscapes based on extensive field research and nature photographs.

Walt Disney broke the longstanding animation tradition by casting child actors in the roles of Bambi's young animals, including Bobby Stewart as Baby Bambi, Donnie Dunagan as Young Bambi, Hardie Albright as Adolescent Bambi and Peter Behn as Young Thumper. The cast also includes Sam Edwards as Adult Thumper, John Sutherland as Adult Bambi, Paula Winslowe as Bambi's Mother and Sterling Holloway (the voice of Winnie the Pooh and The Jungle Book's Kaa, the snake) as Adult Flower.
My family received an advanced Blu-ray copy of Bambi to watch and seeing it again with my kiddos brought back some childhood memories.  For instance, in the scene of "The New Prince" when the forest friends learned of the birth of Bambi and they gathered all around to see him was so beautiful.  I watched my son's reaction as he saw Bambi cuddled up to his mother and trying to take his first wobbly steps.  You could see the excitement in his eyes.  I can remember feeling the same way when I was a youngster.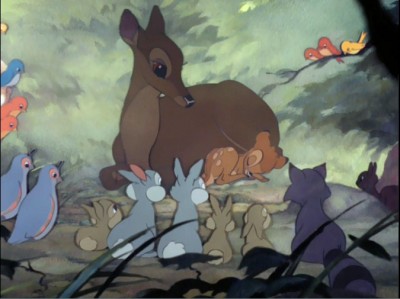 My favorite  part of the movie was during the Spring when an adult Bambi was reunited with with Thumper and Flower.  Owl explains the facts to them of  how everyone  gets "twitterpated"  in the Springtime and is knocked for a loop plus lose their heads.  Flower, Thumber, and Bambi leave determined not to get "twitterpated" like the other animals in love.  Nevertheless,   Thumber and Flower allow it to happen and find mates.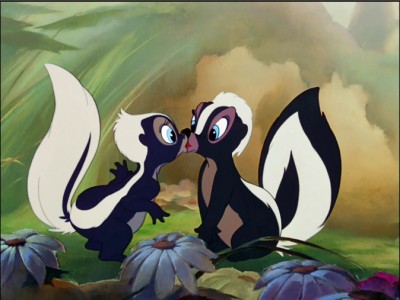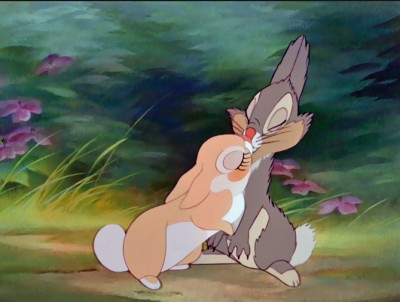 Bambi completely disgusted with the idea runs into Faline at the pond and trying to resist ends up getting  "twitterpated" too!  He falls head over heels in love and they float away through the clouds together.  Too cute!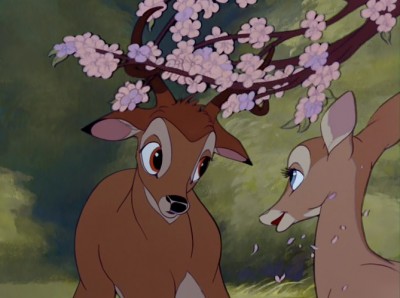 However, the scene that stayed with me throughout the years is earlier on in the movie when Bambi and his mother go to the meadow and discover a new patch of green grass.  While enjoying the grass together in the open area, Bambi's mother senses danger and tells him to flee to the thicket.  Gun shots ring out and Bambi is urged by his mom to run faster and faster. Another gunshot is heard and Bambi reaches the woods where he is protected, yet  his mother is missing.  Bambi wanders through the forest calling for her, but she doesn't answer.  He begins to cry.  He then gasps as his father appears before him and tells Bambi ""Your mother can't be with you anymore."  They walk away together and it's implied the mother is dead.  Seeing this as a child made a lasting impression and I swear it was the beginning for me to loath hunting!
It's no wonder BAMBI was nominated for three Academy Awards for Best Song ("Love Is a Song,"), Best Sound Recording, and Best Music Score of a Dramatic or Comedy Picture.  The Disney classic is is No. 3 on the list of American Film Institute's Top 10 Animated Films of All Times.  In 2004, the movie was commemorated with a first-class U.S. postage stamp and in the 1990's the film inspired astronomers to name a pair of asteroids after the adorable characters – Thumper (April 20, 1993) and Bambi (October 17, 1995). It's a movie you can watch over and over again and still be entertained.
I haven't had a chance to go through all the bonus features, but the Bambi Diamond Edition contains Disney's new "Second Screen" technology.  The technology is being introduced for the very first time and allows viewers to engage with film content on multiple media platforms and bring them to life in their own hands at the touch of a button.  By simply downloading the new Disney Second Screen App onto an internet-connected computer or iPad and synching it to the movie, watchers will instantly be able to experience the film in a whole new level by engaging with fun interactive elements like animated flipbooks, galleries, photos, trivia and more.  Sounds cool!
Bonus Features include…
Backstage Disney:

· Inside Walt's Story Meetings-Enhanced Edition – A fascinating, multi-tiered, interactive story-telling experience. Go back in time with dramatic voice re-enactments of the moments with Walt that led to the creation of this classic film.

· 2 Never Before Seen Deleted Scenes

· Deleted Song: "Twitterpated"

· Blu-ray Galleries—A collection of the extraordinary images originally created as part of the design process for BAMBI.

Family Play: Games & Activities:

· Disney's Big Book of Knowledge: BAMBI Edition— An interactive educational gaming experience that uses the film as a learning tool. Players can customize their own Big Book of Knowledge and learn all about forest creatures, seasons andmore! Each time a player completes a task, they are rewarded with new stickers to decorate their Big Book of Knowledge.

Digital Exclusive:

· The Golden Age

Classic DVD Bonus Features:

· The Making Of BAMBI: A Prince Is Born—A comprehensive look at the making of BAMBI covers the story, the characters, the actors, the art design, the music and the history of Walt Disney's classic film using behind the scenes footage, production stills, animation, artwork and multiple interviews withperformers and behind the scenes participants.

· Tricks of the Trade (excerpt)—In an episode from the 1957 Disneyland TV show, Walt narrates the story of the multiplane camera, an animation innovation crucial to the production of BAMBI.

· Inside the Disney Archives—Disney Supervising Animator Andreas Deja guides viewers through Disney's Animation Research Library, where artwork from past Disney animated feature films is stored, including early story sketches of Bobo the rabbit," (who became Thumper), glass paintings made for the multiplane camera and more.

· The Old Mill—Winner of the 1937 Academy Award® for Best Short Subject/Cartoon, The Old Mill was a testing ground for several techniques critical to Walt's artistic vision for BAMBI, including the multiplane camera, animating realistic animals and experimenting with such natural occurrences such as wind, rain and lightning.

· DisneyPedia: Bambi's Forest Friends
Buy it
The new BAMBI Diamond Edition will be available on March 1 as a 2-Disc Disney Combo Pack (Blu-ray + DVD) for the suggested retail price of $39.99 US/$46.99 Canada.  However, you can pre-order it Amazon.com for just $24.99 and save 38% !  The standard definition DVD version of BAMBI will be released in seven additional weeks – April 19, 2011.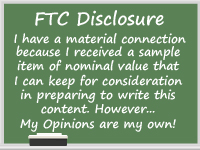 [ad#Google Adsense-1]