Your probably wondering who won the Total Gym XLS?  Before I announce the winner I just want to say a HUGE thank you to the nice people from Total Gym for making this possible and to Shasta at Blog Friendly PR for including me in this wonderful campaign.  If it wasn't for them I wouldn't be able to give this prize away to one of you and feel like I can be a small part in possibly helping someone meet their weight loss goal.  I'm hoping the winner can maybe contribute a guest post updating us on her progress (not a requirement for accepting prize).  I would be interested in hearing how the Total Gym XLS has made a positive difference in her life or if having the Total Gym XLS has made it easier to find the time to exercise during her busy schedule.   Why?  Because I learned the winner has FIVE children!  Her goal is to  lose about 40 lbs and tone her "baby body!"  She can get a good workout in  just 6-8 minutes a day using the Total Gym XLS, so juggling trying to get fit and her kiddos will be much easier even though she is pressed for time.
OK lets get down to business and let you know who won.  As always,  I used Random.org to pull the winning number.  Here is the results.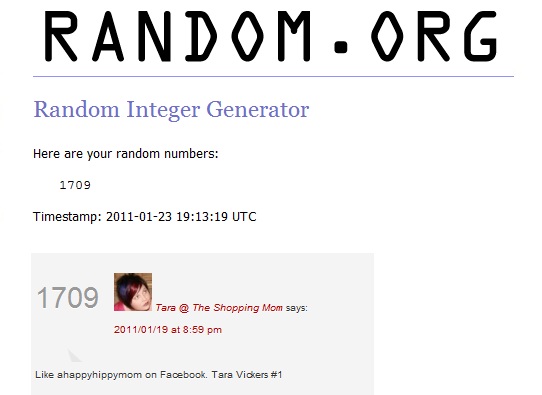 Congrats Tara!!!  Please contact me within 72 hours to claim your prize.  Thank you to everyone who entered the giveaway!  I'm rooting for all of you to be able to achieve your weight loss dream!!!
[ad#Google Adsense]