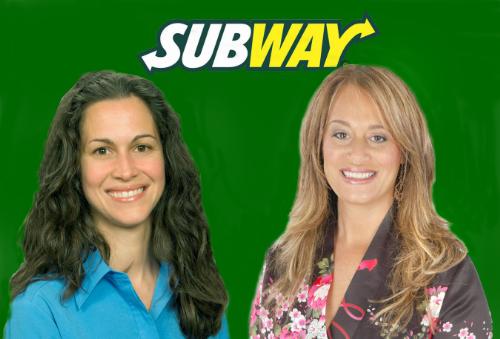 Did you know Subway offers free tips on starting and staying fit for the New Year?  Now you can get expert advice from dietitian Lanette Kovachi, MS, RD on how to make right choices at every single meal that will help get you feeling fit and healthier.  She offers great tips in her new article "Start the New Year with the Right Choices"  such as how to snack smart between meals to keep your body satisfied so you don't overeat during lunch and dinner.
I think this is were most individuals (including myself) make the biggest dieting mistake.  I know from experience I will skip a snack to save on calories only to end up overindulging  at dinner and leave myself feeling weighed down and lethargic.
Lanette suggests that your mid-morning and mid-afternoon snacks should be high fiber and/or include protein.  Her tip is to "try fresh fruit, cut veggies with hummus, whole wheat crackers with light cheese, low fat yogurt, whole grain granola bars, a sandwich or a handful of nuts."  Sound good?  The whole article is loaded with fantastic tips like this!
I've included the press release below in case anyone else is interested in benefiting from reading the expert nutritional information.
SUBWAY® Dietitian and Personal Training Institute Founder Offer Helpful Hints

The SUBWAY® sandwich chain, which has long provided nutritional information online and in its restaurants, is now providing tips designed to help consumers make more informed meal choices, as well as some simple and fun tips to stay active, on its website www.subway.com.

The new column, "Start the New Year with The Right Choices," written by SUBWAY® Corporate Dietitian Lanette Kovachi, MS, RD, provides insights into the better choices to be made for each meal of the day — including dessert!  Found on the site's Menu & Nutrition page, Kovachi is joined by Carol Kur, MS, RD, co-founder of Personal Training Institute, who provides easy-to-do activity tips to get people started burning calories.

"This is a time of year when a lot of people make resolutions to achieve a healthier lifestyle," Kovachi said. "That is something some find is easier said than done, but can definitely be accomplished if you set your mind to it and have a plan to achieve your goals. I am hoping the tips we provide in the columns can help people have a happy and healthful 2011."

The official SUBWAY® Facebook page recently offered, "One of the best ways to stick to your New Year's Resolution is to tackle it with a friend! Anyone trying to achieve their 2011 goals with a buddy?" The responses varied from someone trying to reach their dietary goals with a sibling to one person starting a group — which already numbers more than 100 participants — to help provide weight-loss support for each other. You can join the discussion at www.Facebook.com/subway.

Also added to the Menu & Nutrition page at subway.com are educational and motivational videos by Celebrity Health & Nutrition Expert, JJ Virgin, creator of the Weight Loss Resistance Revolution.

The SUBWAY® brand's commitment to provide expert nutritional information and recommendations to consumers is part of its continuing platform to offer better alternatives to traditionally fatty fast food. Over the years, the SUBWAY® chain has introduced a line of sandwiches and salads containing 6 grams of fat or less as well as the FRESH Fit™ meals for kids and adults that include a low-fat sandwich paired with "better for you" sides and drinks, such as apple slices, yogurt, low-fat milk and bottled water. In addition, the SUBWAY® brand is a proud national sponsor of many American Heart Association initiatives, such as Start! Walking at Work, Jump Rope for Heart and the American Heart Walks. The chain is probably most well-known for its association for the past 11 years with Jared Fogle, a customer who lost and kept off 245 pounds by following an exercise and diet program of his own design, which included eating low-fat SUBWAY® submarine sandwiches.

About SUBWAY® Restaurants

Headquartered in Milford, Connecticut, and with regional offices in Amsterdam, Beirut, Brisbane, Miami and Singapore, the SUBWAY® chain was co-founded by Fred DeLuca and Dr. Peter Buck in 1965. Their partnership, which continues today, marked the beginning of a remarkable journey — one that has made it possible for thousands of individuals to build and succeed in their own business.

In the 2010 Zagat® Fast Food Survey, the SUBWAY® brand was ranked "number one" by consumers in the "Most Popular," "Top Service" and "Healthy Options" categories for food brands with 5,000 or more locations.

For more information about the SUBWAY® chain, visit www.subway.com.

Find us on Facebook: Facebook.com/subway

Follow us on Twitter: twitter.com/subwayfreshbuzz

SUBWAY® is a registered trademark of Doctor's Associates Inc.

SOURCE SUBWAY Restaurants
[ad#Google Adsense]