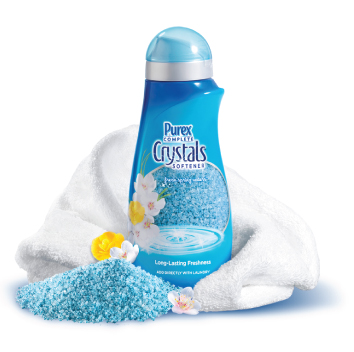 In August 2009,  I was introduced to the Purex Complete 3-in-1 Laundry Sheets and I've been using the amazing little light weight sheets in my daily laundry routine ever since.  Well recently I was selected again to act as a Purex Insider and get the privilege to tell you about Purex Complete Crystals Softener.  The newly released product hit the shelves at Walmart a few days ago and is a purer way to get laundry that smells clean and fresh for weeks!

The 92% natural product comes in a unique crystal form that works differently than traditional oil-based softeners,  because it doesn't coat fabrics with oily residue and completely dissolves infusing fibers with long-lasting fragrance.  Unlike other softeners, Purex Complete Crystals are safe for all laundry and will not harm, wear down or discolor your fabrics. What this means is you can do your laundry worry free and wash your precious baby clothes, athletic wear, towels, and whites without decreasing the lifespan of your fabrics.   The crystals will…
Preserve the flame retardant benefits of your children's clothes
• Retain your athletic wear's wicking ability which draws sweat away from your body
• Maintain your towels' built-in ability to absorb water
• Keep your white clothing from yellowing and graying vs. using traditional softeners
The product won't harm your clothes and is safe and convenient for the entire family!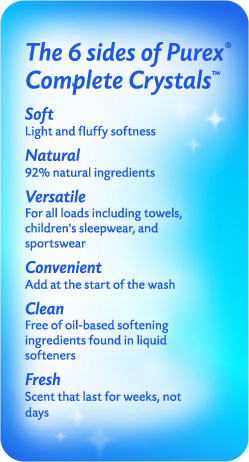 How To Use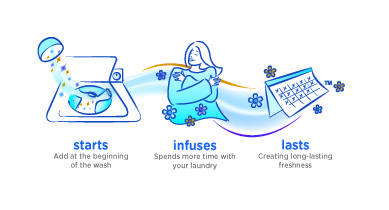 Purex Complete Crystals Softener is easy to use too!  All you do is simply add the crystals with detergent at the start of the wash, and the they will penetrate fabrics to reduce fiber entanglement, freshen, and smooth frayed fibers providing a naturally soft feel.  Using the crystals eliminates the need to wait around for the rinse cycle, and ends the messy residual gunk in your washing machine plus possible stains you get from spilling liquid fabric softener.
Available Scents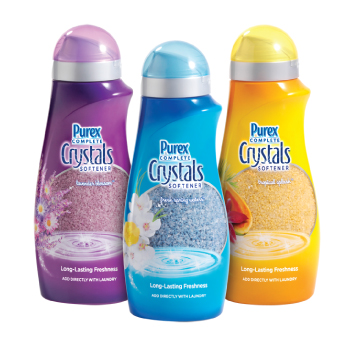 Purex Complete Crystals Softener is available in three  pleasing fragrances: Fresh Spring Waters , Lavender Blossom , and Tropical Splash.
SMELLS AMAZING!
Welcoming kit included a full sample bottle of Crystals.  Ive been using the fantastic softener for a about a week and love the new product!
I was sent a "Welcoming Kit"  with a sample of Purex Complete Crystals Softener in Fresh Spring Waters scent.  My first initial response was —this stuff smells AMAZING!  I grabbed a full load of clothes, dropped in my detergent and poured in the amount of Crystals recommended on the back of the bottle into the washer.  After drying my clothes I noticed how wonderful and fresh they smelled.  The scent was not overpowering,  but had a distinct addicting clean fragrance.  Some of the other Purex Insiders are reporting  they detected slight static upon taking their clothes out of the dryer.  However, I didn't observe any and just had a result of soft sweet smelling clothes. I can't wait to try the other two scents!
* Safe for use in both Standard and High Efficiency (HE) washers
Buy It
Purex Complete Crystals Softener is priced from $3.99 to $5.99 (depending on retailer)  and will be available in food, drug and mass retailers nationwide.
GIVEAWAY!
Three readers will be randomly chosen to receive a coupon good for a  full size bottle of Crystals.  To enter the giveaway please leave me a comment telling me which scent you would like to try first.
EXTRA ENTRIES
1. Read any of my other reviews without a giveaway and leave me a comment there.  Then come back here letting me know you did. Make sure you leave ten separate comments  (example: Left a comment at review extra entry 1, Left a comment at review extra entry 2, Left a comment at review extra entry 3, ect.).   This is worth 10 extra entries.
2.Mention the giveaway on your own blog linking back to this post.  Leave an additional comment with a link to where you blogged about the giveaway. This is worth 5 extra entries.  Make sure you leave five separate comments. (example blogged extra entry #1, blogged extra entry #2, blogged extra entry #3, ect…)
3. Follow my blog and leave me an additional comment. ( There is a little widget on my sidebar that shows my followers. Just click follow). If you already follow leave me a comment letting me know you already do. (3 extra entries)
4. Enter any of my current giveaways and let me know you did here. (3 extra entries)
5. Follow @ahappyhippymom on Twitter and tweet about the giveaway. Please make sure you leave the link where you tweeted in your comment. YOU CAN TWEET ONCE PER DAY TO INCREASE YOUR CHANCES OF WINNING.  USE THE RETWEET BUTTON AT THE BOTTOM OF THIS POST FOR EASY ENTRY.
6. Subscribe to my feed and leave a comment. If you already subscribe leave a comment telling me you are already a subscriber.
Winners will be chosen at random via Random.org.
Open To US Residents Only- age 18 +
The contest ends Jan 24th,  11:59 PM eastern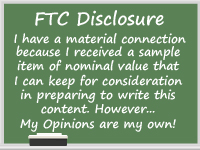 [ad#Google Adsense-1]