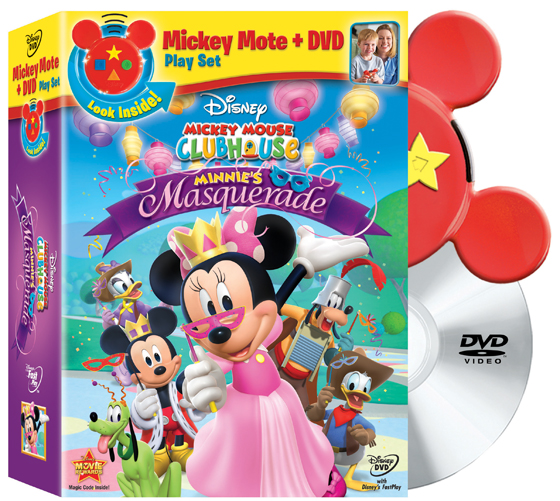 COME JOIN MINNIE, MICKEY AND PALS IN AN ADVENTURE THAT CELEBRATES THEMES OF FRIENDSHIP, TEAMWORK, SHARING, PROBLEM SOLVING AND DRESSING-UP
Just In Time For Valentine's Day, Disney's New Preschool DVD
Mickey Mouse Clubhouse: Minnie's Masquerade
Debuts February 8th, 2011
Parents and their preschoolers are invited to join in the ultimate masquerade party with Minnie, Mickey and pals in a fun-filled collection of Mickey Mouse Clubhouse latest episodes that celebrate themes of friendship, teamwork, sharing and problem solving. Mickey Mouse Clubhouse: Minnie's Masquerade is the perfect gift to dress-up your Valentine's Day, available on Disney DVD February 8 from Walt Disney Studios Home Entertainment.
This latest release features four playful Minnie-themed adventures previously seen on the Mickey Mouse Clubhouse TV show, a never-before-seen episode, and a free paper mask with festive embellishments that kids can personalize. And as a special option for consumers, Disney has packaged a version of the DVD to include the exclusive Mickey Mote – a child-friendly handheld remote control, shaped like Mickey ears, that takes children's viewing experience to a whole new level of play. The DVD + Mickey Mote Play Set is the ultimate value for moms and equally fun and engaging for kids! The Mickey Mote uses infrared wireless technology and may not be compatible with all devices.
Mickey Mouse Clubhouse: Minnie's Masquerade starring Disney's Fab Five — Minnie, Mickey, Donald, Goofy and Daisy – takes viewers on an all new adventure as they dress-up in their favorite costumes for Minnie's Masquerade Ball. In this episode, Minnie needs some help getting everything ready for her party including making royal crowns for their costumes, searching for Sir Goofalot's lost shoe, stringing up paper lanterns and much, much more. At the ball, Professor Von Drake hosts the great Clubhouse Costume Show and gives out prize ribbons to all the friends who have dressed up in some funny and fancy costumes. All it takes is a heaping helping of imagination…and the right Mouseketools.
About Disney's Exclusive Mickey Mote:
Disney's Mickey Mote works with any Disney Preschool DVD that includes the Discovery Mode™ feature – an interactive "Watch & Play" feature on the DVD. All parents have to do is program the remote control – there's an easy and quick set-up guide in each DVD- and select the Discovery Mode feature on the menu screen. Within minutes, kids will be easily responding to questions, throughout the story, about scenes they just watched by pressing one of four color-coded buttons on the device — a yellow star, green circle, orange triangle or blue square – to click in their responses. Discovery Mode features include two levels of play, which provides more challenging questions as the child grows.
The Mickey Mote can be used with any Disney Preschool DVD that includes the Discovery Mode feature. To date there are more than 11 titles that can be used with the remote control, just take a look at the back of the package to make sure.
Watch the Trailer
Review
I have a little mouseketeer at home who loves Disney's Mickey Mouse Clubhouse, so I eagerly agreed to review an advanced copy of Minnie's Masquerade. The DVD is the newest upcoming release in the series containing the Mickey Mote and consists of five fun filled episodes to keep your preschooler entertained AND LEARNING.
The first episode on the disc runs approximately 24 minutes and is Minnie's Masquerade.  Minnie is having a costume party and the whole Clubhouse gang is invited! At the end of the Masquerade Ball everyone wins a prize!  However, before the party begins Minnie needs help setting things up and Sir Goofalot must find his missing shoe.
Children are encouraged to join in by pretending to wear their costumes, learn about shapes, friendship, and more!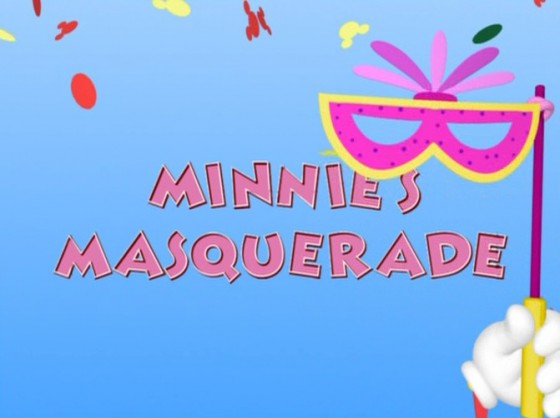 The second episode is Minnie's Mouseke-Calendar.  In this cartoon its a very windy day and Minnie's Calendar pages get blown away. Now she can't remember what she is suppose to do and needs the aid of the gang and Toodles to get the pages back again.
Children learn about the use of a calendar and days of the week in this story.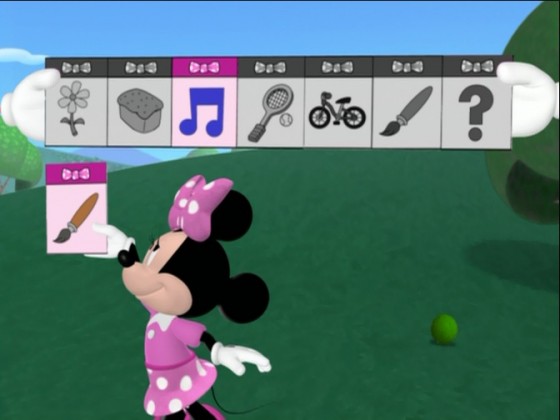 The third story on the disc is called A Surprise For Minnie.  Its Valentine's Day and Mickey is planning on making a Valentine's Day card for Minnie.  He gets Mouseketools from the Mousekedour including a rose, pump, box of crayons, and a mystery Mouseketool to help him out.
Children are taught about shapes, colors,friendship, and more!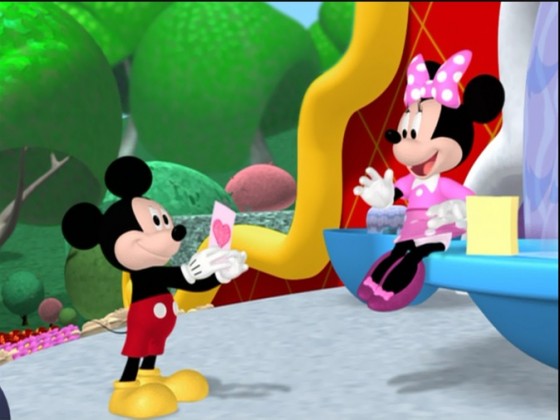 In  the Secret Spy Daisy Pluto brings Mickey a basket full of Clarabelle's special cookies and dog cookies.  He decides to share the goodies with his friends, but there is only enough for the four of them.  When Pete sees them eating the tasty treats he wishes he could have a cookie too and sets out to get Clarabelle's recipe so he can make hundreds of cookies for himself.
Daisy's spy bracelet goes off and she gets her first secret mission from Captain Agent Von Drake who is reporting from the clubhouse intelligent desk to stop sneaky Pete's plans to get his hands on Clarabelle's special cookie recipe. The crew pulls together and assists Daisy on her secret spy adventure.
Your preschooler will practice memory skills and learn about counting, colors, team work, sharing and more!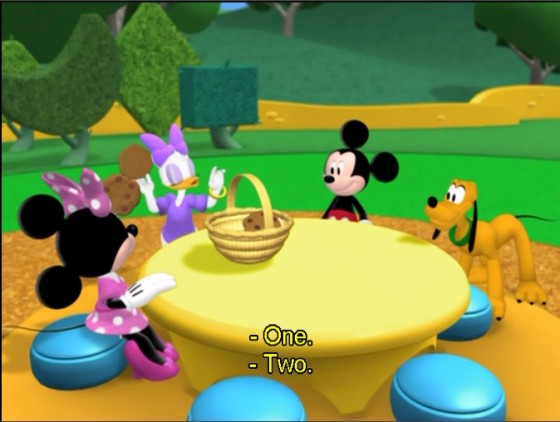 The last story is called The Friendship Team.  In this episode it's "Friendship Day" and there is gonna be a big party at the clubhouse to celebrate being friends with all their friends.  Minnie and Daisy make special  painted hats to wear to the "Friendship Day" party, but when they find the Art Room  a mess and the hats missing the team must find the hats in time for the party.  The gang follow the clues to solve the mystery and find out who took their hats.
Your kiddo will learn lessons concerning team work, counting, problem solving, shapes, and friendship.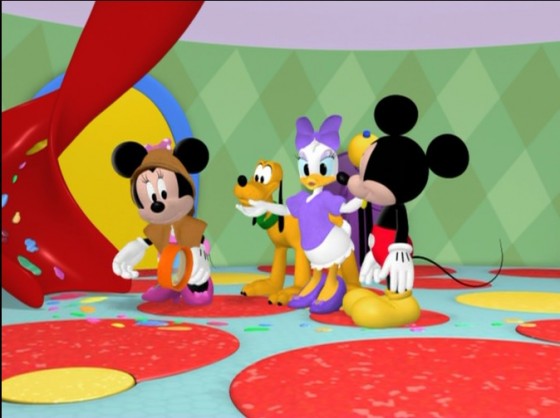 The Mickey Mote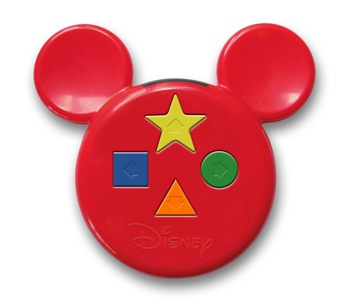 I had the opportunity to review the Mickey Mote previously back in November.  If you missed my review you can read it to find step by step directions on how to set it up and use it along with the  Discovery Mode.  My son loves using his Mickey Mote and enjoys trying to answer the questions.  It makes learning so much more fun and exciting.  PLUS, he feels  he is a big boy just like Daddy and has his very own personal remote.  Too cute!
Buy It!
Mickey Mouse Clubhouse: Minnie's Masquerade DVD with Mickey Mote will be hitting  shelves just in time for Valentine's Day–February 8th!  Pre-order a copy now at Amazon.com for $21.99 and save 27% off the suggested retail price.
GIVEAWAY!
Brought to you by the courtesy of Walt Disney Studios Home Entertainment,  one A Happy Hippy Mom reader is going to win the MMCH Minnie's Masquerade DVD & Mickey Mote Combo Pack!  To enter the giveaway please leave a comment sharing why you would like to win this prize.
EXTRA ENTRIES
1. Read my Alice in Wonderland: 60th Anniversary Sp. Ed. on BLU-RAY & DVD Review and leave me a comment there.  Then come back here letting me know you did. Make sure you leave ten separate comments  (example: Left a comment at review extra entry 1, Left a comment at review extra entry 2, Left a comment at review extra entry 3, ect.).   This is worth 10 extra entries.
2.Mention the giveaway on your own blog linking back to this post.  Leave an additional comment with a link to where you blogged about the giveaway. This is worth 5 extra entries.  Make sure you leave five separate comments. (example blogged extra entry #1, blogged extra entry #2, blogged extra entry #3, ect…)
3. Follow my blog and leave me an additional comment. ( There is a little widget on my sidebar that shows my followers. Just click follow). If you already follow leave me a comment letting me know you already do. (3 extra entries)
4. Enter any of my current giveaways and let me know you did here. (3 extra entries)
5. Follow @ahappyhippymom on Twitter and tweet about the giveaway. Please make sure you leave the link where you tweeted in your comment. YOU CAN TWEET ONCE PER DAY TO INCREASE YOUR CHANCES OF WINNING.  USE THE RETWEET BUTTON AT THE BOTTOM OF THIS POST FOR EASY ENTRY.
6. Subscribe to my feed and leave a comment. If you already subscribe leave a comment telling me you are already a subscriber.
Winner will be chosen at random via Random.org.   Info will be forwarded to sponsor.
Open To US Residents Only- age 18 +
The contest ends Feb 11th,  11:59 PM eastern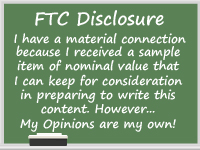 [ad#Google Adsense-1]