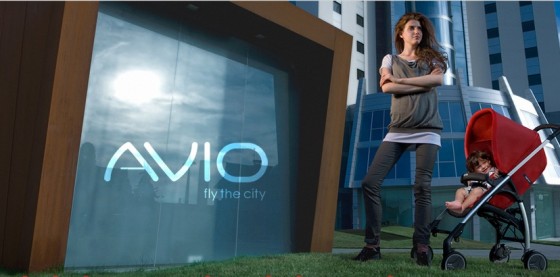 Product Description:
AVIO: unparalleled, made-in-Italy smoothness and effortless thrust, contemporary design. Avio is a sophisticated 3d folding stroller that opens and folds with just one hand. Once folded it takes up very limited space. While it offers a wide and comfortable seat for the baby, the frame is just 19.50-inch-wide, so it can go through the narrowest passages. It's equipped with ball-bearing-wheels providing unparalleled smoothness and ease of push. The joined handle makes stroller easy to drive even with one hand. AVIO is the ultimate made-in-Italy stroller with contemporary design. AVIO stands out for its clean look, lack of rivets and hidden closing mechanism. It can accommodate infant seats of Graco, Peg Perego and Britax. Features: Front footrest adjustable to 2 positions. 4-position backrest reclining up to 170 degrees. Hood flap to provide extra sun protection. Totally removable lining, hand washable at 86 F. Included accessories: cup holder, storage basket, rain cover. Coordinated optional accessories: bassinet (only 8.6 lbs), winter muff, summer cover, stroller carry bag, sun parasol, rain cover for bassinet and adapters for car seats.
Features
• Innovative and modern design, technology without rivets. Avio is a "beautiful and possible" stroller.
• Legendary umbrella one-hand, single action open/close system (Inglesina patent).
• Jointed handle to maximize the smoothness and enhance manoeuvrability of the stroller which can be steered with just one hand.
• Handle equipped with balancing mechanism increasing the stability of the stroller and easing both the closing and opening.
• Pivoting front wheels, with lock-unlock mechanism which, once activated, automatically reaches its ideal position.
• Rear shock absorbing wheels, with ball bearings increasing the smoothness of the stroller even after pronged and vigorous usage.
• Active brake with centralized control: once enabled, it reaches the correct position automatically.
• Roomy storage basked homologated till 3 kg of weight.
• Cup holder integrated in the frame.
• Adjustable safety belts with 5 anchoring points.
• Adjustable crotch strap.
• Padded seat unit and backrest, with soft jersey inserts.
• Padded shoulder straps.
• 4-position backrest reclining up to 170°, with centralized control.
• Bumper bar and footrest lining in technical waterproof material, resistant and easy to wash.
• Front footrest adjustable to 3 positions (in the highest position the footrest acts as stabilizer for the carrycot).
• Hood with silent joint, removable together with the bumper bar.
• Viewing window on the hood, to see the baby at any time during the walk.
• Reflective material inserts applied on the hood increase the stroller's visibility at night.
• Hood flap to provide extra sun protection.
• Stroller and hood lining totally removable and hand washable at 30°.
Suggested retail price $499.
REVIEW
Moms are busier than ever!  Whether you're a busy stay-at-home-mom, working-oustide-the-home-mom, or work-at-home-mom  from the moment you wake up to the second you hit the pillow at night,  you're constantly moving.  The struggles of trying to make ends meet, caring for the children, and keeping up with life's tiny mishaps is just what is demanded from us "super moms" these days to be able to survive in such a fast paced society.  Inglesina gets all this and designed the Avio stroller to help lighten the hustle and bustle plus relieve us of some of the typical obstacles we meet along the way.  I had the opportunity to test drive the Avio and here is what I found out!
My First Initial Response
I know some of you might be taken aback with the thought of paying $499 for a stroller and I admit when I first learned I would be  reviewing the Avio and how much it cost I was a little surprised too.  However, the minute I opened the box and saw the frame I knew right then what set this stroller apart from the previous ones I had purchased in the past.  This stroller reeked of quality construction and screamed modern elegance!  I could tell just by looking at the Avio that it's built to last and I would be able to get many years of use out of it without it breaking down.  My son would outgrow the stroller before it outgrew him.  If you don't mind paying a little more money for  something safer and better for your child…this stroller is a fantastic option!  STRONG and DURABLE!
Assembly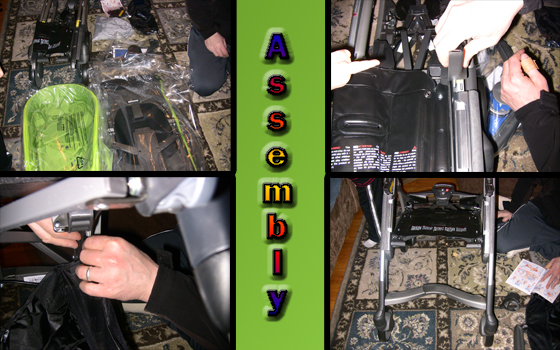 It's no secret in my household I dislike putting products together.  No matter if the item costs $1 or $1000 if there is tons of assembly required I would rather not bother with it.  Truth be told,  I usually beg my husband to do it and he doesn't seem to protest too much about constructing the product.  Yet, I believe Inglesina must have had super busy moms in mind even when it came to assembling the Avio, because the stroller basically slid and snapped into place.  There was no need for any strange five point star screwdriver, drill, wrench, or any other tools.  However, it still took hubby a good 20 to 30 minutes from beginning to finish to get everything properly put together.  The directions were rather straight forward and  included pictures which were helpful, but I would only attempt  trying to assemble the stroller when you 're not rushed and can concentrate on what you're doing.   Part of the reason it might have taken hubby so long to set up the stroller was due to my 3 year old son instructing his daddy what he thought he should do next.  Aiden eventually became impatient waiting for his new slick ride and decided to sit in his play tool bucket instead!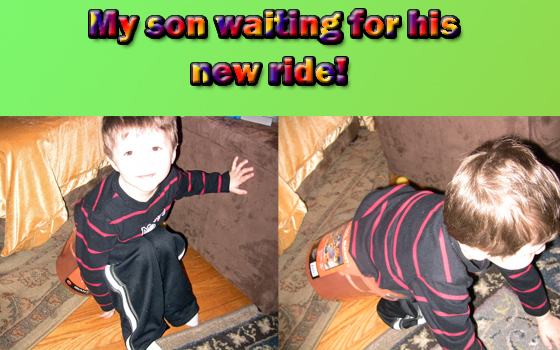 Folding And Unfolding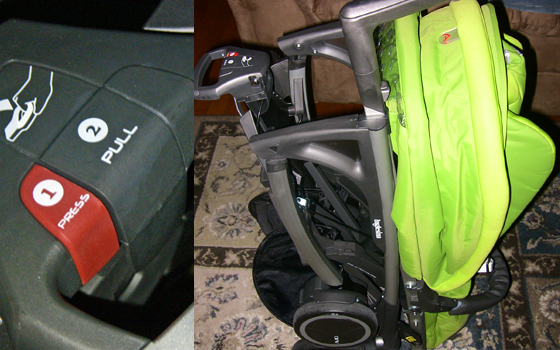 The Inglesina Avio Stroller has the famous  "umbrella one-hand, single action open/close system."   To fold the Avio all you need to do is push the red button and pull up on the handle bar which causes the stroller to collapse and lock down into a standing fold position.  Unfolding the stroller is just as easy.  You simply press down on the button located near the handle, pull it open, step down, and your ready to roll.  It might take you a few tries to get use to folding and unfolding the sophisticated 3d stroller, but once you master it you're going to love how quickly it opens and folds with just one hand!  Additionally the compact standing fold makes it a cinch to store  and transport the stroller.  Another great feature is even though the stroller is folded the wheels are still assessable allowing you to roll the stroller behind you  like its  luggage!  Unlike other strollers that needed to be propped up against something to stand when folded, the Avio is in a complete upright position and can stand on its own.  This helps protect the stroller from other things plus the ground and looking nice longer.
Roomy But Compact!
The Avio offers a wide and comfortable seat for your baby on a slim 19.50 inch frame.  The stroller is thin enough to pass through the narrowest spaces like sidewalks, elevators, and crowded areas, but still gives your baby lots of room to move.  The lightweight and compact design allows the stroller to be easily picked up and carried on a bus or placed in a trunk.  When folded the dimensions are only 93 x 48 x 32 cm (height x depth x width) making the stroller ideal to store in your trunk and yet it is so compact you still have lots of room for packages, groceries, and other items.
Maneuverability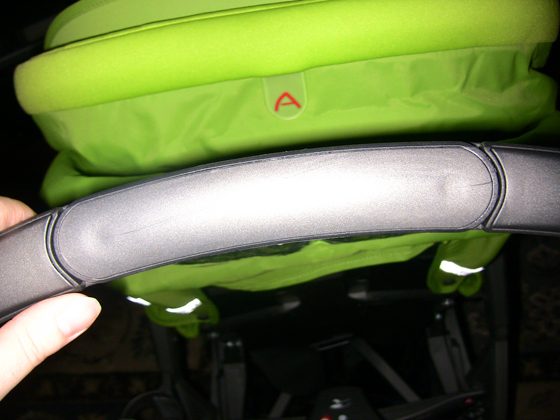 The Inglesina Avio's jointed handle allows the stroller to be steered with just one hand which frees up your other hand to talk on the phone, carry packages, or hold another child's hand.  The shock absorbing wheels contain ball bearings increasing the  smoothness and  maneuverability even after prolonged usage.
Chic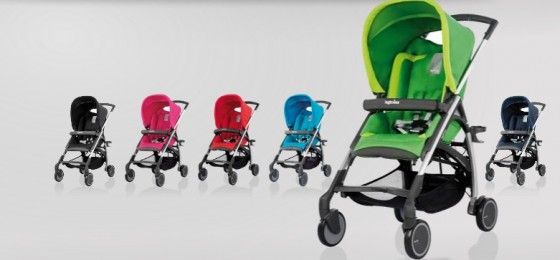 The Avio's European styling  gives the stroller an exceptionally chic look along with its bright beautiful colors.   You can choose from red, fuchsia, lime, navy, light blue, and black!
Trip To The Mall!
I could not wait to test the Avio out and once it was  assembled we loaded it in the hatchback and took a trip to the Mall.  As you can see from the picture below the Avio is extremely compact when folded and it leaves tons of extra space in the hatch for other items.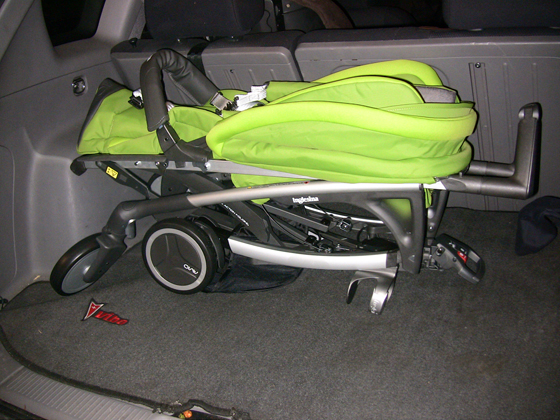 The manufacture statement  "the joined handle makes stroller easy to drive even with one hand" is TRUE!  My son is 3 years old and weighs approximately 30lbs, so there was some weight in the stroller, yet  it still could be pushed and maneuvered with one hand THROUGH A DOOR!  I was fully impressed!  It felt like it was gliding along the floor and pushing it was effortless.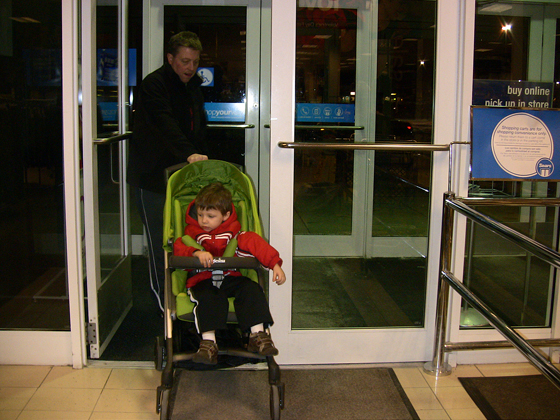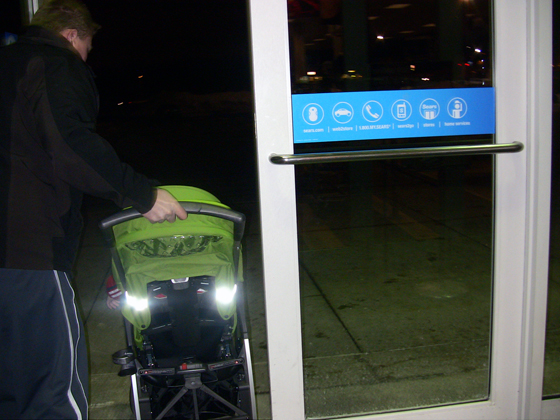 My son usually fusses and whines when he is in his stroller, but he really enjoyed his new ride and was comfortable the whole time!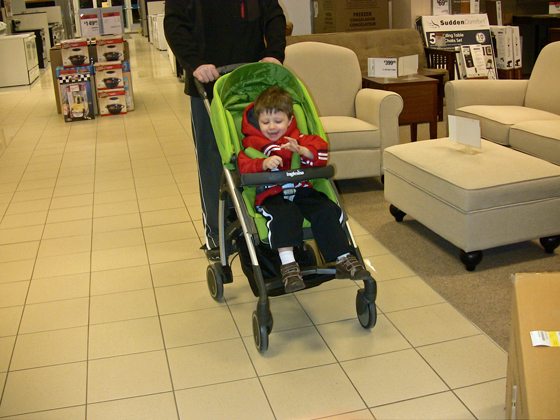 What I Love
It's easy to push!
The patented single action open and close system.
Folds up to a standing position.
The Avio has one of the best hoods I have ever seen!  It is FABULOUS!  It can be quietly folded down in front of your baby to protect him/her from elements of harsh weather such as wind, snow, rain, or sun.  The hood also has a nifty pop out sun visor and a clear window in the back to view your child.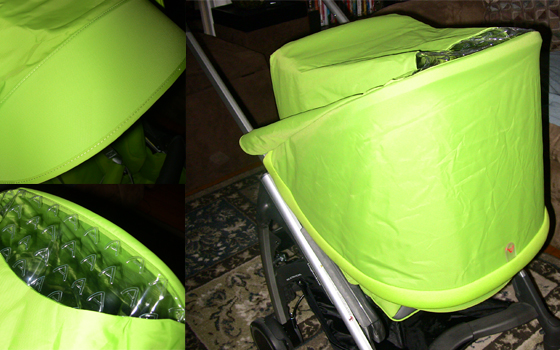 The stroller and hood lining are easily removable and hand washable.
The basket is large enough to hold a diaper bag or large purse.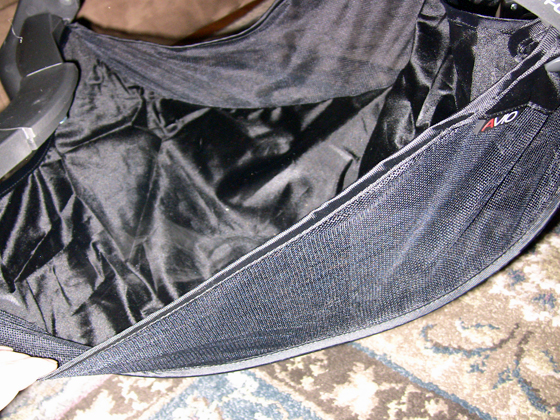 There is a convenient cup holder on the back of the frame.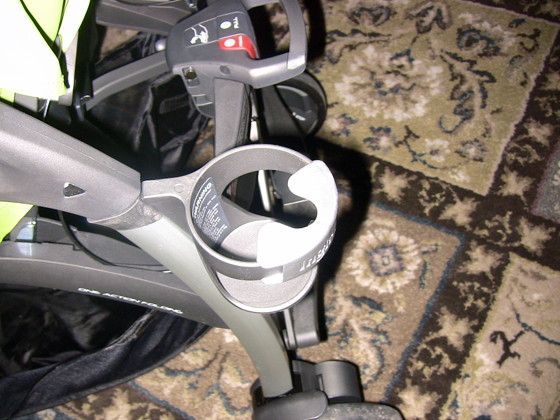 The footrest is adjustable.
The bumper bar can be removed and is made with durable material.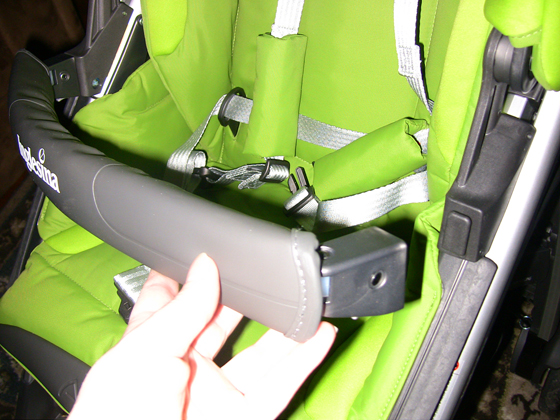 The braking system on the wheels are clearly marked "go" and "stop."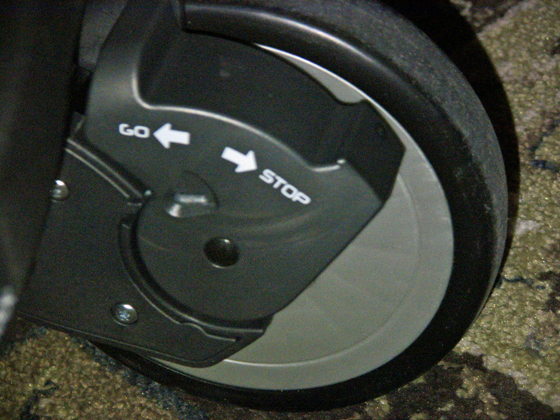 The backrest reclines into 4 different positions.
The 5 point harness.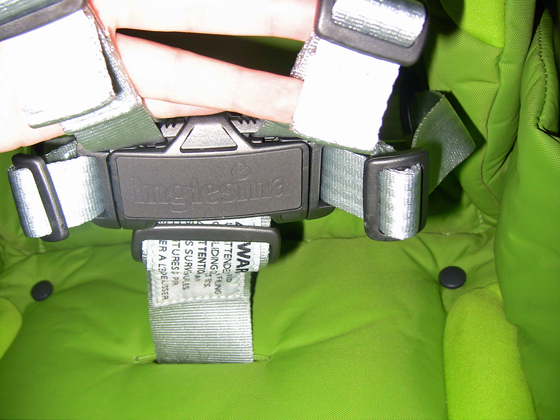 What I would Like To Change
It has a non-adjustable handle bar.
The basket is not assessable from behind.
There is no tray for snacks or drinks.
Buy It!
Avio strollers are available at Diapers.com and purchasers will get a free fast table chair with their order by entering promo code AVIOFAST at checkout!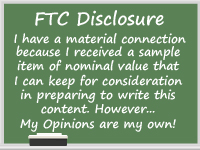 "I wrote this review while participating in a blog tour by Mom Central Consulting on behalf of Inglesina and received an Avio stroller to facilitate this review."
[ad#Google Adsense]