How is your 2011 weight loss resolution coming?  If your like me the biggest downfall is trying to find low cal delicious snacks to get you through until your next meal.  When I'm hungry and feel I have deprived my body of great tasting food I tend to snatch the first piece of junk I can get my hands on.  Then sadly I want to kick myself for caving and ruining my diet.  Well guess what?  We can stop this remorseful snacking madness by loading our pantry with easy to grab healthy snacks that taste sinful,  but are actually wonderfully low in calories!  I'm not talking about rice cakes that taste like cardboard-ish patties, bark off the trees, or food which should be on a Fear Factor episode.  What I'm referring to is yummy treats such as Glenny's low-fat, low-calorie, and high-fiber snacks.
If your not familiar with Glenny's,  they are a company committed to making " delicious their business"  and have been creating wholesome, tasty and good-for-you snacks since 1979.  Yes is true,  for nearly 32 years they have delighted their nutrition-conscious customers with scrumptious treats including 100-Calorie Brownies, low-fat Soy Crisps, Spud Delites, Fruit & Nut Energy Bars, Marshmallow Brown Rice Treats, and Gluten-Free Oatmeal Cookies.  In fact, Glenny's Soy Crisps are so good they are now the #1 selling soy crisps in drugstore chains across the U.S!
Glenny's recently sent me a box full of goodies and when I opened it I felt like I hit the dieter's mother load of snacks!  The box contained…
All-natural Blondies, Brownies and Peanut Butter Brownies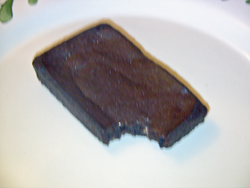 * Only 100 Calories! * 60% Less Fat than Homemade Brownies! * 7G Fiber! * 4G Protein! * No TransFats! * No Sugar Alcohols! * Certified Kosher!
Oh my goodness these brownies were absolutely delicious!  The Chocolate Chip Brownies are made from the richest coca, creamiest chocolate chips, and fresh butter.  They have a nice chewy texture, not to sweet, and moist!
The Peanut Butter Brownies are good and have peanut butter chips in them.  Personally, I like an intense peanut butter flavor and these brownies were lacking the punch I was hoping for.  However, they were still very moist and ever so yummy!
The Blondie Brownies comes from Glenny's own vanilla fudge made with the tastiest vanilla beans and butter.  These delectable little pieces of snack heaven contain chocolate chips and have a moist fudgie texture.
According to the Nutrition Twins Lyssie Lakatos and Tammy Shames,  "Glenny's Brownies are a much better alternative than many energy bars, which usually are high in fat and calories. For dieters on Weight Watchers™ they are only 1 point!"
Organic Brown Rice Raspberry Jubilee, Creamy Vanilla, and Chocolate Marshmallow Treats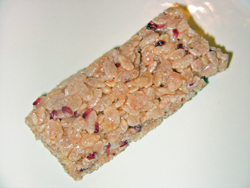 * Whole Grain Brown Rice * 100 Calories * Gluten Free * Low Sodium * Certified Organic and Vegan * Certified OU Kosher
I found the Brown Rice Marshmallow Treats to have a slightly puffier crispy texture than regular rice marshmallow treats and not as sweet.  VERY good!   The bars are made without high fructose corn syrup, egg whites, gelatin, and dairy which is commonly used in conventional marshmallow treats.   My favorite out of the three was the Raspberry Jubilee.  The organic raspberries gave the bars a tangy flavor and were incredibly tasty!
Almond & Cashew, Cranberry & Almond, Classic Fruit & Nut Bars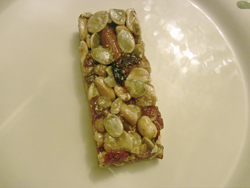 * Sweetened w/Honey & Brown Rice Syrup * No Refined Sugars * No Glucose * All Natural * Non-Dairy * Gluten Free * Low Sodium * Certified OU Kosher * 3 Delicious Flavors
Glenny's Whole Fruit & Nut Bars are a good source to help you get the important proteins, wholesome carbohydrates and healthy fats you need from whole fruits and nuts without the use of protein powders and added vitamins.  They are made without fruit pastes, purees or refined sugars.  I couldn't keep my hands off these bars!  The Cranberry & Almond Whole Fruit & Nut Bars are sweetened with apple juice and taste amazing!  LOVED them!
Gluten-free Oatmeal Raisin Cookies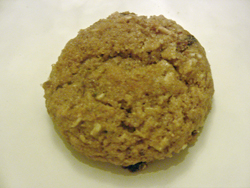 * Gluten Free * Wheat Free * All Natural * Non-Dairy! * 55 Calories Per Cookie! * 11 Grams Whole Grains * Certified OU Kosher
Glenny's Gluten-Free Oatmeal Raisin Cookies are moist, tender and chewy! These were my favorite out of all the snacks.  I was pleasantly surprised on how well these cookies tasted and will definitely purchase them!  The ONLY thing I would change is to increase the amount of cookies (contains 10) in the box.  My son loved them too!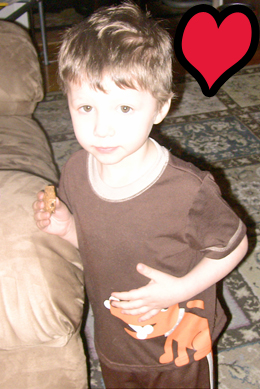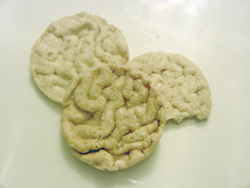 * Baked, Not Fried * Low-Fat, Extra Protein, High Fiber * Wheat & Gluten-Free (Except Multi Grain Chips) * Provides More Soy Protein Than Tofu or Soy Milk.. * Only 70 Calories per Serving * Certified OU Kosher
I can see why these get such rave reviews!  I was sent Low Fat Barbecue Soy Crisps, Apple Cinnamon Soy Crisps, Multigrain Soy Crisps, No Salt Added Soy Crisps, Organic Sea Salt Soy Crisps.  I haven't had a chance to try each variety yet, but the Sea Salt Soy Crisps were EXCELLENT.  The crisps had a nice light fluffy crispy texture and are made with organic low fat soy flour, organic rice flour, organic sunflower oil, and sea salt.  They taste so much better than rice cakes!  The bag contains two servings and it's  tempting to munch down the whole bag in a sitting!
American Fries With Sea Salt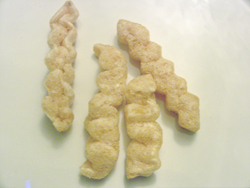 # Baked (not fried like French Fries) # All Natural # No Trans Fats # No Hydrogenated Oils # Certified OU Kosher # 1.2 oz bags/24 bags per order
Glenny's American Fries are baked and lightly sea-salted to perfection. The krinkle-cut fries are wonderfully crisp and delightfully crunchy! A must try for the potato lover!
Spud Delites Natural Potato Crisps with Sea Salt
* Heart Healthy * Baked Not Fried * Wheat, Gluten, & Dairy Free * Sugar Free * No Cholesterol * Only 100 Calories * 1g Fat * All Natural * Certified Kosher * Benefits Based on 1.1 oz. Size Bag
The Spud Delites are SUPER good.  They remind me of  "popchips" and have a fantastic potato flavor. YUM!
The  biggest secret to losing weight is portion control and eating healthy low fat foods.  Glenny's snacks help keep your snacking in check and let you feel like your splurging without the guilt of high calories that usually come with it.  Give the snacks a try and let me know what you think!
Where To Buy Glenny's Products
"Glenny's products can be found at many of your favorite retailers and drugstores, including: Walgreen's, CVS, Eckerd's, Costco, BJ's Wholesale, ShopRite, Duane Reade Drugstores, Publix, Waldbaum's, StopNShop, A&P, Acme, Wawa Convenience Stores, Huck's Foodstores, Whole Foods, Wild Oats, Mrs. Green's, King Kullen, Key Food, Gelson, Linda's Diet Delights, Food Emporium, Da'gostinos, Gristedes, Fairway, Giant Food, Redner's, as well as in your local health food stores."
GIVEAWAY!
Glenny's has generously offered to give a reader a variety snack prize pack including
3 Bags Soy Crisps/Chips
1 Box Gluten Free Cookies
6 Pack Brownie/Blondie Variety
5 Pack Marshmallow Treats
5 Pack of Fruit & Nut Bars
The prize is $49.99 retail value!  To enter the giveaway check out Glenny's product line and let me know which snack you are most excited to try.
Extra Entries
1. Read any other review (WITHOUT A GIVEAWAY) and leave me a comment there.  Then come back here letting me know which review you did. Make sure you leave ten separate comments  (example: Left a comment at review extra entry 1, Left a comment at review extra entry 2, Left a comment at review extra entry 3, ect.).   This is worth 10 extra entries
2. Mention the giveaway on your own blog linking back to this post  and Glenny's.  Leave an additional comment with a link to where you blogged about the giveaway. This is worth 5 extra entries.  Make sure you leave five separate comments. (example blogged extra entry #1, blogged extra entry #2, blogged extra entry #3, ect…)
3.Place my button on your blog and then leave an additional comment with a link to the page where you put the button. If you already have my button leave a comment letting me know you already have it.
4. Follow my blog and leave me an additional comment. ( There is a little widget on my sidebar that shows my followers. Just click follow). If you already follow leave me a comment letting me know you already do.
5. Follow ahappyhippymom and  Glenny's on Twitter and tweet about the giveaway. Please make sure you leave the link where you tweeted in your comment. TO INCREASE YOUR CHANCE OF WINNING I AM ALLOWING 1 TWEETS PER PERSON DAILY.  USE THE RETWEET BUTTON AT THE BOTTOM OF THIS POST FOR EASY ENTRY.
6. Subscribe to my feed and leave a comment. If you already subscribe leave a comment telling me you are already a subscriber.
7. Like Glenny's on Facebook.  This is worth 2 extra entries.
8. Like ahappyhippymom on Facebook. Worth 2 extra entries
9. Enter any of my other ACTIVE giveaways.  Leave a separate comment for each one entered.
A winner will be chosen at random via Random.org. Upon notification the winner has 72 hours to send me their contact information.  Information will be forwarded to sponsor for prize fulfillment.
Open to U.S. residents   18+
The contest ends Feb 8th ,  11:59 PM eastern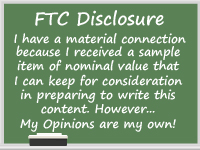 [ad#Google Adsense-1]