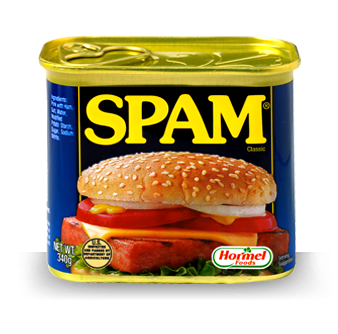 Anyone who runs a website knows there is the hassle of filtering out hundreds of spam comments daily.  Thank goodness for Akismet which does most the work sorting which comments are junk and needed to be placed in the round file (trash can).   However, I still go through all the comments to make sure no one's legit remarks are accidentally marked as spam.  I would hate for something like that to happen, because I value anyone who takes the time to actually read my articles and appreciate every single comment left here at my humble little corner of the blogosphere.  Well call it boredom or insanity, but I'm finding humor out of some of the comments I found in the spam file and wanted to share with you how creative these individuals can be.
Check this out!
This comment is from Frederick Hancock(if that is actually his real name)…
"Knock knock, who is there? Your Monopoly Electric company with another ass ripping bill so the CEO can get a new Mansion- Go Solar and screw your local Electric Company and their Monopoly"
Hmmm it looks like Fredrick might be a disgruntled over having to pay inflated energy bills during the cold winter season.  I don't blame him!  However, I'm not sure what this has to do with Purex Softener where he decided to leave his angry comment.
Another interesting (cough) comment comes from Topless Waiters Melbourne and the topic of choice to leave his opinion was on my Free John Frieda Sample post.
"Never thought blogging could be soo fun and interesting. Man you know how to do it brother."
Now this is a definite clue this guy does not read my blog, because he would realize I'm not a brother…I'm a SISTER!  Delete delete delete!
The next entertainment comes from spam commenter Keo260 from Diet Meals.
"Excellent beat ! I wish to apprentice at the same time as you amend your web site, how could i subscribe for a weblog web site? The account helped me a acceptable deal. I were a little bit familiar of this your broadcast provided vibrant clear idea"
WHAT?  Is this person speaking English?  I read it three times over and STILL can't understand what is being said!  The diet meals this person is eating need to be recalled!  HELLOOO…super delete!
I think Ellena Dage (the person who left this comment) and Frederick Hancock should get together and wrestle it out!  The loser gets to pay the bill!

"Is your electric bill too high? Well suck it because we make big money on you maggots when there is no choices, now pay your Monopoly electeric company so the CEO can buy his son a sports car."
The final spam pleasure comes from SEO Services who maintains to leave tons of comments per day pertaining to absolutely nothing.  This really makes me want to trust them…NOT
"Whats hattnin, yeuh dis blog right heur is ill, big ups PAAAATNAAAA."
UHH…I'm speechless on this one!
Well that concludes the –dumb and could be a lot funnier— entertainment for tonight.  Thank you spammers for the extra laugh and I'm glad to see your putting your time to good use!  NIGHT!
[ad#Google Adsense-1]