Disney Presents
SECRETARIAT
Releases As A Blu-ray Combo Pack, DVD & Movie Download on January 25, 2011
The inspirational story about one of the most remarkable feats in sports history, SECRETARIAT, comes to Blu-ray Combo Pack (Blu-ray™ + DVD), DVD and Movie Download on January 25, 2011 by Walt Disney Studios. This powerful and thrilling journey of the 1973 Triple Crown winner and its owner Penny Chenery, played by Academy Award® and Golden Globe nominee Diane Lane, brings hope, heart and courage to audiences of all ages making SECRETARIAT a perfect film to add to the home library.
"This is one of the year's best films," states Roger Ebert of the Chicago Sun-Times. "Has received great critical acclaim and receiving Oscar buzz! '4 stars'." The home entertainment debut of the critically acclaimed SECRETARIAT will keep audiences engaged for hours on end with never-before-shared in-depth interviews with Penny Chenery, exclusive behind-the-scenes footage, deleted scenes and more on the story of one of the greatest accomplishments in sports history.
"'Secretariat' belongs in The Winner's Circle. It's one of the Best Family Films of the Year!" said CBS News, and Pete Hammond of Boxoffice Magazine called the film, "A truly exciting, beautifully made movie that makes a run for the heart and will have you standing up and cheering. 'Secretariat' is thrilling and inspiring entertainment for everyone. Diane Lane is wonderful. John Malkovich is terrific. It's this year's 'Blind Side."
SECRETARIAT will be available in stores nationwide as a 2-Disc Blu-ray Combo Pack (Blu-ray + DVD in a single package) for the suggested price of $39.99 U.S./$44.99 Canada and a 1- Disc DVD for the suggested price of $29.99 U.S./$35.99 Canada.
"A remarkable story that lifts our spirits, 'Secretariat' is a winner! …and the luminous Diane Lane's tour de force performance is unforgettable!" writes Jeff Craig of Sixty Second Preview.
From the Producers of Miracle, Invincible and The Rookie, SECRETARIAT features critically acclaimed performances by an all-star cast that includes Diane Lane (Unfaithful, Under The Tuscan Sun, Nights in Rodanthe), John Malkovich (Con Air, Burn After Reading, Being John Malkovich), Dylan Walsh (Congo, The Lake House, The Stepfather), James Cromwell (L.A. Confidential, The Green Mile, The Queen), Kevin Connolly ("Entourage," He Is Just Not Into You, John Q), Nelsan Ellis (True Blood, The Soloist, The Express, Warm Springs), Margo Martindale (Million Dollar Baby, Orphan, Dead Man Walking), Fred Thompson (Die Hard 2, In the Line of Fire, Cape Fear) and AJ Michalka (The Lovely Bones, Cow Belles, Haversham Hall).
FILM SYNOPSIS
Disney presents an astonishing true story bursting with hope, heart and courage. Diane Lane and John Malkovich lead a celebrated cast in this inspirational motion picture from the producers of Miracle, Invincible and The Rookie.
Behind every legend, lies an impossible dream. Witness the spectacular journey of an incredible horse named Secretariat and the moving story of his unlikely owner, a housewife who risked everything to make him a champion. Out of the gate with never-before-seen bonus features, Secretariat is hours of pulse-pounding entertainment for the whole family!
DISC BONUS FEATURES:
BLU-RAY:
The same as the DVD, plus…
• Choreographing The Races – This piece looks at how director Randall Wallace and the filmmakers used innovative tools and technology to accurately and excitingly recreate the Triple Crown races that make the viewer feel like they are standing on the backstretch themselves.
• A Director's Inspiration: A Conversation With The Real Penny Chenery – Director Randall Wallace sits down with Secretariat owner Penny Chenery to review the movie and some of the key scenes. Penny reflects on what it was like to have been a woman in a male dominated sport and to have been part of horse racing's most exciting moments in history.
• Audio Commentary By Director Randall Wallace – View the film with optional audio commentary from Director Randall Wallace.
• Deleted Scenes With Optional Audio Commentary By Director Randall Wallace – The same deleted scenes as the DVD, plus four more…
Alternate Opening
Introduction
"Are You A Golfer?"
No Time To Rest
• Secretariat Multi-Angle Simulation – Relive Secretariats triumphant 1973 Preakness race by viewing the race from a number of perspectives as well as listening to commentaries from fans, announcers and even the jockey who rode Secretariat to their record finish.
DVD:
• Heart Of A Champion – This feature takes a look at one of the most famous thoroughbred horses ever known. Secretariat was a horse with style as well as amazing speed and an unsurpassed racing record. We interview all the key players from the day as well as today's filmmakers to learn more about the horse affectionately called "Red."
• Deleted Scenes With Optional Audio Commentary By Director Randall Wallace
Director Introduction
Memories
Seth Joins The Team
Too Soon To Celebrate
• Music Video – AJ Michalka "It's Who You Are"
EST:
The same as the DVD, plus…
• Choreographing The Races
REVIEW
My family received an advanced Secretariat Blu-ray & DVD Combo Pack for review.  When I sat down to watch this movie I was under the impression it was going to be similar to Seabiscuit, National Velvet, or Dreamer.  In my opinion if you've seen one horse  film, you've seen them all.  As you can see I'm not a big horse racing fan and was bracing myself for 123 minutes of predictable mundane viewing.  WOW WAS I EVER WRONG!  Secretariat was anything but boring and I found myself actually cheering for  "Big Red" and Penny (the owner)  the entire way through. I believe what made this movie different and fantastic is how Disney emphasized on Penny Chenery Tweedy (played  by Diane Lane) a housewife and her struggle plus determination to raise one of the most successful racehorses of all time.  It also showed the special bond and love between the magnificent horse and owner which you rarely see in other horse racing flicks.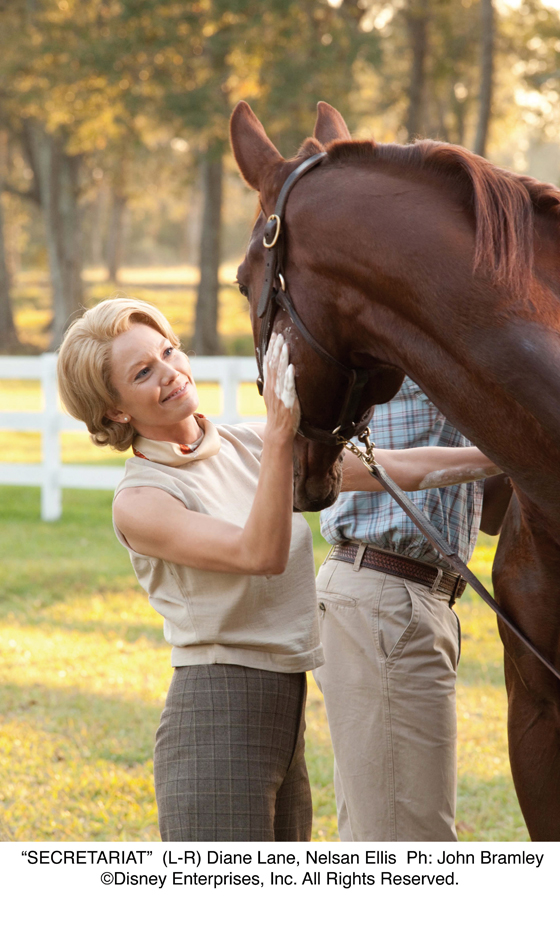 More about the movie…
The movie begins  in the year 1969 in a nice Denver home of Penny Chenery Tweedy (Diane Lane), her lawyer husband, and four children.  While going about normal morning duties of serving breakfast and mixing pancakes,  the phone rings and Penney learns of her mother's passing.  Knowing  her father is already in poor health and can't manage the farm, she decides to  take over the Virginia-based horse farm where she was raised and turns her life plus her family's lives upside down.  Meadow Stables, once a thriving business is now losing money hand over fist and instead of agreeing to sell, Penney gives up her normal life and  leaves her family behind to stay and save the farm.
Penney trying to revive her father's Meadow Stables turns to Lucien Laurin (John Malkovich), a reluctant retired trainer, to help her raise the promising soon-to-be-born colt.  The partnership proves to be successful as the two  fight against all the odds and set out to make him a winner.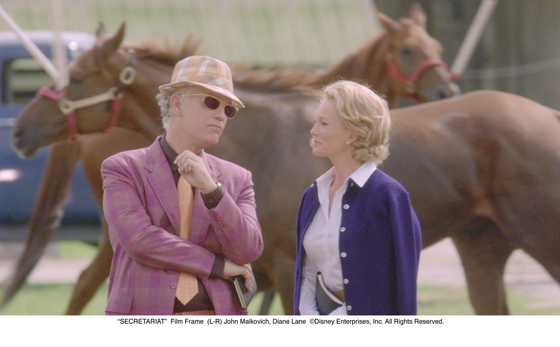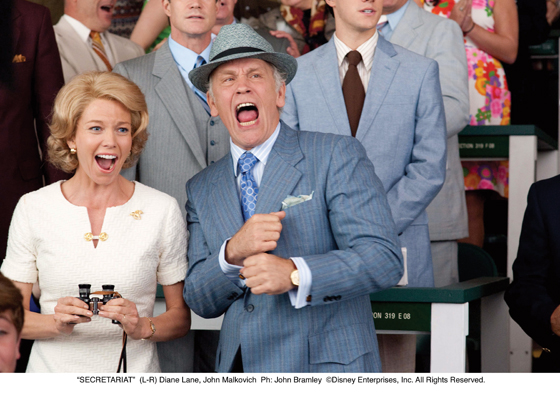 Secretariat becomes the first horse in 25 years to win the Triple Crown which consists of the Kentucky Derby, the Preakness Stakes and the Belmont Stakes.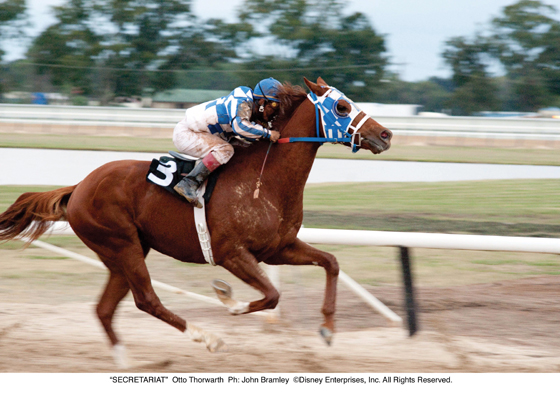 Disney's Secretariat delivers outstanding cinematography along with a bit of history in an inspiring and uplifting way giving  pure entertainment for the whole family to enjoy!  It's a must see and  makes a wonderful addition to your Disney library collection!
BUY IT
Secretariat is set to release on January 25, 2011.  Pre-order the the Two-Disc Blu-ray/DVD Combo now for just $23.99 at amazon.com and save %40 off the suggested retail price!
GIVEAWAY!
Courtesy of Walt Disney Studios Home Entertainment, I have been given the opportunity to give one reader a SECRETARIAT  Blu-ray & DVD combo pack!  To enter the giveaway please leave me a comment letting me know you want to win!
Extra Entries
1. Read any of my other reviews without a giveaway and leave me a comment there.  Then come back here letting me know you did. Make sure you leave ten separate comments  (example: Left a comment at review extra entry 1, Left a comment at review extra entry 2, Left a comment at review extra entry 3, ect.).   This is worth 10 extra entries.
2.Mention the giveaway on your own blog linking back to this post.  Leave an additional comment with a link to where you blogged about the giveaway. This is worth 5 extra entries.  Make sure you leave five separate comments. (example blogged extra entry #1, blogged extra entry #2, blogged extra entry #3, ect…)
3. Follow my blog and leave me an additional comment. ( There is a little widget on my sidebar that shows my followers. Just click follow). If you already follow leave me a comment letting me know you already do. (3 extra entries)
4. Enter any of my current giveaways and let me know you did here. (3 extra entries)
5. Follow @ahappyhippymom on Twitter and tweet about the giveaway. Please make sure you leave the link where you tweeted in your comment. YOU CAN TWEET ONCE PER DAY TO INCREASE YOUR CHANCES OF WINNING.  USE THE RETWEET BUTTON AT THE BOTTOM OF THIS POST FOR EASY ENTRY.
6. Subscribe to my feed and leave a comment. If you already subscribe leave a comment telling me you are already a subscriber.
Winner will be chosen at random via Random.org.   Info will be forwarded to sponsor.
Open To US Residents Only- age 18 +
The contest ends Jan 28th,  11:59 PM eastern
[ad#Google Adsense]