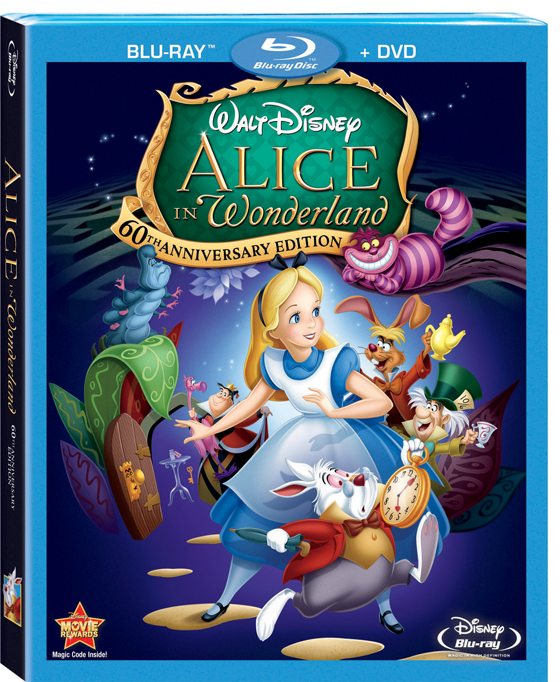 THE HIGHLY ANTICIPATED RELEASE OF WALT DISNEY'S ORIGINAL, WHIMSICAL ANIMATED CLASSIC WILL FINALLY ARRIVE ON BLU-RAY™ AND MOVIE DOWNLOAD
ALICE IN WONDERLAND
60th Anniversary Special Edition
Premiering on Blu-ray Hi-Def And As A Movie Download on February 1, 2011
With interest in all things ALICE IN WONDERLAND at an all-time high following the record-breaking theatrical performance of Disney's epic live-action fantasy adventure, Walt Disney Studios Home Entertainment (WDSHE) proudly unveils aone-of-a-kind 60th Anniversary Special Edition of Walt Disney's original animated version of the whimsical classic tale ALICE IN WONDERLAND on Blu-ray — on February 1st, 2011.  Released just in time for Valentine's Day, the 60th Anniversary Special Edition will be available across the country as a Blu-ray Combo Pack (Blu-ray + DVD) for the suggested retail price of $39.99 in the US and $44.99 in Canada, a Standard Definition Movie Download for $29.99 in the US and $35.99 in Canada and High-Definition Movie Download for $39.99 in the US and $44.99 in Canada.
The new ALICE IN WONDERLAND 60th Anniversary Special Edition takes viewers on magical adventure like never before with a fantastically odd and fun-filled world of colorful characters in brilliant high-definition and crystal clearsound. Additionally, the disc comes specially-packed with never-before-seen footage hosted by Kathryn Beaumont, an all-new interactive game and more.
In the film, viewers can look forward to following Alice's adventures as she chases the White Rabbit on a magical journey into the fantastical world of Wonderland. It's a topsy-turvy place that gets "curiouser and curiouser" as Alice's madcap adventures introduce her to some truly unforgettable characters – the Mad Hatter, March Hare, Tweedledee and Tweedledum, Cheshire Cat, the Queen of Hearts and more. It's a great animated story that has pleased the eyes and ears of old and new generations alike.
The animated version of ALICE IN WONDERLAND still remains an all-time American-favorite to this day. Produced by Walt Disney himself and based primarily on Lewis Carroll's Alice's Adventures in Wonderland with a few additional elements from Through the Looking-Glass, the film was made complete with help from filmmakers Clyde Geronimi, Wilfred Jackson and Hamilton Luske (Cinderella, Peter Pan) and the voices of Kathryn Beaumont as Alice (also the voice of Wendy Darling in Peter Pan), Ed Wynn (Mary Poppin; Cinderella) as the Mad Hatter, J. Pat O'Malley (One Hundred and One Dalmatians; The Jungle Book) as Tweedledee and Tweeledum, Verna Felton (Cinderella; Sleeping Beauty; The Jungle Book) as Queen of Hearts, Sterling Holloway (The Jungle Book; Sleeping Bueaty; The Aristocats) as the Cheshire Cat , Richard Haydn (The Sound of Music; Young Frankenstein) as Caterpillar and Bill Thompson (Lady and the Tramp, Peter Pan; Sleeping Beauty) as the White Rabbit.
Walt Disney first created the idea of creating Lewis Carroll's ALICE IN WONDERLAND book into a full-length animated movie back in 1923 when he was just a young twenty-one year filmmaker trying to make a name for himself. After more than 30-years in the making, and after four successful animated releases under his belt (i.e., Snow White and the Seven Dwarfs, Pinocchio, Fantasia and Bambi), Walt finally released his true vision for the animated film Alice in Wonderland.
This 60th Anniversary Edition Blu-ray release of ALICE IN WONDERLAND celebrates many of Walt's accomplishments with this film showcasing its amazing artwork,spectacular songs and dazzling animation. And be sure to dive deeper into the rabbit hole and check-out all of its unique bonus features.
Film Synopsis:
ALICE IN WONDERLAND is a story about a young girl who grows bored listening to her older sister read aloud from a history book about William I of England. While dozing off, she dreams about falling down a rabbit hole ("Wonderland") that is populated by a peculiar series of misadventures. The always sensible Alice whirls through a world of contradictions, imagination and surprises where she encounters amazing creatures – including a pocket watch-toting White Rabbit, the imperious Queen of Hearts and her army of playing cards, a Cheshire Cat with a lingering smile in an unforgettable fantasy, and the off-kilter Madhatter – and tests her sensibility and courage. In the end it's all a dream, she is awakened by her sister's voice, and as the two of them return home for teatime where she realizes that perhaps logic and reason exist for purpose. And in return, her sister realizes affectionately that Alice is still young, but will grow-up in time.
Blu-ray Disc Bonus Features:
Brand-New Blu-ray Features:
§  Through the Keyhole: A Companion's Guide to Wonderland – View the movie in this special mode and discover references to the original Lewis Carroll classic.  Kathryn Beaumont introduces.
§ Disney View – Watch the movie in this expanded viewing experience with new Disney art in the wings of the screen.
§ Painting the Roses Red Game – Help paint the roses red in the Queen's garden.  Careful, or someone could lose their head.
§ Walt Disney Color TV Introduction (1959) – A never-before-seen color TV intro by Walt.
§ Reference Footage: Alice and the Doorknob – Kathryn Beaumont, the voice of Alice, provides an introduction to this newly discovered reference footage of Alice talking to the doorknob.
§ Pencil Test: Alice Shrinks – Kathryn Beaumont introduces a newly discovered pencil test of Alice shrinking.
Plus, Classic Features:
§  "I'm Odd" Newly Discovered Cheshire Cat Song + Intro
§ Thru the Mirror Mickey Mouse Animated Short (Now in Hi-Def)
§ Art Gallery (with new design and new images)
§ Reflections on Alice
§ Operation Wonderland (Now in Hi-Def)
§ One Hour in Wonderland
§ An Alice Comedy: Alice's Wonderland
§ Original Theatrical Trailers (1951 & 1974)
§ Walt Disney TV Introduction (1954 & 1964)
§ The Fred Waring Show (Excerpt)
§ Deleted Materials:
Ø Deleted Scene: Pig and Pepper
Ø From Wonderland to Neverland: The Evolution of a Song – An entertaining look at how a song originally written for Alice in Wonderland, finally found its home in another Disney favorite, Peter Pan.
Ø Deleted Storyboard Concept: Alice Daydreams in the Park – Deleted storyboard sequence set to music.
Ø Original Song Demos: "Beware The Jabberwock"; "Everything Has A Useness"; "So They Say"; "Beautiful Soup"; "Dream Caravan"; "If You'll Believe In Me"
Movie Download Bonus Features (SD & HD):
§ Pencil Test: Alice Shrinks
§ Thru The Mirror Mickey Mouse Animated Short
§ Reflections on Alice
REVIEW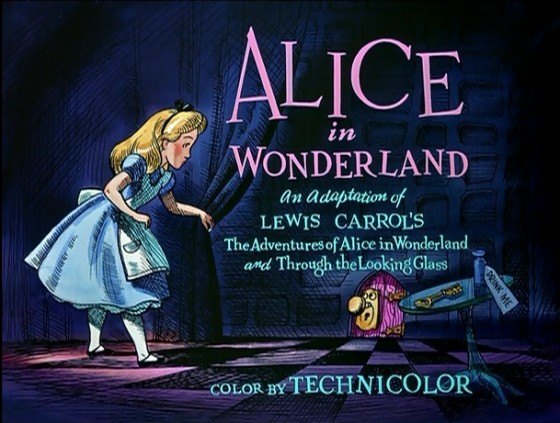 I received the Alice in Wonderland 60th Anniversary Edition Blu-ray and DVD Combo Pack last week for review.  My son has watched this film so many times in the past five days I have lost count.  The music, beautiful animation, and whimsical characters make him want to watch it again and again!  Believe it or not this is the first time he has every seen it and to be honest,  I haven't seen it in years!  I'm not sure why I waited so long to see it again, but I'm glad I did because seeing it on Blu-ray High Definition was like witnessing a rebirth of the 1951 as Walt intended it to be…BRILLIANT!
I'm sure you know the story well, but just as a refresher I'll tell it again.  The movie opens with young Alice sitting  in a tree by a paradisaical river growing bored of hearing  a history lesson being read to her.  She is firmly scolded to pay attention, but instead Alice begins to daydream aloud to her cat Dinah about if she had a world of her own everything would be nonsense and nothing would be what it is because everything would be what it isn't.  Her world would be a Wonderland.  Just then, she sees a White Rabbit  wearing a waistcoat and carrying a large pocket watch saying "I'm late…I'm late..I"M LATE!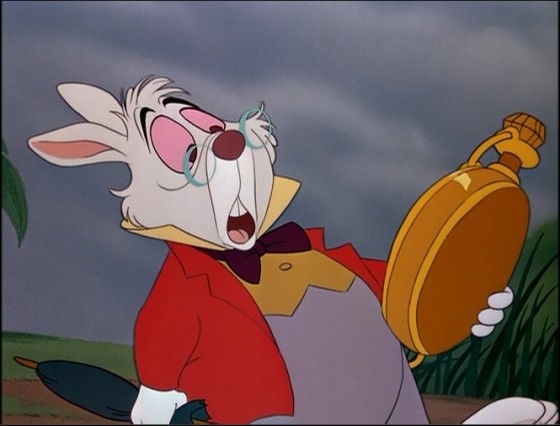 Alice and Dinah curious about what a rabbit could be possibly late for follow  him to a rabbit hole where she suddenly stumbles down  into a deep chasm leaving Dinah behind.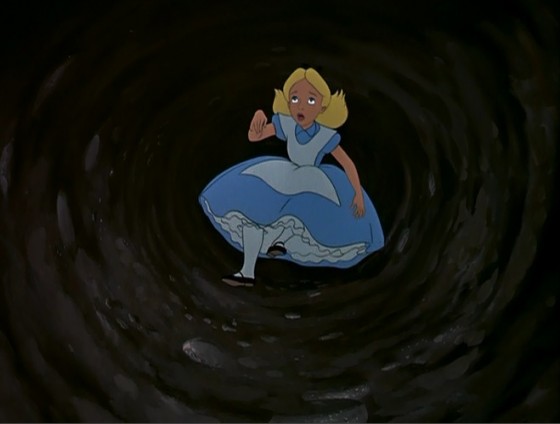 At the very bottom, she chases the rabbit down a hallway at which point he escapes through a door.  She opens the door to only discover several smaller doors and crawls through the opening to a room containing the tiniest door yet.  Clearly she is way to big to get through it.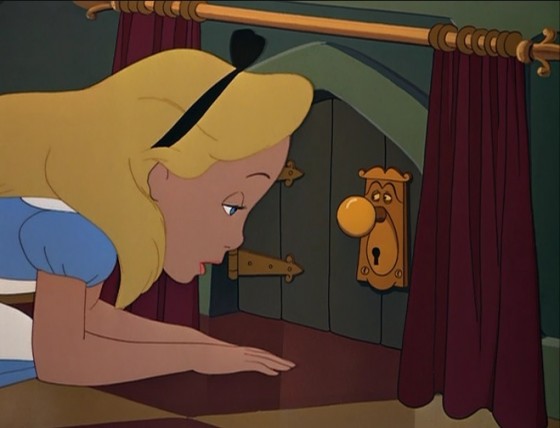 The Doorknob suggest Alice drinks from a bottled labeled "Drink Me."   The first sip tastes like cherry tart and shrinks her smaller.  The second sip reminds her of custard, pineapple, and roast turkey, shrinking her several times to a tiny fraction of her original size.  Alice all excited she is the right size to finally pass through the door, learns the door is locked and she is too small to reach the key on the table.  The Doorknob directs her to open a gold  box filled with cookies marked "Eat Me" and she takes a bite which causes her to grow enormously where her head hits the ceiling.  Now Alice is way to big to get out and she begins to cry elephantine tears of frustration that flood the room.  The Doorknob being drenched with tears points out to her to pick up the "Drink Me" bottle.  Alice drinks the rest of the shrinking juice and becomes so itty-bitty  that she drops inside the bottle and floats out through the doorknob's keyhole mouth into a sea made from her tears in which she encounters various creatures drifting along with her.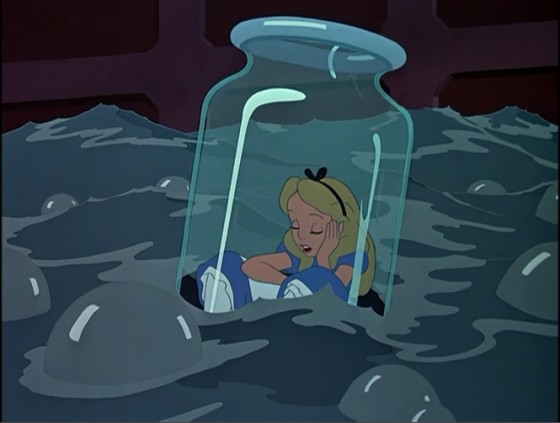 Alice splashes to shore and meets up with a Dodo bird leading a group of animals in a jolly caucus-race to get dry.
She joins in and shortly afterward unites with the White Rabbit again who races off to his date.  Alice follows him into the forest in which she is greeted by two fat twin brothers named Tweedledum and Tweedledee.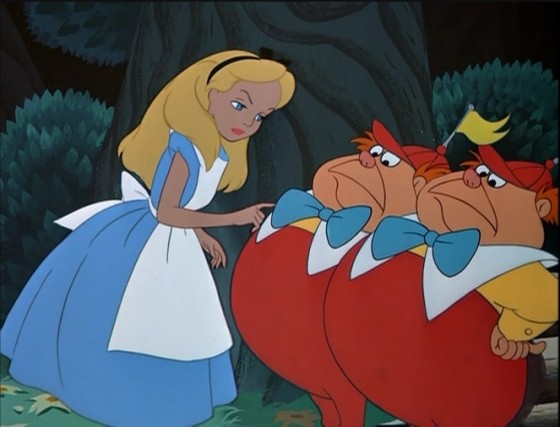 The two keep Alice from journeying off by reciting "The Walrus and the Carpenter."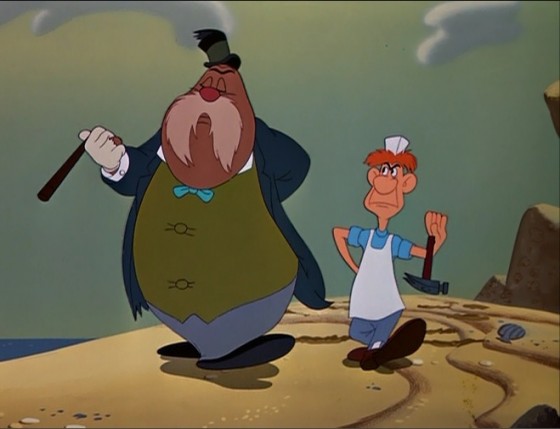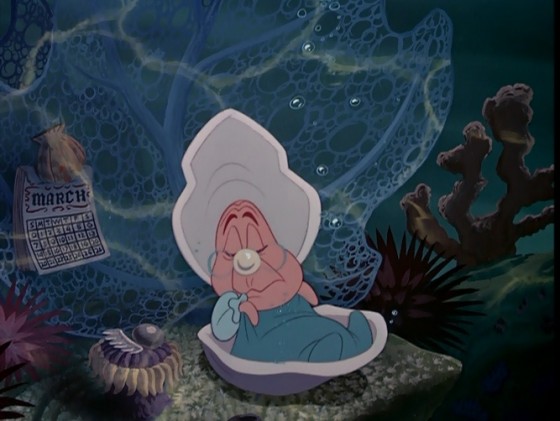 The boys begin to tell another story and Alice sneaks away to find the rabbit. She soon finds his house where White Rabbit mistakes her for "MaryAnn" his maidservant.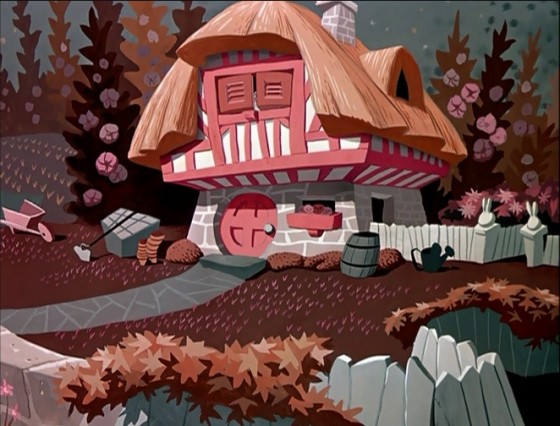 The excited rabbit who is late forces her to fetch his gloves inside. While looking for his gloves she finds a jar with cookies and helps herself to a bite. Alice grows once again so big that she gets stuck within the house.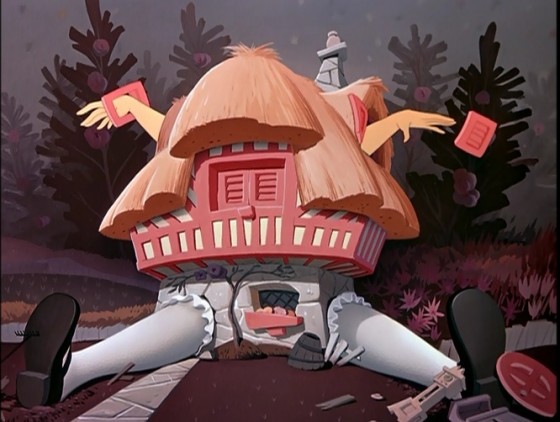 Rabbit believes there is now a monster in his house and goes to find Dodo to remove it. Dodo has an idea to send Bill the Lizard Chimney Sweep down the chimney to get Alice out, but Alice sneezes sending the green lizard flying out through the sky. Then Dodo gets a crazy idea to burn the house down and "smoke the monster out." Much to rabbits dismay, they gather his furniture and things to burn. However, Alice sees a garden and eats a carrot from it that shrinks her down to size and she escapes to pursue the rabbit again.
While chasing the rabbit Alice encounters a beautiful garden of talking and singing flowers.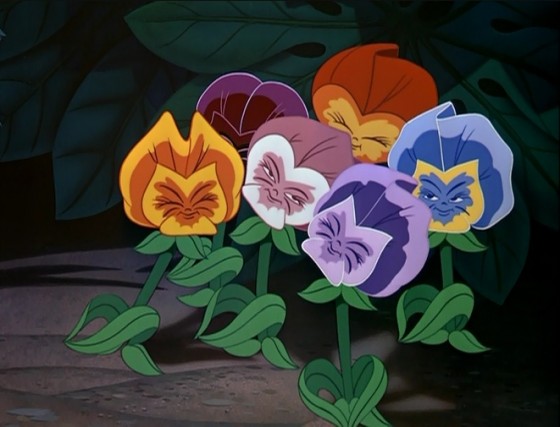 The flowers serenade her with "Golden Afternoon." After the song a flower asks Alice what kind of garden she comes from and when Alice says she isn't a flower an Iris accuses her of being a weed. The flowers cast her out and flush her away in a pool of water. She then notices a trail of smoke letters and follows them to a blue caterpillar sitting on a mushroom smoking a hookah pipe.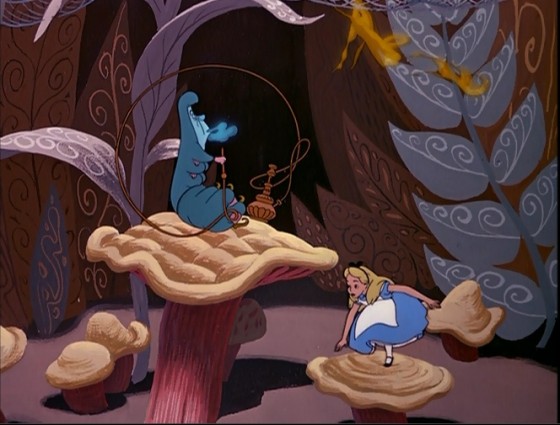 The caterpillar asks Alice what her problem is and when she accidentally insults him by saying she hates being three inches high (his height) he disappears within a cocoon of smoke, transforming into a butterfly. Before he flies away he tells her eating one side of the mushroom will make her grow taller and the other side will make her shorter. Alice confused as what side he was referring too attempts to take a bite of the mushroom and grows to the size of a giant. She scares a bird who thinks she is a serpent and then takes another bite and lick of the other side of the mushroom, returning her to a normal size.
Alice wanders into the woods and gets perplexing directions from a purple striped Cheshire Cat who has the ability to disappear and reappear at will.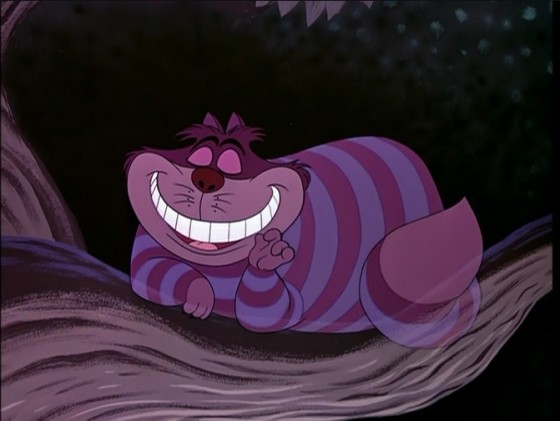 The playful cat informs her if he was looking for the White Rabbit he would ask the Mad Hatter. Hearing the word "mad" Alice doesn't want to do that and he tells her to visit the March Hare. She begins to walk away until the cat lets her know the hare is mad too. Then he begins to disappear saying everyone is "mad" even him who isn't exactly all there neither. Alice then continues on her journey where she reaches the house of the March Hare, who is celebrating his "unbirthday" with the Mad Hatter and the Dormouse.
Alice invites herself to join the celebration and she is accused of being rude. However all is forgiven when she apologizes and says she enjoyed their singing. The complement changes everything and they are now delighted to have her there. Over trying to have cup of tea, Alice tells them what is troubling her and mentions Dinah which scares Dormouse silly. She calms him down by spreading the jam upon his nose. Then she proceeds to tell her story, but the Mad Hatter and March Hare keep interrupting  making her angry. The White Rabbit appears by running through the garden with his watch exclaiming he is late. The Mad Hatter attempts to fix his watch, saying that it is "two days slow!" The watch goes bonkers and the March Hare destroys it by hitting it with a mallet. The saddened rabbit mentioned it was an "unbirthday" present and is then tossed out of the garden by the Mad Hatter and March Hare. He runs off before Alice is able to catch up. Alice having enough of the nonsense decides she is going straight home abandoning the idea of learning where the rabbit is going. Trying to find her way back home, Alice loses her way in the Tulgey Wood.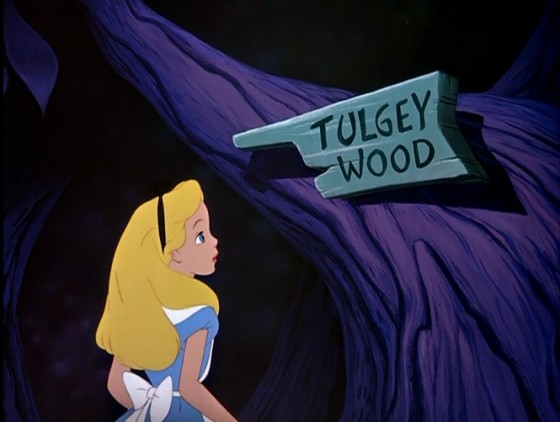 She starts to think she is never going to find her way home and begins to cry. The Cheshire Cat reappears and cheers her up by showing her a short-cut out of the woods and into the garden of the Queen who will just be "mad" about meeting her.
Alice wandering through the hedge mazes of the Queen's garden meets up with some cards who are painting white roses red.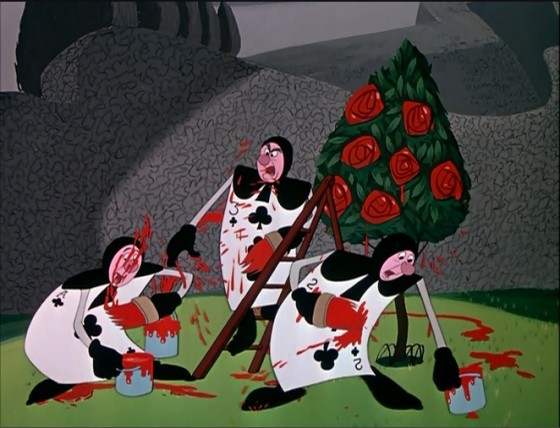 She asks them why must they paint the roses red. The card replies they planted white roses by mistake and the Queen likes them red. He further says the Queen would raise a fuss and they would quickly lose their heads, so they paint all the roses red. Alice offers to help and begins to paint the roses too. Next the White Rabbit frantically announces the arrival of the Queen Of Hearts and the King. The Queen notices an unpainted rose and asks angrily who has been painting her roses red. The cards blame each other and she screams off with their heads. Next Alice pleads to save the cards and the Queen invites her to a strange game of croquet using flamingos as mallets, hedgehogs as balls, and card soldiers as wickets.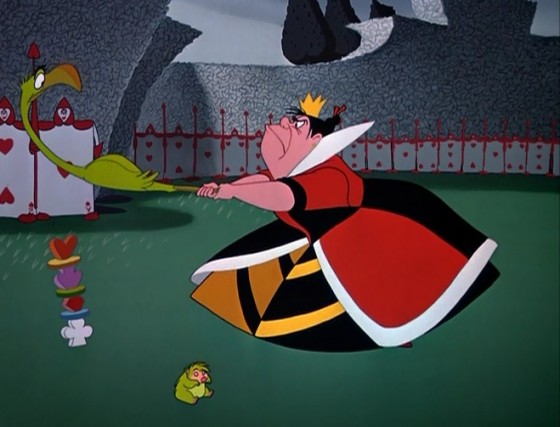 The Cheshire Cat plays a dirty prank on the Queen, who blames Alice and orders her execution. The King suggest she should have a trail first and the Queen Of Hearts agrees. Alice is charged of enticing the Queen into a game of croquet, teasing and tormenting, and otherwise making her lose her temper. The March Hare, Mad Hatter, and Dormouse are no help to Alice. Then the Queen learns it's her "unbirthday" and the Cheshire Cat causes a distraction giving Alice enough time to eat the mushroom which makes her grow to gigantic proportions. She further scolds the Queen calling her a fat, pompous, bad tempered old tyrant." Alice begins to shrink with each insult and returns to her normal size. The Queen screams "off with her head" and Alice runs out of the courtroom causing a chase through Wonderland.
Alice meets up with the Doorknob which is locked, but learns she is already on the other side. She looks through the keyhole and sees herself asleep in the park.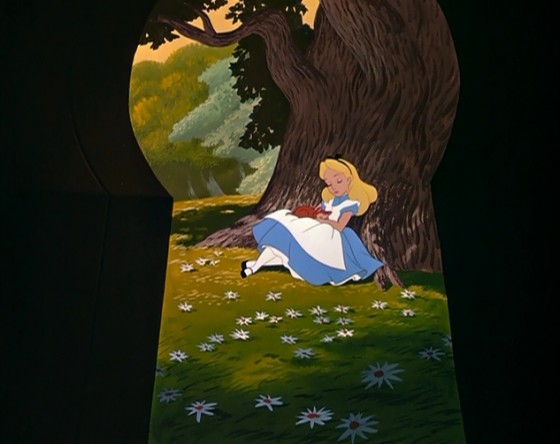 As the crazy mob comes charging towards her, Alice screams to herself to wake up. She slowly begins to awaken from Wonderland and is greeted to the sound of her sister's voice who is asking her to kindly pay attention and recite her lesson. The movie closes with her sister asking her to come for tea. THE END!
This is a movie you can't put too much thought into and just watch to enjoy all the fascinating scenes plus characters! Don't miss this remastered classic and add it to your Disney library. It wouldn't be complete without it!
Buy it!
Alice in Wonderland: 60th Anniversary Sp. Ed. on BLU-RAY & DVD makes an EXCELLENT Valentine's Day gift for the Disney enthusiast in your life.  The classic movie has a release date of  February 1st!  Reserve your BLU-RAY & DVD Combo Pack now at amazon.com for $27.99 and save 30% off the suggested retail price.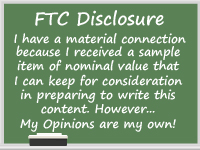 [ad#Google Adsense]