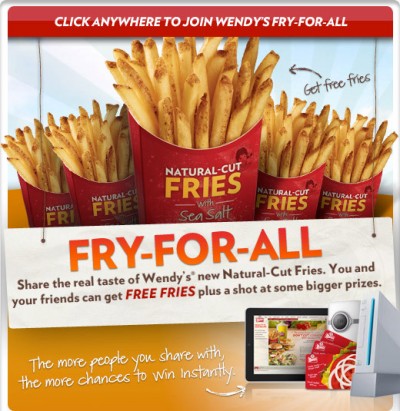 Play Wendy's Fry For All Instant Win Game were you and your friends can get FREE Natural Cut Fries and a chance to win some BIGGER prizes including: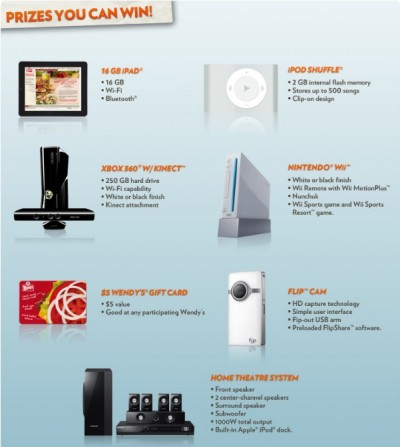 (18) APPLE iPAD PRIZES: Approximate Retail Value ("ARV"): $499.
(18) XBOX KINECT PRIZES: ARV: $400.
(16) HOME THEATER SYSTEM PRIZES:  ARV: $270.
(14) NINTENDO WII PRIZES: ARV: $200.
(48) FLIP VIDEO CAMERA PRIZES: ARV: $200.
(64) APPLE iPOD PRIZES: ARV: $49.
(2,500) WENDY'S GIFT CARD PRIZES: Wendy's $5 Gift Card.
How to play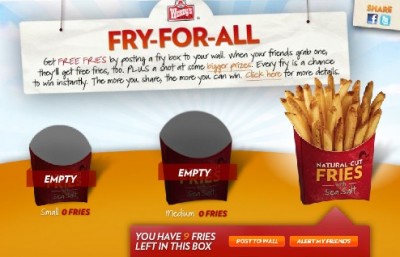 Head to Wendy's Facebook Wall and click on the "FryForAll" tab.  Follow the directions to post a small box of French fries to your wall (optional). The small box of French fries contains five virtual French fries. An individual visiting your Facebook page ("Your Friend") can pull one French fry from your box of fries. Your Friend will automatically receive one "Instant Win Game play" and will be instantly notified if he/she has won a prize. If  your friend won a prize you will win the same prize and will be notified that you have won a prize!  Once the small box of fries is gone you can unlock a medium box of fries containing 15 more fries.  When that box is exhausted you may go back to the Fry-For-All application page to unlock and post a large box of French fries containing twenty five 25 French fries.  Every fresh box gives your friends a change again to pull a fry and play the instant win game.
The trick is to keep sharing your box of fries link for the best chance to win!  The more you share the better your chances, but please be respectful and don't spam your friends.  Post it on Twitter, Facebook, and in your emails!  WARNING!  This game is highly addicting and you can play as often as you want as long as it's not from the same box of fries.  For example… every time your friend unlocks a new box you can pull another fry for the chance to win the prizes.  There is a limit of One Wendy's Gift Card and one other Instant Win prize per person (not including fries).
If you would like to share your fries feel free to leave a comment with your link.  I will gladly pull a fry from your box and if I win you do too!  I will keep updating my link (above) for a fresh chance to play.
Good luck!
The Instant Win Game began on December 6, 2010 at 12:00 p.m. (noon) Eastern Time ("ET") and ends on January 31, 2011 at 11:59 a.m. ET.  Please make sure to read the rules prior to playing.
[ad#Google Adsense]