My Pillow Pets are super snuggly, plush folding stuffed animals that function as wonderful companions and extraordinarily comfortable pillows too!  Made of high quality, super soft chenille, Pillow Pets make the most precious snuggle pals for your kiddos to lay their precious noggins upon.  How do they work?  Pillow Pets are uniquely created with a strap across their bellies that closes underneath to transform them into friendly pets. Simply open the strap and the pet becomes a pillow!  Extremely versatile and functional, these plush delights make ideal nap companions and are perfect for taking on road trips, airplane rides, sleepovers, and add a fun element to  any child's room.  With 30 adorable different styles  available including farm critters, jungle animals, sea creatures, cute insects, and dinosaurs,  it's almost impossible to choose just one!
Now available in limited supply just in time for holiday gift-giving, Pillow Pets has released two new children's games to accompany your Pillow Pet plush folding stuffed animal!   Pillow Pets Dreamland Adventure Game and Pillow Pets Dreamland Matching Game are fun educational and interactive entertainment for the whole family to enjoy.
Dreamland Adventure Game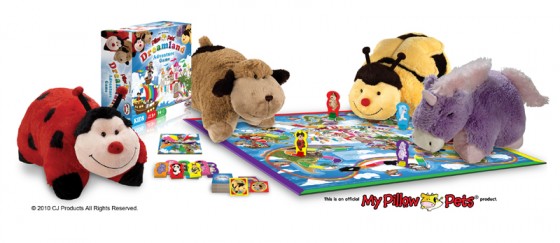 [message type="info"]In Pillow Pets Dreamland Adventure Game, players set sail on an exciting journey through seven continents of the world to reach Pillow Pets Dreamland. Spin a colorful wheel to travel along a vibrant pathway filled with exciting adventures, adorable animals, and, yes, even a few pitfalls. The first player to collect at least four Pillow Pets Animal Cards and reach the enchanted Pillow Pets Dreamland wins the game. This game is designed for ages three and older and for two to four players. It retails for approximately $20.[/message]
Dreamland Matching Game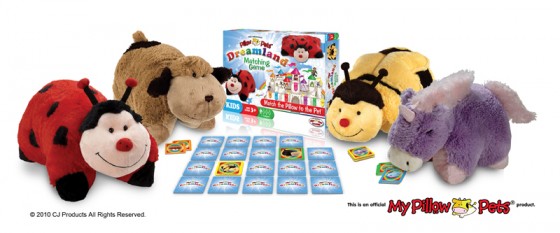 [message type="info"]Pillow Pets fans will enjoy hours of fun as they match the "pillow" to the "pet" in Pillow Pets Dreamland Matching Game. Honing memory skills and focus, players compete to collect matches amongst 30 "pets" including Ms. Ladybug, Cozy Cow, Friendly Frog, and Silly Monkey, and their corresponding "pillows". The player with the most "pillow and pet" matches wins. Recommended for ages three and older, Pillow Pets Dreamland Matching Game is for one to four players and retails for approximately $10.[/message]
My Pillow Pets Experience!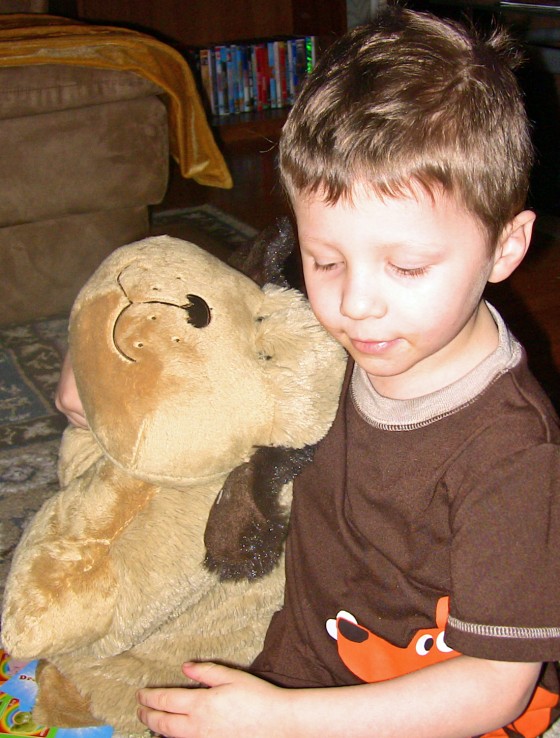 Pillow Pets were a hot item for Christmas in 2009 and are again topping the charts of children's wish lists this year.   I can see why these adorable plush cuties are so popular.  I purchased a large (18 in) Pillow Pet "Silly Monkey" for my son's third birthday and it became an immediate cuddly buddy for him.  He carries it around, places the monkey on the floor, and sprawls out on it.  I've even curled up with it a few times too!  The Pillow Pets are super soft and make a incredible lush plush pillow.  Unlike your average stuffed animals,  these sweeties actually can be used for something other than just looking cute!
I was recently sent a large My Pillow Pets "Snuggly Puppy" plus the two  accompanying board games for review.  The adorable canine is tan-colored and makes a wonderful addition to my son's room.  It sits at the top of his bed and when he gets tired he just undoes the strap to open it up and uses it as a pillow.   Additionally,  my son likes  to have the Snuggly Puppy next to him when he is watching his favorite television shows.
What I also love about Pillow Pets is they can be easily machine washed without damaging the fibers. If it gets dirty all you need to do is…
* Place your Pillow Pet inside a white pillow case and tie off the open ends.
* Wash on gentle cycle and cold water.
* DO NOT PUT INTO DRYER!
* Let Pillow Pet air dry!
* Putting your Pillow Pet inside a white pillow case prevents the washing machine from beating up the fibers on the item and increases the life of your Pet.
The two board games make awesome inexpensive gifts for Christmas.  The Pillow Pets Dreamland Matching Game comes with 60 Pillow Pets Animal Cards (30 pillow cards and 30 pet cards).  To play the game you lay out the Pillow Pets Animal Cards facedown to create 10 rows and 6 columns.  The youngest player goes first and turns over two cards.  If one card is the pet (in it's upright position) and the other is the pillow (pet in it's unfolded position), the player has made a match and takes another turn until he/she no longer makes a correct match.  The game continues until all the matches have been made.  The player with the most matches wins.  It's a cute game that helps children build memory skills and provides hours of fun!
Dreamland Adventure Game reminds of the famous Candy Land.  It contains a bright colorful game board, 1 spinner, 4 pawn stands, 13 Pillow Pets Character Pawns, and 28 Pillow Pets Animal Cards.  The gameplay begins with the youngest player who spins the spinner.  If the arrow points to a color, the player moves his/her pawn to the first corresponding color on the board game.  However, if the spinner points to a Pillow Pet, the player moves their pawn to the closet Pillow Pets Animal on the board game and then draws a card from the Pillow Pets Animal Card deck and keeps it for the remainder of the game.  The object of the game is to stay out of the "Pillow Pet Cage" (where you lose all your cards)  and collect at least 4 Pillow Pet Animal Cards along the pathway as you travel through the seven continents.  The first player to collect the cards and enter the Pillow Pets Dreamland wins.  The game helps teach children color recognition  and a good way of reinforcing the lesson on how to take turns.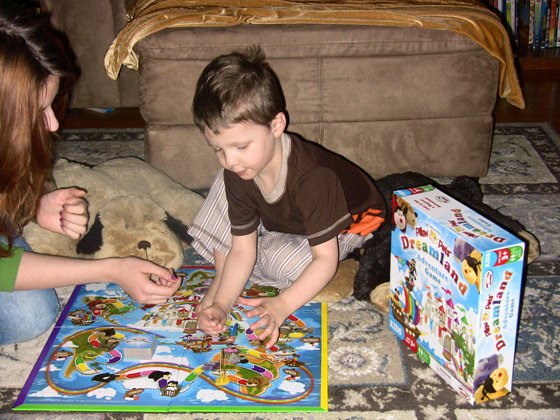 Buy It!
My Pillow Pets plush animals come in two different sizes Large Pillow Pet – 18″ ($24.99) and Small Pillow Pet – 11″($15.99), and can be purchased at www.lovemypillowpets.com along with the Dreamland Adventure Game and Dreamland Matching Game.
My Pillow Pets Prize Pack Giveaway!
Courtesy of My Pillow Pets, a reader will receive both Pillow Pet games AND one Pillow Pet large pillow of their choice from the Snuggly Puppy, Magical Unicorn or Ms. Ladybug.  To enter the giveaway visit  www.lovemypillowpets.com and leave a comment sharing your favorite overall Pillow Pet product you plan to buy as a last minute gift or let me know which Pillow Pet your child has on their wish list.
EXTRA ENTRIES
1. Read any other review (WITHOUT A GIVEAWAY) and leave me a comment there.  Then come back here letting me know which review you did. Make sure you leave ten separate comments  (example: Left a comment at review extra entry 1, Left a comment at review extra entry 2, Left a comment at review extra entry 3, ect.).   This is worth 10 extra entries
2. Mention the giveaway on your own blog linking back to this post  and My Pillow Pets.  Leave an additional comment with a link to where you blogged about the giveaway. This is worth 5 extra entries.  Make sure you leave five separate comments. (example blogged extra entry #1, blogged extra entry #2, blogged extra entry #3, ect…)
3.Place my button on your blog and then leave an additional comment with a link to the page where you put the button. If you already have my button leave a comment letting me know you already have it.
4. Follow my blog and leave me an additional comment. ( There is a little widget on my sidebar that shows my followers. Just click follow). If you already follow leave me a comment letting me know you already do.
5. Follow ahappyhippymom and My Pillow Pets on Twitter and tweet about the giveaway. Please make sure you leave the link where you tweeted in your comment. TO INCREASE YOUR CHANCE OF WINNING I AM ALLOWING 1 TWEETS PER PERSON DAILY.  USE THE RETWEET BUTTON AT THE BOTTOM OF THIS POST FOR EASY ENTRY.
6. Subscribe to my feed and leave a comment. If you already subscribe leave a comment telling me you are already a subscriber.
7. Leave a comment on the My Pillow Pets blog and come back her letting me know you did. (2 extra entries)
8. Like My Pillow Pets on Facebook.  This is worth 2 extra entries.
9. Like ahappyhippymom on Facebook. Worth 2 extra entries
10. Enter any of my other ACTIVE giveaways.  Leave a separate comment for each one entered.
A winner will be chosen at random via Random.org. Upon notification the winner has 72 hours to send me their contact information.  Information will be forwarded to sponsor for prize fulfillment.
Open to U.S. residents   18+
The contest ends Dec. 31th ,  11:59 PM eastern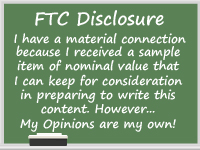 [ad#Google Adsense-1]